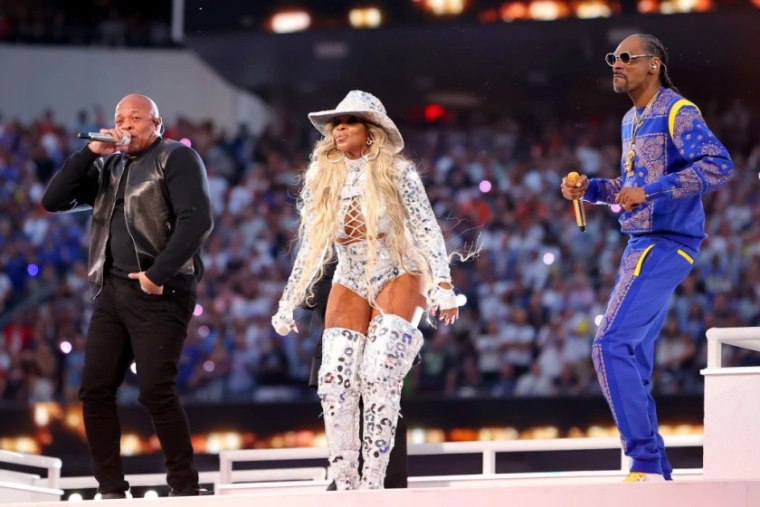 On Sunday it was confirmed that Rihanna will headline the Super Bowl LVII Halftime Show, marking her first confirmed live show in over five years. Among the Navy members excited to see what she has in store for the high-profile appearance is Dr. Dre, who performed at the most recent Super Bowl and spoke to Apple Music as part of yesterday's announcement.
"I just like her and what she does, and her get down, and how she approaches her artistry and the whole nine," Dre told Ebro Darden (via Pitchfork). "It's fantastic. She has the opportunity to really blow us away. I know we set the bar extremely high."
Dre made history alongside Kendrick Lamar, Eminem, Mary J. Blige, and Snoop Dogg at the 2022 Super Bowl when the NFL welcomed rap artists to perform for the first time. Speaking to Apple Music, Dre admitted that he felt "extremely nervous" before he performed and gave some insight into what goes into planning something as big as a Super Bowl Halftime Show.
"You're talking about at least 3000 people that you have to depend on to get this show right for 13 minutes. So it is an extreme amount of pressure, but it's fun at the same time. When it's done, it's like goosebumps, bro. I got goosebumps, especially from the reaction that we got from the show, and especially being able to do the show with all of my friends."
Rihanna's appearance at one of the largest televised concerts of the year will only further stoke speculation about her return to music, which has taken a backseat in recent years to her Fenty line. Little concrete information has emerged about her follow-up to 2016's Anti – Rihanna confirmed in a Vogue interview published in April that it is still in the works, though her approach to music has changed since the birth of her first child with her partner, A$AP Rocky. She'll take the stage on February 12, 2023 at the State Farm Stadium in Glendale, Arizona.