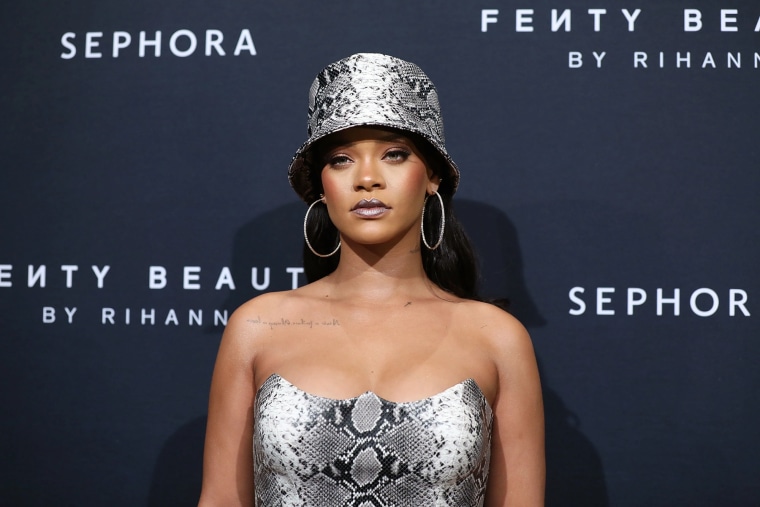 Rihanna will perform at the Super Bowl LVII Halftime Show next year at State Farm Stadium in Glendale, Arizona. She alluded to her long-awaited return to music with an Instagram post on Sunday, and Roc Nation confirmed the show in a statement obtained by Variety. She'll take the stage on February 12, 2023 at the State Farm Stadium in Glendale, Arizona.
Jay-Z lavished praise on Rihanna in Roc Nation's announcement. "Rihanna is a generational talent, a woman of humble beginnings who has surpassed expectations at every turn. A person born on the small island of Barbados who became one of the most prominent artists ever. Self-made in business and entertainment."
The show will be the first NFL Super Bowl Halftime show sponsored by Apple Music. Oliver Schusser, Apple's vice president of Apple Music and Beats, said in the statement, "Rihanna is an incredible recording artist who is a favorite for many millions of Apple Music customers around the world. We're excited to partner with Rihanna, Roc Nation, and the NFL to bring music and sports fans a momentous show — what an incredible artist for the inaugural Apple Music Super Bowl Halftime Show."
"We are thrilled to welcome Rihanna to the Apple Music Super Bowl Halftime Show stage," said NFL Head of Music Seth Dudowsky. "Rihanna is a once-in-a-generation artist who has been a cultural force throughout her career. We look forward to collaborating with Rihanna, Roc Nation, and Apple Music to bring fans another historic Halftime Show performance."
Rihanna's appearance at one of the largest televised concerts of the year will only further stoke speculation about her return to music, which has taken a backseat in recent years to her Fenty line. Little concrete information has emerged about her follow-up to 2016's Anti – Rihanna confirmed in a Vogue interview published in April that it is still in the works, though her approach to music has changed since the birth of her first child with her partner, A$AP Rocky.
Yesterday, news emerged that Taylor Swift had rejected the NFL's offer to perform the Halftime show. Swift is reportedly focusing on re-recording her albums released on Big Machine, the label that was purchased and sold by Scooter Braun. The re-recorded Fearless: Taylor's Version was released last year.