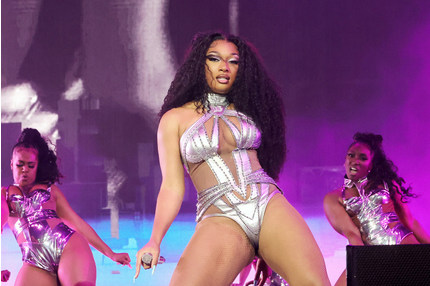 Attorneys working for Megan Thee Stallion are attempting to retrieve documents from Warner Music Group revealing the source of leaks around her latest album Traumazine, Billboard reports. The album, officially released on August 12, was the subject of various online leaks, including its artwork, tracklist, and some music.
Appearing in a Houston court on Minday, August 22, lawyers for the rapper told a judge that WMG "was one of the few companies that received a copy of Traumazine in advance of its formal release."
The lawyers did not go as far as accusing anyone at WMG of intentionally leaking the album but are demanding the label, which owns her distributor 300 Entertainment, hand over documents that will help them determine who is responsible. They also requested that the judge force internet providers Cablevision and Datacamp release the IP addresses of the individuals leaked Traumazine.
Megan previously tweeted about her leaks, writing on August 11: "we ALL know who the only ppl who had access to all these PRIVATE links are."
The filing is the latest in a line of legal action taken by Megan against different record labels. Earlier this week she demanded $1 million in unpaid royalties as part of an ongoing dispute with 1501 Certified Entertainement. She is suing the Houston label over both Traumazine and 2021's Something For Thee Hotties in a dispute over her contract and what constitutes an album.