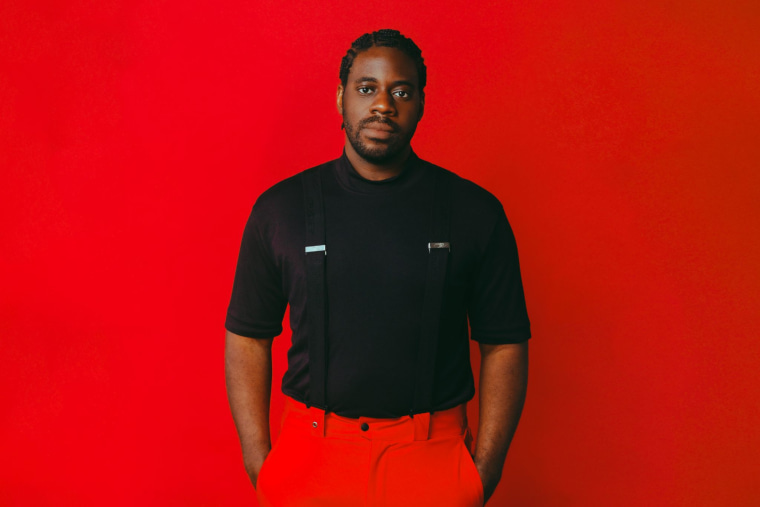 Exactly a month away from the release of his next album, Please Have a Seat<, prolific shapeshifter NNAMDÏ has returned with the project's third and final single, "Dedication." It follows June's "I Don't Wanna Be Famous" and August's "Anti" on the record's release cycle.
The new song begins with a barrage of harsh static, a shock to the system that makes the ensuing bubblegum pop track hit significantly different. Of course, "bubblegum pop" is misleading — in typical NNAMDÏ fashion, the track pairs an upbeat instrumental with a doleful vocal and themes of depression and anxiety. Ultimately, though, it's got a tubthumping message: "Tricked to think that I wasn't enough / Ripped and torn, a permanent cut," he sings over a saccharine synth, setting up a comeback anthem. "Wiped the sweat and sawed off the dust / I was ready for more, I was ready." Frequent collaborators Sen Morimoto, KAINA, Brok Mende, and Stephan Jurgovan of Nervous Passenger provide him with vocal support as he squares up against his self-doubt.
"I wrote this deep into the 2020 pandemic as self-motivation to get me out of the crippling funk, just to get me to wanna do anything," he explains. "I would play it to go on a run/exercise before I worked on music and before I responded to people's phone calls. It was really just me hyping myself up to do something to get through the slump and make it through the weeks."
In the track's Rena Johnson-directed visual treatment, NNAMDÏ reenacts his redemption arc, gutting it out on a stationary bike while a personal trainer — his own inner monologue? — shouts through a megaphone at a dangerously short distance from his ear drum. The song and video end with a goofy infomercial skit featuring extremely online personality Slyfly McCartney.
Watch the clip, view Please Have a Seat's tracklist, and check out NNAMDÏ's upcoming tour dates below.
Please Have A Seat tracklist
1. Ready to Run
2. Armoire
3. Dibs
4. Touchdown
5. Grounded
6. I Don't Wanna Be Famous
7. ANXIOUS EATER
8. Anti
9. Dedication
10. Smart Ass
11. Benched
12. Careful
13. Lifted
14. Somedays
NNAMDÏ fall 2022 tour dates
October 18 – Davenport, IA – The Raccoon Motel
October 19 – Minneapolis, MN – 7th St. Entry
October 20 – Milwaukee, WI – Cactus Club
October 22 – Chicago, IL – Thalia Hall
October 24 – Cleveland, OH – Mahall's
October 25 – Toronto, ON – The Garrison
October 26 – Montreal, QC – Diving Bell Social Club
October 27 – Johnson, VT – Northern Vermont University
October 28 – Boston, MA – Crystal Ballroom
October 29 – Brooklyn, NY – Baby's All Right
November 1 – Philadelphia, PA – PhilaMOCA
November 2 – Washington, DC – Comet Ping Pong
November 3 – Carrboro, NC – Pinhook
November 4 – Atlanta, GA – 529
November 5 – Nashville, TN – DRKMTTR