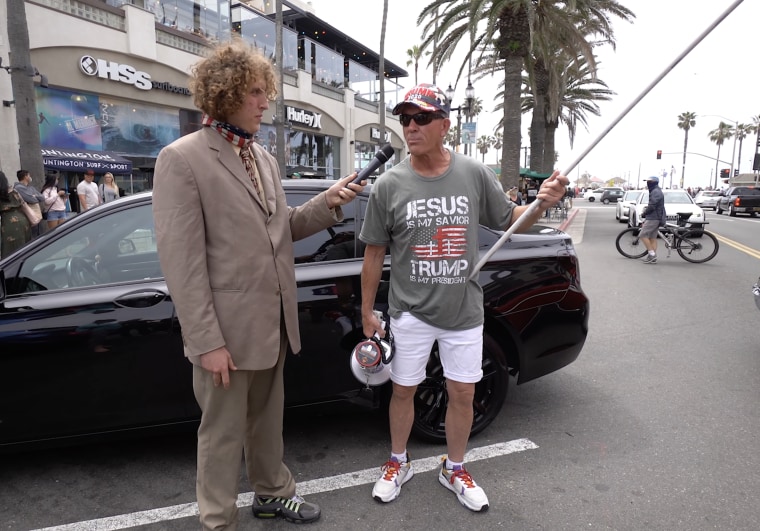 25-year-old gonzo journalist Andrew Callaghan has inked his first major TV contract. HBO has acquired his Channel 5 documentary on the January 6, 2021 riot on Capitol Hill in Washington D.C. — an event that led to multiple deaths, hundreds of injuries, and the breaching of Capitol Building. The film's format, title, and release date have yet to be announced. Callaghan will direct the doc and is listed as an executive producer alongside A24 and his previous collaborators Tim Heidecker and Eric Wareheim (of Tim and Eric Awesome Show, Great Job! and other comedic and musical endeavors, together and separately). Variety published an exclusive report on the deal on Tuesday at noon Eastern Time, and Callaghan confirmed the news with an Instagram post shortly thereafter.
According to a statement provided to Variety, the film comprises footage from Callaghan's "wild RV journey through America in the months leading up to the January 6 Capitol Riot." It's a continuance of the material he's been uploading to Channel 5's YouTube since April 2021, garnering millions of views per post. He's covered multiple MAGA protests in the past year, as well as providing more light-hearted coverage of a Utah rap festival, a Satanic temple gathering, and various online personalities. Recently, he conducted the definitive Yeat interview. And last week, he posted an exclusive interview to his Patreon with far-right radio host and Alex Jones — Jones' first since a Texas jury ordered him to pay $49.3 million in punitive and compensatory damages to the parents of a first-grader killed in the 2012 Sandy Hook Massacre. (Jones proliferated a conspiracy theory that the massacre was a hoax orchestrated by the U.S. government to bring about tighter gun control legislation.)
Before Channel 5, Callaghan founded and ran a similarly formatted YouTube Channel called All Gas No Brakes, which terminated abruptly when its parent company, Doing Things, removed him from the show due to creative differences. And before that, while a student at New Orleans' Loyola University, he co-created an Instagram account called Quarter Confessions that posted instantly viral videos of tell-all tourist testimonies in the city's French Quarter.