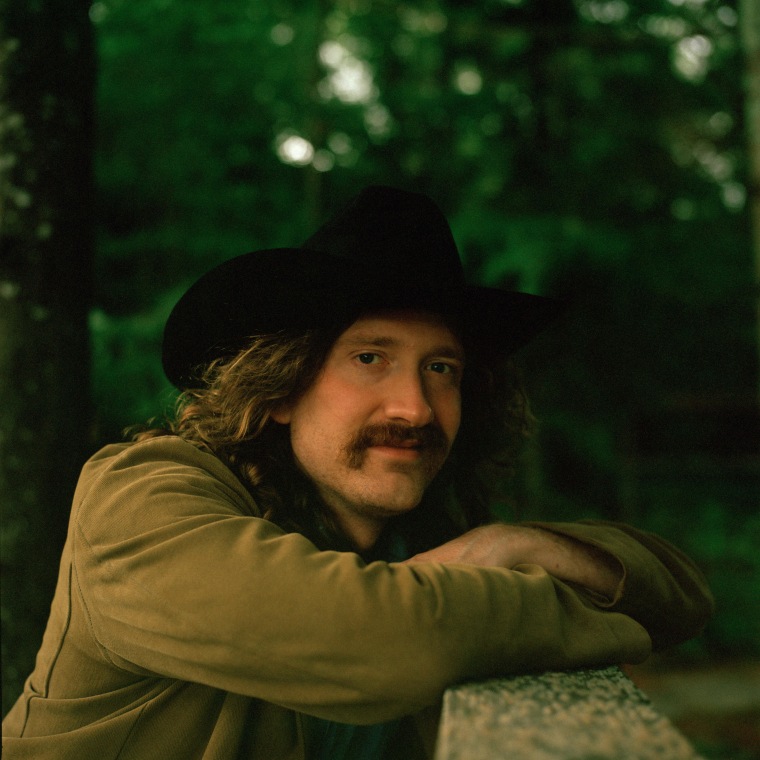 On October 28, William Fussell will release Honey Harper & The Infinite Sky, the Georgian "cosmic country" artist's third album as Honey Harper. His new single "Ain't No Cowboys In Georgia," out today, may hint at a very specific kind of loss in the title, but Harper's ballad is infused with a universal melancholy. Watch the cinematic music video below, directed by Angus Borsos and starring Montreal songwriter Sean Nicholas Savage.
In a press statement, Fussell revealed the deeply personal inspiration behind the song's title.
"The words '...and by the way there ain't no cowboys in Georgia,' was one of the last messages I received before my Papa passed away along with my Granny in 2021. The quote came at the end of a long angry message regarding an interview I did earlier in the year where I had said, 'you can never trust a cowboy,' referring to the complicated relationship I had with that side of my family in south Georgia and the falling out we had a few years prior. Their passing hit hard in a way that I still can't really comprehend because in a lot of ways the relationship was already dead but the feeling of a missed opportunity to mend it is something that you can't really shake… and that feeling of finality, never being able to change what happened, is something that will probably always stay with me.
For the rest of the year, Honey Harper will open for Amanda Shires on a tour of North America. Find those dates below and read Honey Harper's 2019 GEN F here.
Honey Harper tour dates w/ Amanda Shires
September 17 – Nashville, TN – AmericanaFest - The 5 Spot
September 19 – Homer, NY – Center for The Arts
September 21 – Carrboro, NC – Cat's Cradle
September 22 – Atlanta, GA – Variety Playhouse
September 23 – Charleston, SC – Music Farm
September 24 – Chattanooga, TN – Songbirds
October 6 – Denver, CO – Bluebird Theatre
October 7 – Salt Lake City, UT – Commonwealth Room
October 9 – Pioneertown, CA – Pappy & Harriet's
October 10 – Los Angeles, CA – Troubadour
October 11 – San Diego, CA – Belly Up
October 12 – San Francisco, CA – Great American Music Hall
October 15 – Portland, OR – Mississippi Studios
October 16 – Seattle, WA – Tractor Tavern
October 22 – Grand Rapids, MI – Pyramid Scheme
October 24 – Toronto, ON – Horseshoe
October 25 – Brooklyn, NY – Music Hall of Williamsburg
October 27 – Columbus, OH – A&R Music Bar
October 28 – Indianapolis, IN – Hi-Fi
November 3 – Louisville, KY – Headliners
November 4 – Ann Arbor, MI – The Ark
November 5 – Evanston, IL – The Space
November 7 – Minneapolis, MN – Amsterdam
November 8 – Kansas City, MO – Madrid Theater
November 9 – Oklahoma City, Ok – Beer City Gardens
November 11 – Dallas, TX – The Kessler
November 12 – Houston, TX – Heights Theater
November 13 – Austin, TX – Antone's
November 15 – Little Rock, AR – Rev! Room
November 16 – St. Louis, MO – Old Rock House
November 18 – Madison, WI – Majestic Theatre
November 19 – Des Moines, IA – Wooly's
November 20 – Omaha, NE – Barnato