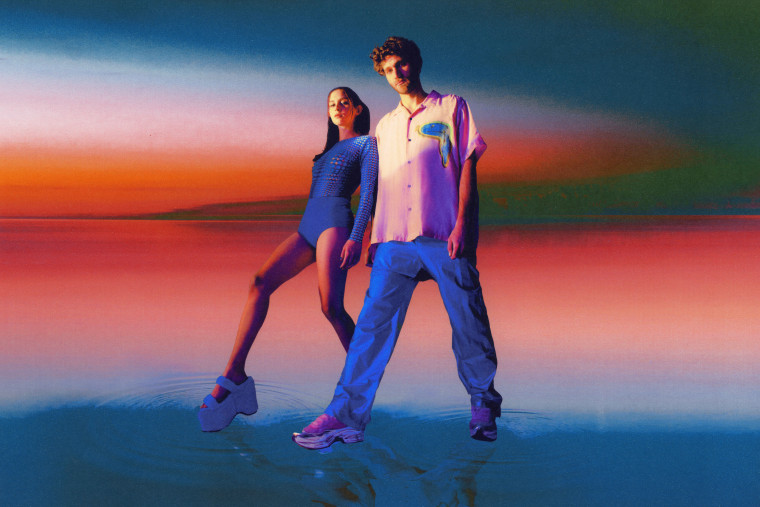 This Friday, electro-pop duo Magdalena Bay will drop off Mercurial World Deluxe, an expanded edition of their great 2021 album. The deluxe was first teased with "All You Do," an orchestral soft-rock number released in August with a hook fit for a Bond film. The latest cut, "Unconditional," takes the opposite tack: funky, fluorescent mall-pop for the future is the vibe on the new track.
"We think of 'Unconditional' as 'Secrets' weird little cousin," Magdelena Bay said in a press statement, referencing a track from the original version of Mercurial World. "Just like 'All You Do,' we loved it when we made it but it didn't quite fit the flow of Mercurial World."
"The Deluxe is a mish mosh of sorts," the band continued, "an amalgamation of new songs that didn't originally fit the flow of Mercurial World, of reimagined versions of existing album tracks by us and some talented remixers, plus fan messages. We've gotten hundreds of voice messages from fans since setting up our Secrets hotline last year. We've been quietly collecting and listening to these secrets… not in a creepy way but because we knew we wanted to use them in some way, but weren't sure how to. When we started working on the Deluxe, we wanted it to flow like the original album did. The voicemails happened to work perfectly to tie together all the different elements of the record. We've brought our listeners into our world and love how their voices give the album new stories and meaning."
"Unconditional" comes with a fairly fantastic new visual treatment directed by Magdalena Bay themselves. In the video, Mica Tenenbaum and Matthew Lewin host a birthday party for a variety of cute creatures in a Pee Wee's Playhouse-style living situation. "This video is our dream birthday party, and you're all invited," the duo shared. Watch it below.