LCD Soundsystem return to the dancefloor with "New Body Rhumba"
The song will appear in Noah Baumbach's upcoming White Noise.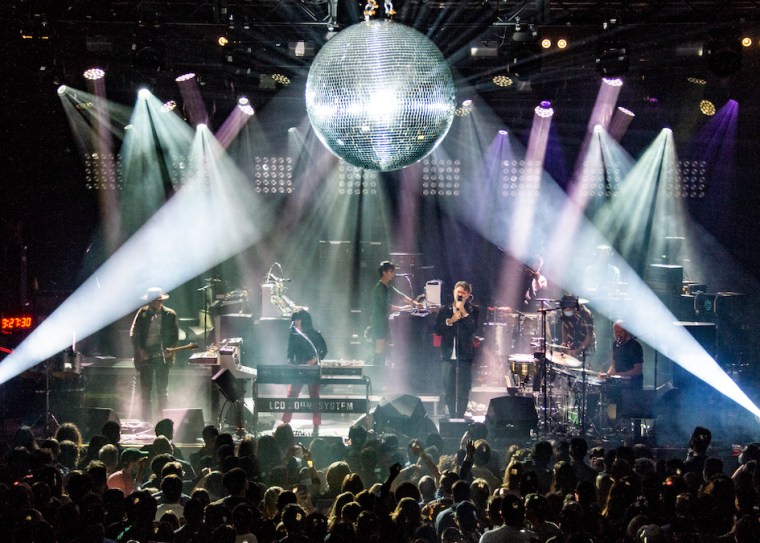 LCD Soundsystem have dropped "New Body Rhumba" their first new material in half a decade. Check it out below.
"New Body Rhumba" appears in the upcoming Netflix movie White Noise, an adaptation of the Don DeLillo novel from director Noah Baumbach. LCD Soundsystem and Baumbach have worked together in the past, with James Murphy providing the score to 2010's Greenberg.
In addition to the new music, LCD Soundsystem has also announced a new 20-show residency at Brooklyn Steel. The band have performed multiple residencies at the venue since its opening in 2017 and will play their 50th date there on December 4.See below for the full schedule.
LCD Soundsystem last released an album in 2017 when they made their comeback with American Dream. The album arrived six years after they played a series of farewell shows at Madison Square Garden, subsequently documented in 2012 concert film Shut Up and Play the Hits.
White Noise stars Adam Driver as Prof. Jack Gladney alongside a cast including Greta Gerwig, Jodie Turner-Smith, and Andre 3000. It is due to hit Netflix on December 30.
LCD Soundsystem @ Brooklyn Steel
November 18, 19, 21, 22, 26, 27, 29, 30
December 2, 3, 4, 6, 7, 9, 10, 11, 13, 14, 16, 17