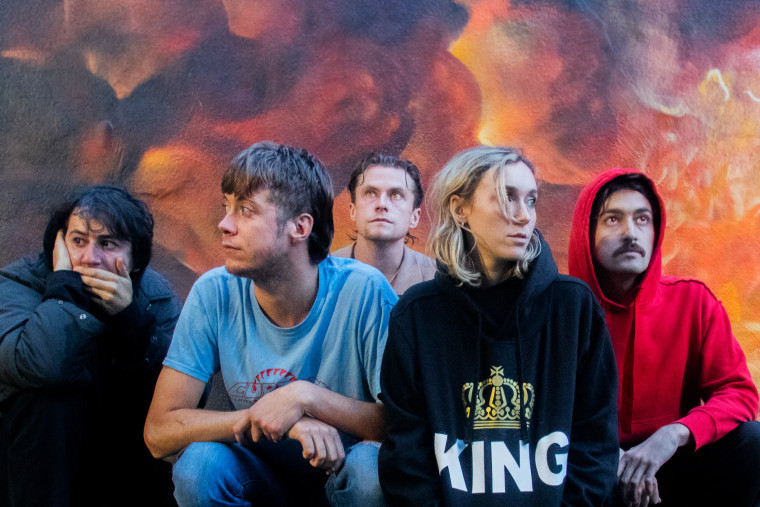 London band Sorry have dropped new song "Closer," the final song to arrive ahead of new album Anywhere But Here, out this Friday (October 7) on Domino. "We wanted it to sound like a song from a NYC band in the noughties and the sound developed from there," the group say in a statement. Mission accomplished!
In a statement Sorry add: "The lyrics in 'Closer' came quickly in one gulp, it felt as if I was talking through quite a few people that had hurt me and me hurting people too. It's about the person that we are made into sometimes by experiences or desire, and the shame that comes with that. It also is about addiction and the circular spiral of its pattern, rotating and returning."
Sorry have previously shared Anywhere But Here tracks "Key To The City," "There's So Many People That Want To Be Loved," and "Let The Lights On." The band will embark on a North American tour in the fall, playing shows at Brooklyn's Elsewhere and the Zebulon in Los Angeles. See below for venue and date details.
Sorry live:
11/8 Johnny Brenda's, Philadelphia, PA
11/9 Elsewhere Zone 1, Brooklyn, NY
11/11 DC9, Washington, DC
11/12 Local 506, Durham, NC
11/14 Aisle 5, Atlanta, GA
11/18 Mahall's, Cleveland, OH
11/19 Ace Of Cups, Columbus, OH
11/20 The Garrison, Toronto, ON
11/22 Empty Bottle, Chicago, IL
11/23 7th Street Entry, Minneapolis, MN
1127 Wise Hall, Vancouver, BC
11/28 Barboza, Seattle, WA
11/29 Doug Fir, Portland, OR
12/1 Rickshaw Stop, San Francisco, CA
12/2 Zebulon, Los Angeles, CA