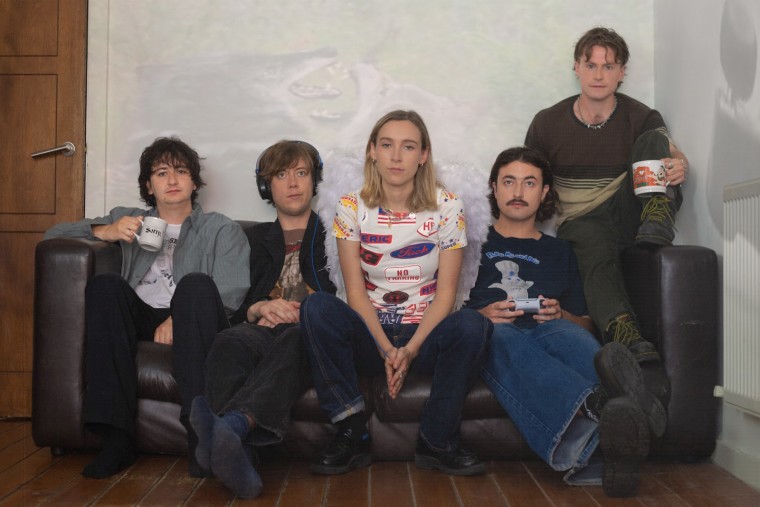 London band Sorry have confirmed details of their upcoming second album Anywhere But Here. News of the album, due October 7 via Domino, is accompanied by new song "Let The Lights On." Find a video for that below.
Anywhere But Here is Sorry's follow-up to 2020 debut 925. The band were profiled by The FADER around the same time. Last year they released the Twixtustwain EP as well as making 2017 mixtapes Home Demo/ns Vol I. and Home Demo/ns Vol. II available digitially for the first time.
Commenting on new single, Sorry say: "It's a fun love song for the club. A bittersweet track for us. It kinda touches on how you want to be honest and say things directly, but in the end that can also ruin them. If you've got a light don't let it go out… sometimes you have to leave things behind but it's hard to do. We tried to make it a bit ironic by saying things very plainly and direct. It's the last song we wrote from the album and came out of us trying to find something more upbeat for the album. It started off as a dancey song with driving bass and drums and became more poppy when we played it with the band and recorded it."
Anywhere But Here was produced by the band's Louis O'Bryen and Asha Lorenz, and Ali Chant along with Portishead's Adrian Utley in Bristol. Previous single "There's So Many People That Want To Be Loved" features on the album alongside "Let The Lights On."
Anywhere But Here tracklist:
"Let The Lights On"
"Tell Me"
"Key To The City"
"Willow Tree"
"There's So Many People That Want To Be Loved"
"I Miss The Fool"
"Step"
"Closer"
"Baltimore"
"Hem of the Fray"
"Quit While You're Ahead"
"Screaming In The Rain"
"Again"