BAYLI put her heart on the line in her "act up" video
Fresh from her appearance on Mura Masa's demon time, the NYC artist drops a loved-up new visual.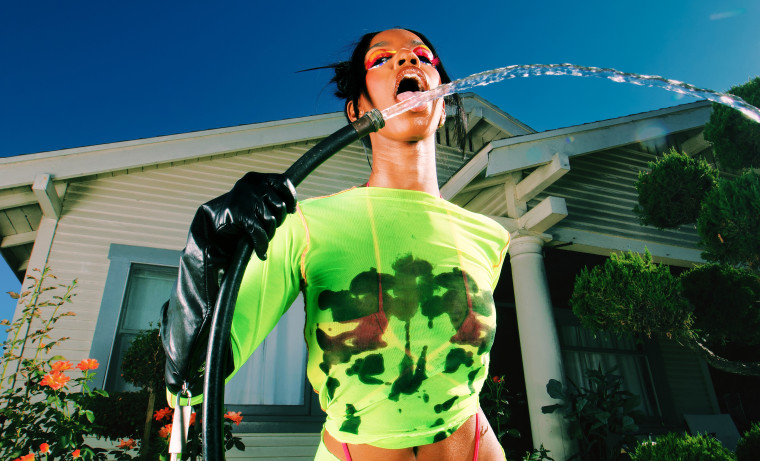 When BAYLI dropped her single "TELLY BAG" earlier this year it seemed to herald the arrival of an ice cool queen with a carefree demeanour. Or, as she put it, a song that "feels like the epitome of what it means to be a bad bitch."
New song "act up" changes that tact a little, with BAYLI showing us her softer side on an electronic pop song that acts as a love letter to her partner. The track will feature on the NYC artist's new EP Stories 2, out October 21. The "act up" video catches BAYLI in an apologetic mood as she tries to win her girlfriend back following an argument. She turns to every trick in the romantic playbook as she searches for the grand gesture to win back her girl. Check it out below.
Speaking to The FADER, BAYLI said: "'act up' is an ode to love! Of course, like so many of my other songs, its steeped in gay idioms and inuendoes and feels like a magic carpet ride through my own dreamy, campy audio utopia. In this song I'm singing to a girl who I am totally smitten with and the song describes the up and down roller coaster of dating someone who is strong, sexy, independent and a go-getter. Sometimes she's the chillest, kindest and "coolest" girl you've ever met, but if you push her to her edge she knows how to turn up and get feisty, as true bad bitches do."
Speaking about the video, she adds that it is "all about queer, more specifically lesbian, love. But instead of tapping in to my inner fuck boy, I am attempting to release him! I think most people, no matter their sexual orientation, have heard the stereotypes of lesbians falling in love and 'u-hauling' after the first date. While it'd be hard for me to debunk that myth (lol), the 'act up' music video depicts that intensity that girls can have in a romantic relationship from a slightly different view point. My hope is that it relays the idea to give your partner their flowers, both metaphorically and literally, any chance you get and also that hot people, sexy people, confident, bossy people are just people and, to put it simply: bad bitches need love too!"
BAYLI can be seen supporting Magdalena Bay on tour across North America throughout November.