The artists of Portola Fest on the state of sampled music
The diverse lineup of San Francisco's new electronic main event, Portola Music Festival, respond to a survey on the state of their art form. Plus, exclusive photos from the event's 2022 debut.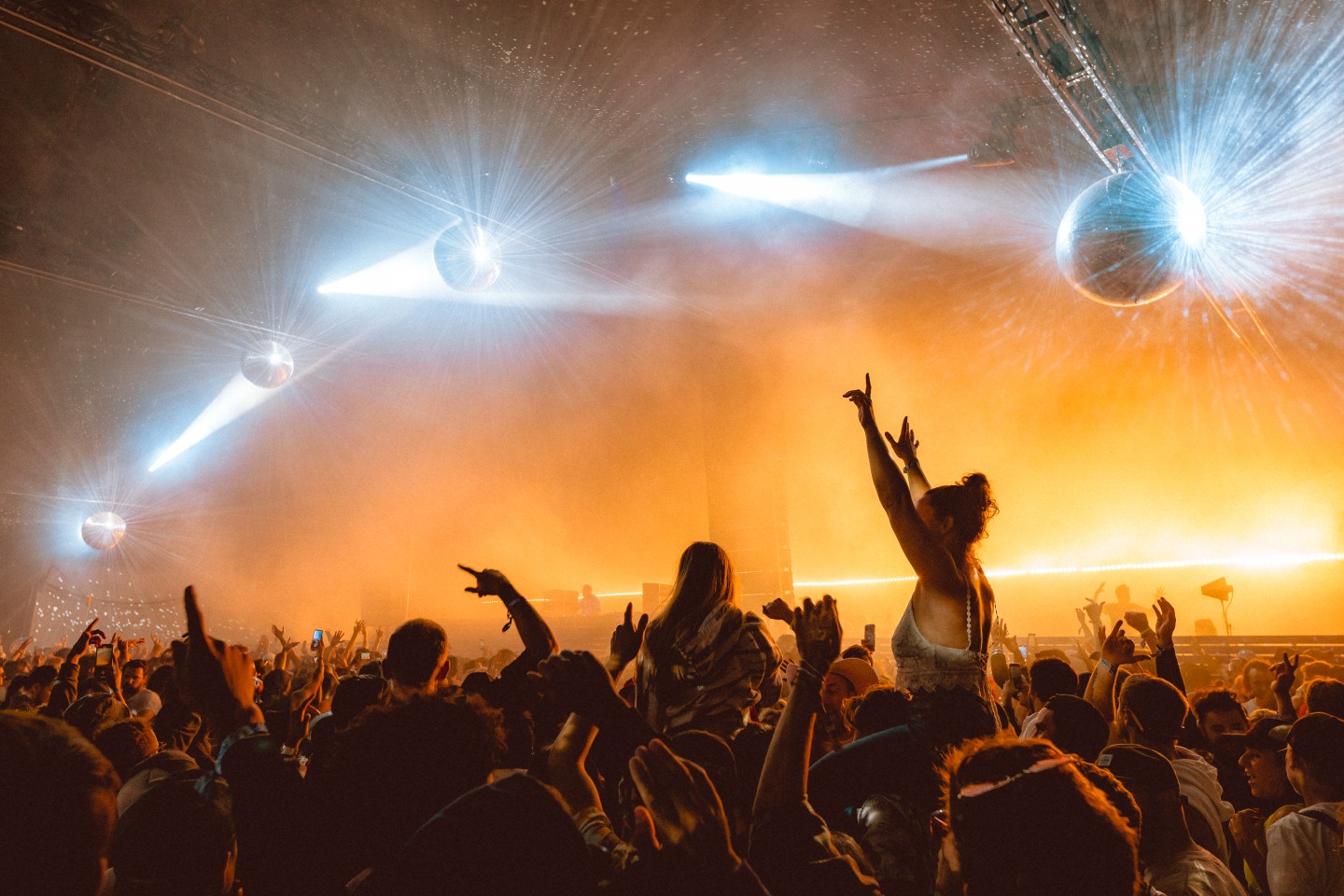 The weekend of Saturday, September 24 marked the first ever Portola Music Festival, held at San Francisco's Pier 80 and organized by Goldenvoice, the promoters of Coachella. The two-day event was a celebration of electronic music through the ages, with a lineup that showcased the diversity — in age, origin, and background — of the artists who make us dance. From pioneering producer DJ Shadow to emerging superstar PinkPantheress, the unique and motley crew of acts was a testament to how far the medium of sampled music has come through the years. Hit-filled sets from elder statesmen The Avalanches and Fatboy Slim blended with wonderfully avant-garde performances from Arca and Oneohtrix Point Never.
After spending the weekend at the festival, The FADER reached out to the artists of Portola to hear about their own particular experiences with sampled music, and their thoughts on the state of the art form in general, through a series of five standardized questions. Below, read about the past, present, and future of sampled music, as told by Flume, Gorgon City, SG Lewis, Slayyyter, Sofia Kourtesis, The Range, Young Franco, and DRAMA's Na'el Shehade. And check out some exclusive photos that capture the spirit of Portola Fest 2022 for those who couldn't make it out.
The FADER: What was your first experience with sampled music?
Na'el Shehade (of DRAMA): Some of my earliest experiences with sampled music were when I was 16 and first heard The College Dropout. Kanye's sampling style really spoke to a generation of young producers trying to find their way. That album really sparked a genuine curiosity to figure out HOW DID KANYE DO THAT! With some research, I went out and bought an MPC2000XL and a pre-owned ARS10 sampler and began my ongoing production journey.
Flume: Deep Forest's self-titled album. I used to fall asleep to this as a child, one of my favorite records.
Gorgon City: Hearing early hip-hop and breaks records was the first time I noticed that drum beats and vocal hooks had been sampled from older records. This got me into DJing and turntablism. I then got fascinated by instrumental records and cut records to use on my decks.
SG Lewis: Many of my first experiences with sampled music were long before I understood the concept of sampling. Like many listeners, it was only years later that I discovered that some of those songs contained samples at all. For instance Mase's "Feels So Good" opens with the lush horn arrangement from Kool & The Gang's "Hollywood Swinging," but it was only once I dived into disco and funk records in my teenage years that I discovered the sample!
Slayyyter: When I was younger, a lot of the music playing on the radio in the early and mid 2000s all had samples. I didn't even know they were samples until I got a bit older.
Sofia Kourtesis: I moved to Berlin from Lima when I was 17. I guess I first became aware of sampling around then. Through going out to clubs, following DJs, and eventually DJ'ing myself. Some of the most memorable parts of the tracks were those big vocal samples and loops.
The Range: My first experience with sampled music was on the radio, I'm sure. Most likely Biggie, if I had to guess. I don't know if I was even clocking it as sample-based music at that time but just that it was way more exciting than anything with guitars.
Young Franco: My first influential experience I can remember of sampling is listening to a Tribe Called Quest's "Can I Kick It?" and discovering the sample from that (Lou Reed's "Walk on the Wild Side"). I thought it was so interesting to take a snippet of a song and turning it into something brand new. Shortly after, I discovered DJ Premier, De La Soul, and all those classic '90s producers. It really opened up a new world for me.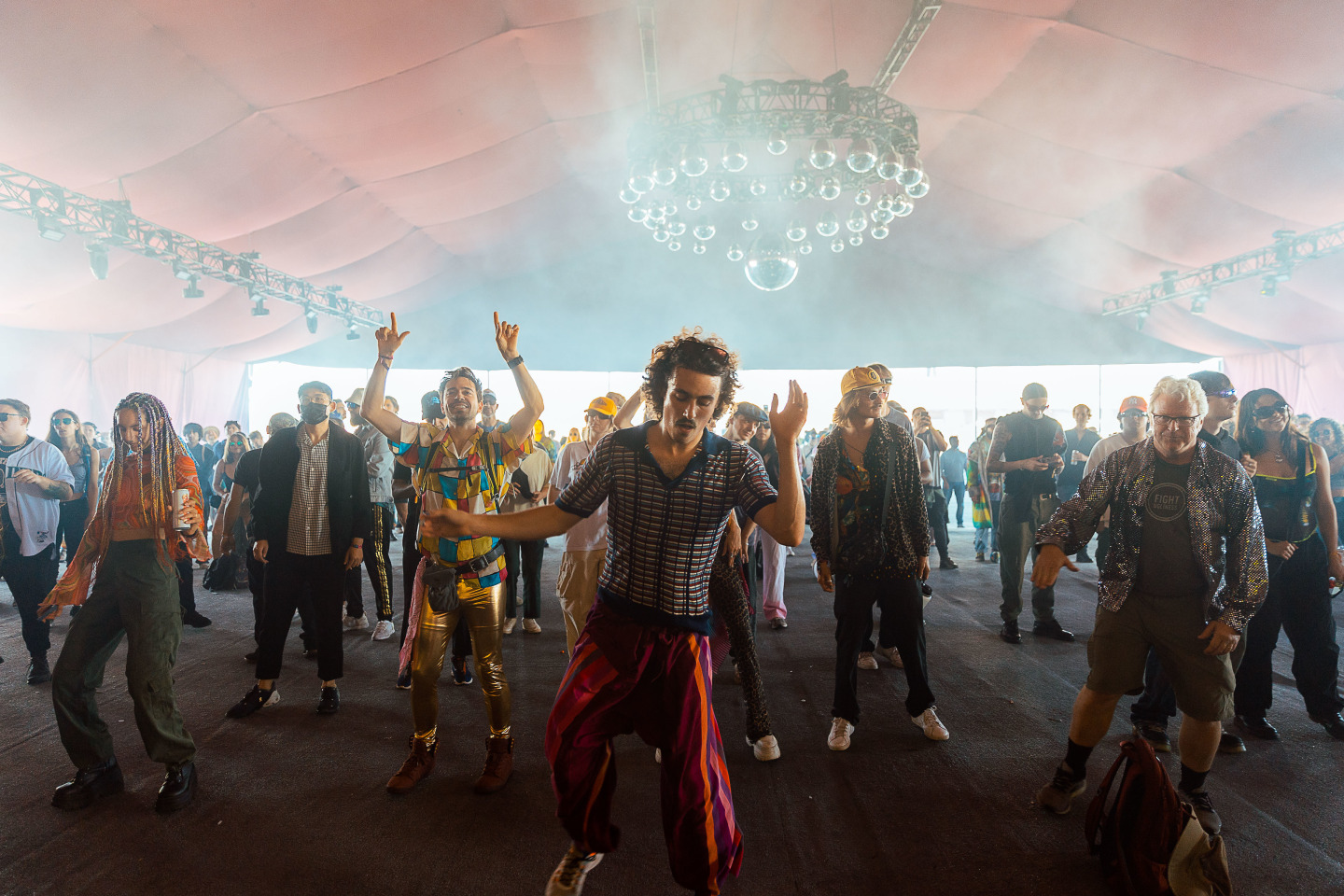 How would you describe the state of sampled music when you first started making it, and what was your early relationship to it like?
Flume: I had no idea what was sampled and what wasn't. I think it's one of the most enjoyable parts of being a producer.
Gorgon City: When I started producing properly it was mainly sample based, and it was jungle and drum'n'bass. I would spend hours finding samples on vinyl and buying sample CDs from shops and online. This was before downloads! I found it fascinating finding samples from all over the world. I used to buy sample CDs from shops when on holiday in places like Germany, France, and New York.
SG Lewis: I started making music in the SoundCloud era, when dubstep was at its peak of popularity. Sampling often came in the form of found sound and speech samples, used to create a tagline before a huge wobble bass came in and blew the listener's head off. It was gimmicky and soon grew tiring as a trend, but for a while it was a lot of fun.
Slayyyter: In the scene around me, I feel like samples played a smaller role in people's songs, but I always loved a good interpolation. My early relationship to it was always trying to make something completely different sounding from whatever I wanted to sample.
Sofia Kourtesis: I didn't really think about it all that much until my music started to reach more people. I used to just pick my favorite lines from movies and vocals from songs and build tracks around them. Once I signed to a bigger label and my music reached more people, it became a little harder, as I couldn't clear the samples I wanted to use because either the owners refused or they wanted a load of money which I couldn't afford. This made me get into recording my own samples, capturing the sounds I like on my travels and at home.
The Range: I started making my music at a pretty amazing time, given the state of the internet. As hard as it is to believe now, in the late 2000s people were just beginning to post lots of material on YouTube, so it was quite a novel idea to have a project like mine where it was reasonable to think about YouTube as the modern sample repository. Of course, in retrospect, that notion is both quaint and obvious, but at the time it was an explosion of possibility, as you finally didn't need to physically dig through records. Also, by having all of the samples in the same place, it began to break down the conventions of genre as you'd frequently begin to make musical links between disparate sources. It was very much a time in the spirit of [British broadcaster and science historian] James Burke.
Young Franco: When I was in high school in 2009, the internet (particularly YouTube) let you access any niche you wanted. I found a lot of what I liked through suggested videos and going down rabbit holes. It was so exciting because I had a wealth of information at my fingertips. Even though the music was old, it was fresh, new, and exciting to me.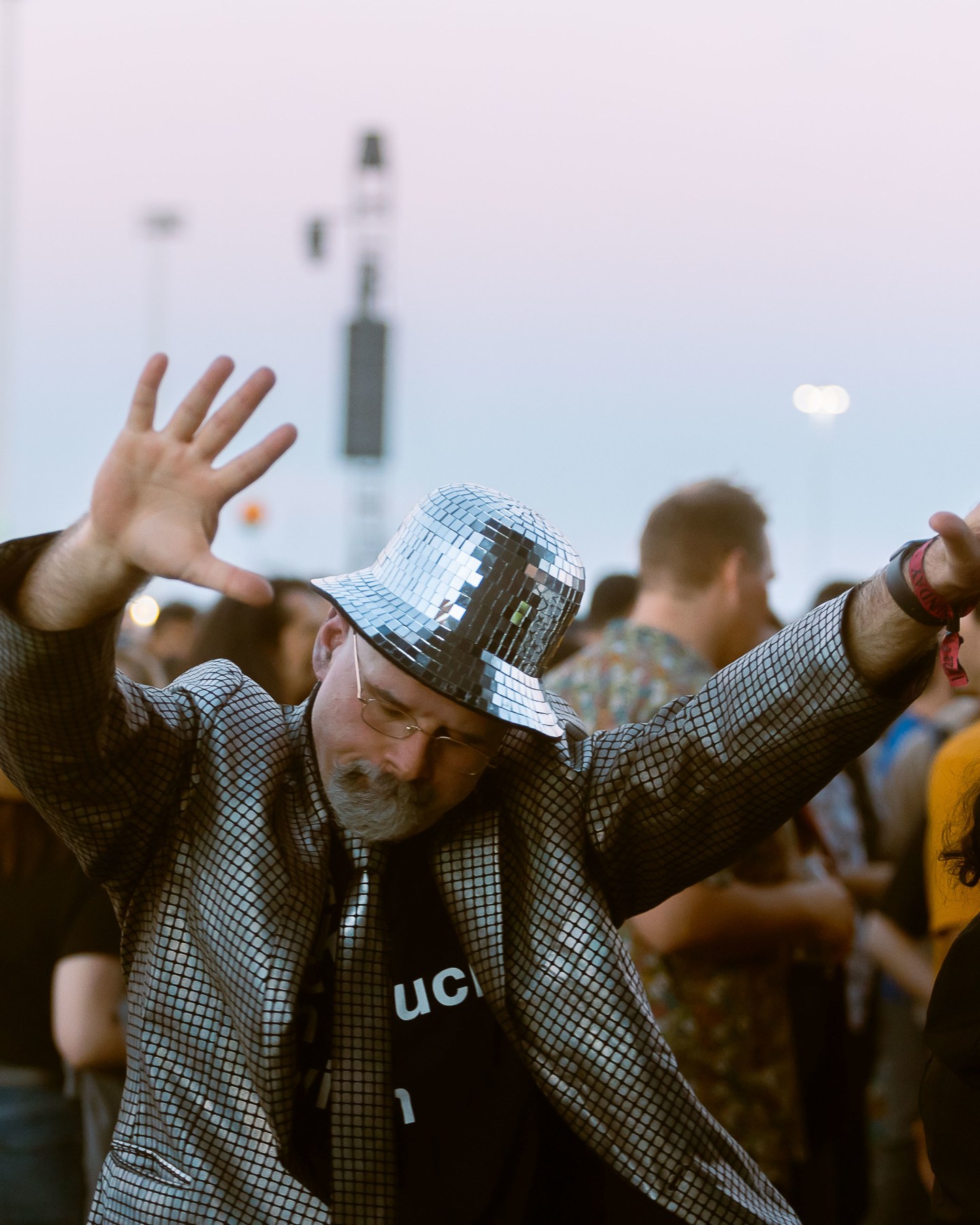 How has the state of sampled music changed since you started listening to and making it, in terms of stylistic and technological innovation?
Na'el Shehade: I personally think a lot has changed since the 1980s when sampling first began in the states. Stylistically, producers have expanded their musical taste from sampling funk and soul records to sampling international tunes from Egypt to Asia and turning them into global hits.
Technology-wise, sample quality has gone down. The warm sound of the ASR10 can never be replicated and isn't really feasible in the studio these days. Now we sample using VST plug-ins which degrade and eliminate that special sound. I can't lie: I am a victim of it, but it does make life easier.
Flume: Thanks to AI, It feels like the Wild West of sampling again. Like how it was back with early hip-hop. AI can separate stems to any song, any idea into stems. It's something I dreamed about as a teenager. Now it's a reality.
Gorgon City: It's completely changed and has now gone fully online. It's so easy to go onto a sample website and download a pack of any genre and make a tune in three hours. It's made the choices endless and the search effortless. Back in the day, it was much harder to find good samples. It's made more copycat tracks and overused samples, but also maybe people putting less effort into originality.
SG Lewis: Sampling has become so easy now through digital sampling software that often you don't have to even know which part you're going to sample before you get to work. Sometimes I throw a track into Serato Sampler and just search around for small chops and riffs rather than sampling a whole section of a song. There's also so much processing software now that a sample can be mangled beyond recognition very easily.
Slayyyter: I feel like interpolations and samples are EVERYWHERE now. All over the radio, all over top-40 pop. It wasn't like that as much a couple of years ago, so there's definitely a big trend right now. Sampling has always been, and will always be, around, though. But I think lately, people use a bit too much of the song they are sampling rather than flipping it in a fresh way.
Sofia Kourtesis: I used to just rip from YouTube, to be honest, but these days I have a mobile recorder and I take it everywhere in case I hear something I like.
The Range: Stylistically, it feels like samples have become much higher definition as a rule and carry less historicity than when I first started making music. There was a terroir to the sample choice that was accentuated by definition, as you were more likely to deal with a rip and re-rip of material proportional to its age. Now it feels more referential when a sample is chosen than a way to force the music to respond to the degradation that happened when pulling from older sources.

I suppose — similarly, of course — the speed of processors now basically doesn't force any stylistic choices. As an example, I can change single notes intra-chord now if I want to, whereas before, you had to live with some pretty insane artifacts if you wanted to harmonize with the sample in a different key. That is exponentiated by the proliferation of Splice and sample packs, which are deeply functional but devoid of a lot of the extra latticework of where and why someone chose a sample. That is still my driving force, but it's starting to feel a bit in the rearview mirror, simply because of how easy the software is now. Even sampling chords through MIDI packs is commonplace now, so you can pretty much sample entirely without listening to records, which is neither good or bad but very different in nature to the history of sampling up to this point.
Young Franco: I think we are currently seeing a new wave of sampling, (Jack Harlow, Nicki Minaj, LUUDE), and it's exciting! People are pulling from songs and interpreting them in their own way, much like [they did in] the '90s and 2000s. Only this time around (as a generalization), it's with more pop songs rather than niche records.
How have you evolved along with sampled music as an art form?
Gorgon City: We're always looking for the new sounds as synths, and that's what keeps music production interesting. We still love it after all these years!
SG Lewis: There's a lot of variation in the way I sample now as: In my song "Something About Your Love," I sampled a large section of Force MD's "Tender Love" and tried to use in the way I imagined Daft Punk would. In other instances on my [next] album, a sample has consisted of a tiny chop, used in a percussive manner, which is almost impossible to detect as the original song.
Slayyyter: I feel like my taste in things I want to sample has changed a lot. I've expanded my musical palette over the past few years.
Sofia Kourtesis: Not really. I just try and sample my own stuff or from artists that might be willing.
The Range: I am in the far tail of the distribution of samplers, so I might not have the best finger on the pulse of how most producers are sampling these days. For those that don't know my music, I try to sample from individual voices on the internet that have a relatively small number of views. I think that was a pretty intuitive way to make music since the beginning of my project, given how much time I spent online.

The most notable change has been the river running dry at various points, which seemed impossible when it first started happening. I have a set of search terms that I use, and they started going dry about halfway through working on my most recent album Mercury. I never thought that my process would be at the mercy of the tech giants, but in retrospect, the switch from people posting videos of themselves on YouTube to Instagram and TikTok meant that it was going to be harder for me to search in the way that I had become accustomed.
It's a little in the weeds and specific to my music, but the inability to connect multiple search terms together — as well as the more collaborative nature of posts today — means there are either way too many videos for a generic term like 'acapella' or its become really rare to find people just singing an original song that they wrote by themselves. Given the pace of change, I'm sure this isn't a permanent state, but there were a few scary weeks that I wasn't sure I'd be able to keep making music this way. So far, it's been hard to adapt, but I have a few ideas about how to break through that I'm excited to pursue for my next album.
Young Franco: I would like to maybe pull samples from more records. I think I draw inspiration from a lot of music. I think in a way you could call that sampling, even if it's not directly.
How would you describe the state of sampled music today?
Flume: Sampling has been something I've avoided for much of my career, mostly due to copyright laws. Now sites like Tracklib have made the legal process a non-issue. Starting to sample again has been really rewarding and fun.
Gorgon City: It's global and infinite!
SG Lewis: I think that a lot of sampling has gotten less creative and innovative. People are leaning on the familiarity of iconic hooks to form the foundation of their tracks, knowing that it will give their track a larger chance of connecting with an audience. In a world of TikTok and short attention spans, people are relying on tried and tested records to gain an advantage, and I think that's a shame.
Slayyyter: I think with most things, there can be people doing it well and people doing it not so well!
Sofia Kourtesis: It's hard. There are so many amazing tracks I'd love to sample, but I know I'd never get the approval or be able to afford the advance. Obviously, this means more and more artists are putting up bootlegs on YouTube/Bandcamp, and it can feel like discovering a rare record in a store, which is cool. I hope one day the process of sampling is easier. I'd certainly sign up to a system where producers could sample my music in a simple and legal way.
The Range: I'm really excited about sampled music today. If you take a step back and think about it, basically all barriers to sampling are gone now. If there were ever a Mozart to come from this genre of music, it's most likely to be right now. The entire recorded history of music is available to anyone with a phone; Ableton and Logic can be learned in a weekend; and sampling has probably succeeded the piano as the most intuitive tool to anyone that loves music. I'm sure I'm not alone in feeling astounded at the depths of knowledge about music today, relative to even ten years ago.

Of course, there are parts of sampled music today that I don't like. I find the memetic parts of TikTok to be a heinous misdirection. The game theory that currently exists only rewards surrender to whatever meme song happens to be popular, and I worry that a lot of talent is completely wasted chasing that dopamine. It's so obvious that it would read as insane to anyone that was dropped into this point in time that so many obviously skilled musicians are forced into duetting cat videos to try to have a career in music. It makes no sense but is unfortunately the bulk of all sampling consumed by a large margin at the moment. But overall, I am just excited to see what the next ten years hold for sample based music. I know I have more ideas and excitement to keep exploring today than I ever have, and I'm sure I'm not alone.
Young Franco: I think it's constantly evolving. Old music can be given new life and will constantly be re-imagined.