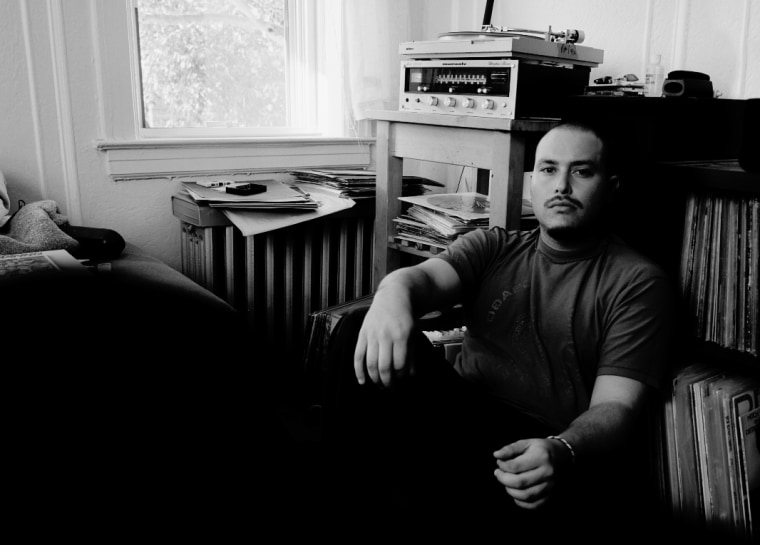 Nick Hakim has shared the fourth and final single from his forthcoming album. COMETA drops this Friday (October 21) via ATO Records, and "Feeling Myself" is out now. The new track follows the project's August lead single "Happen," September's "Vertigo," and "M1," which dropped earlier this month.
On an album full of slippery, amorphous cuts, "Feeling Myself" is surprisingly straightforward and upbeat. COMETA is full of love songs, but this one might be its purest expression of intense infatuation. "You got my tongue out of my mouth, tongue out / I'm addicted to loving you," Hakim sings on the chorus, his voice sliding uncontrollably into a joyful howl.
"I've never really written anything that's like that in terms of the personas," Hakim says of his novel approach to writing the song, which he calls the most confident of his career. "Where I'm coming from is always conversational like I'm talking to someone… I'm being nice to myself and the energy boosting around is confidence and loving yourself in a way that you haven't really felt in a long time."
Still, Hakim's efforts, however sincere, are always sidelong — never so directly on the nose that they lose their artistic value. He cites Iggy Pop and David Bowie's collaborative album, The Idiot, as inspiration for the new song, and like those two eccentric rock titans, he infuses his heartfelt ballad with a healthy dose of strangeness: a bass line that rushes ever so slightly ahead of the beat, dissonant synths whose overtones cause the entire instrumental to warp around its edges.
"Feeling Myself" arrives alongside an abstract, collagic visual treatment courtesy of Jack Greeley-Ward and Ana Projects. Watch it and check out all of Hakim's upcoming tour dates — including four October album release shows — below.
Nick Hakim COMETA tour
October 20 - New York, NY - TV Eye* (SOLD OUT)
October 23 - Long Beach, CA - Fingerprints Music*
October 24 - Los Angeles, CA - Zebulon* (SOLD OUT)
October 27 - London, England - Avalon Café* (SOLD OUT)
December 9–11 - Acapulco, MX - Trópico Festival
January 20 - Boston, MA - Brighton Music Hall
January 21 - Brooklyn, NY - Brooklyn Steel
January 22 - Washington D.C. - Union Stage
January 24 - Philadelphia, PA - World Cafe
January 27 - Atlanta, GA - The Earl
January 28 - Nashville, TN - The Blue Room
January 30 - Houston, TX - White Oak Music Hall
January 31- Austin, TX - Parish
February 1 - Dallas, TX - Club Dada
February 3 - Phoenix, AZ - Rebel Lounge
February 4 - San Diego, CA - Casbah
February 5 - Pioneertown, CA - Pappy & Harriets
February 7 - Los Angeles, CA - Regent
February 8 - San Francisco, CA - Regency
February 10 - Portland, OR - Doug Fir
February 11 - Seattle, WA - Neumos
February 12 - Vancouver, BC - Hollywood Theater
March 12 - Berlin, DE - Lido
March 13 - Amsterdam, NL - Melkweg OZ
March 15 - Paris, FR - Trabendo
March 16 - Brussels, BE - Botanique Rotonde
March 18 - London, UK - The Forum
* COMETA album release show