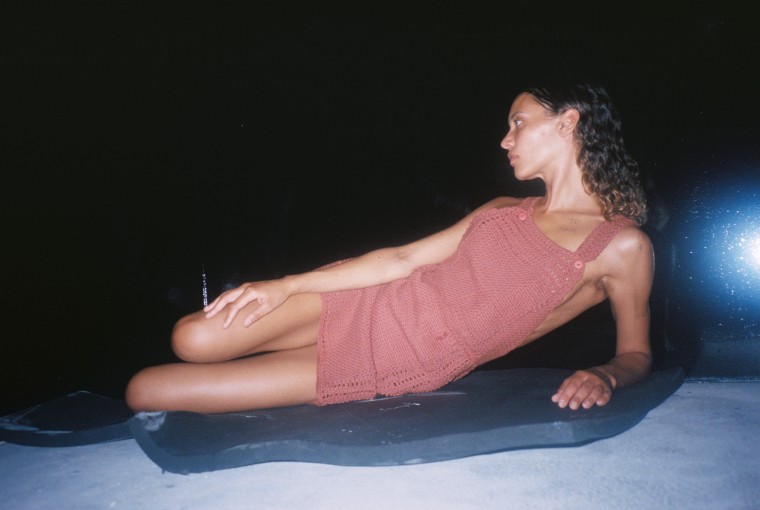 Earlier this year DALL-E Mini helped create one of the more surreal viral trends when its AI image-generation tool spawned creations such as R2-D2 being baptized and Snoop Dogg being sued by Snoopy. The simple app generated a range of images from a simple text prompt, giving users an insight into the ways how artificial intelligence can warp reality.
Okay Kaya, aka Kaya Wilkins, used DALL-E's original AI technology to create something a little more beautiful. Her trippy and psychedelic "Inside Of A Plum" video offers a new take on the lyric video, putting the words to a song inspired by ketamine therapy alongside zoomed in, abstract images of things both ordinary and uncanny. She conjured thousands of images, using an endless list of inputs focused on everything from stained glass to ice cream while frequent collaborator Austin Lee added fonts to bring the lyrics to life.
Speaking to The FADER, Kaya said she found the whole process to be rewarding as she bridged the gap between imagination and technology. "It's pretty incredible to enter a collective consciousness machine and make dreams come close to true," she says.
"Inside Of A Plum" features on Kaya's upcoming album SAP, a concept album about consciousness made alongside a host of collaborators including Nick Hakim, deem spencer, Taja Cheek of L'Rain, and Eli Keszler. See below to check out the video as well as more of Kaya's thoughts on the process behind making it.
The FADER: What does "Inside of a Plum" mean to you and how does it fit into SAP?
Okay Kaya: The inside of a plum represents a closed eyelid that is not conscious that it is in fact said eyelid, [it] could for example be the inside of a plum or a sort of reddish womb.
What did you want to achieve with the visual side of this song?
The feeling of movement through over and a part of via objects natural, mundane or magical.
What kind of natural language inputs were you using with DALL-E to create the imagery?
The astral plane in an ice cream tray.
A photo of an obsidian pebble laying on a bed of fluffy moss.
A fountain made of a clamshell oozing the milky way on a blue background.
A stained glass depicting light green hearts and vines.
A photo of a tap dripping stars in the universe.
A 35mm photograph of an unlit match head wearing a pinstripe suit orange background.
I also fed it many of my own photographs and used a lot of Dall.e's variations to make the images nod to liquid light shows but with a more ketamine camera movement.

What was the most unusual or memorable imagery you landed on?
The aesthetics of this didn't land at all, but i like how she ended up writing out "the of & the pain."
Did you have visual ideas for the song when it was written? If so what were you thinking of when you wrote it?
The main thoughts were:
the inside of a plum
and the astral plane in an ice cream tray
some imagery of stained glass
lotsa orbs
moss
lichen
foam
blood.