Song You Need: John Cale and Weyes Blood orbit and collide
"STORY OF BLOOD" is the lead single from Cale's newly announced LP, MERCY.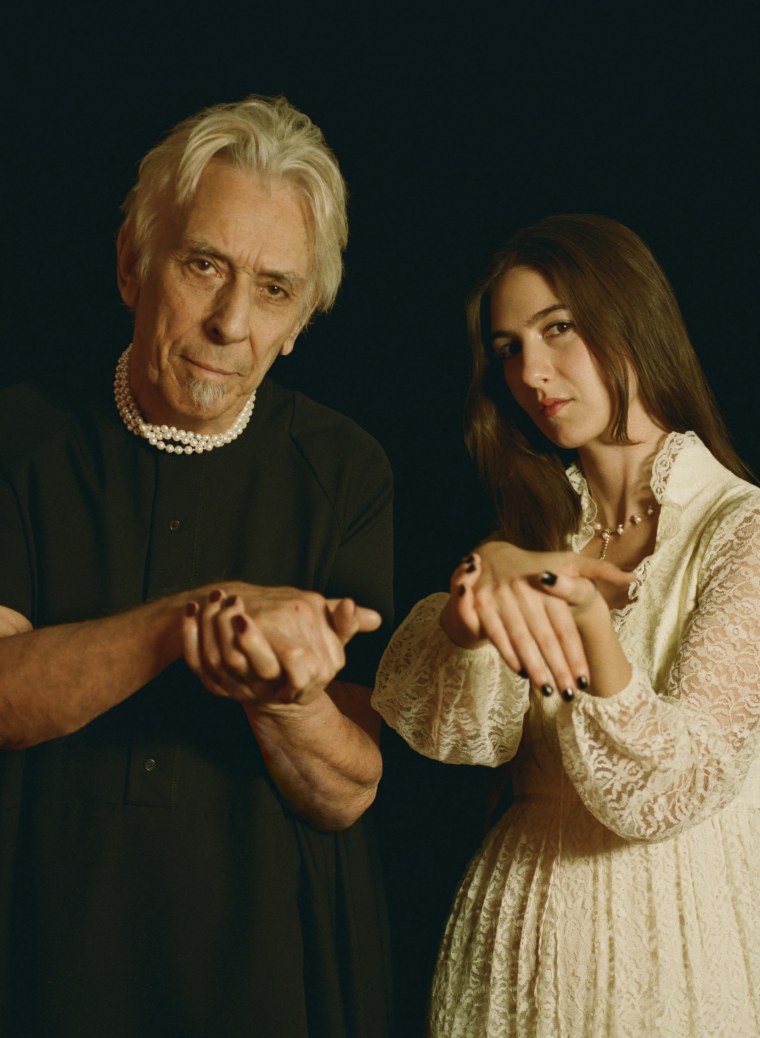 The FADER's "Songs You Need" are the tracks we can't stop playing. Check back every day for new music and follow along on our Spotify playlist.
By any definition, John Cale is a master of his craft. With his essential contributions to The Velvet Underground & Nico and White Light/White Heat, his towering body of solo work, and his collaborations with the likes of Brian Eno and Terry Riley, he's left an indelible impression on modern music.
Today, he's announcing MERCY, his first studio album since 2012's Shifty Adventures in Nookie Wood. It's due out January 20 of next year via Double Six and Domino Recordings. The news comes with the record's lead single, "THE STORY OF BLOOD," an eight-minute epic featuring another singular musical talent, Natalie Mering (Weyes Blood). The project will also feature Laurel Halo, Actress, Sylvan Esso, Animal Collective, Fat White Family, and Tei Shi.
The new track is less a song than a miniature electric symphony, a series of cathartic crescendoes tied together by an unmistakeable sonic palette. "This is the story, the story of blood / It starts in the heart," Cale begins after a minute-long piano intro and another 30 seconds of beat-building, his voice as rich and quavering as ever. "It moves all around, wakes you in the morning / And brings you down."
At this point, Mering enters. Her smoky moans pour from the lowest part of her register onto Cale's lattice of synthesizers and automated trap drums reminiscent of the ones Kim Gordon — another generational genius who waited longer than Cale to step out of the shadow of her excellent band's brilliant but flawed leader — used on her 2019 solo debut, No Home Record. Mering's voice touches Cale's at times, but they rarely sync up to harmonize for longer than a split second. Rather, they exist in an imperfect orbit of the instrumental, one catching up just as the other slips away.
The track chugs along, shakily at first but with increasing purpose, until — just before the six-minute mark — Cale brings it to a halt with a cheeky, 10-second vinyl-scratching solo. When the music resumes, Cale and Mering's vocal lines have collided and partially merged, still slightly disjointed as they soar above the now-self-sustaining beat. "Swing your soul," Cale repeats near the end of the track, sounding quite a bit like God. Whether a call to dance or something much more metaphysical, the lyric will echo long past the song's final notes in the mind of the beholder.
"STORY OF BLOOD" arrives alongside a gorgeous visual treatment directed by Jethro Waters. Watch the video, view MERCY's tracklist and cover art, and check out John Cale's upcoming tour dates below.
MERCY tracklist
1. MERCY feat. Laurel Halo
2. MARILYN MONROE'S LEGS (beauty elsewhere) feat. Actress
3. NOISE OF YOU
4. STORY OF BLOOD feat. Weyes Blood
5. TIME STANDS STILL feat. Sylvan Esso
6. MOONSTRUCK (Nico's Song)
7. EVERLASTING DAYS feat. Animal Collective
8. NIGHT CRAWLING
9. NOT THE END OF THE WORLD
10. THE LEGAL STATUS OF ICE feat. Fat White Family
11. I KNOW YOU'RE HAPPY feat. Tei Shi
12. OUT YOUR WINDOW
MERCY cover art
John Cale 2022 UK tour
October 23 - Edinburgh, UK - The Queen's Hall
October 24 - York, UK - Barbican
October 28 - Cardiff, WLS - Llais Festival*
October 31 - Whitley Bay, UK - Playhouse Whitley Bay
November 3 - Birmingham, UK - Birmingham Town Hall
November 7 - Bexhill on Sea, UK - De La Warr Pavilion
November 9 - London, UK - The London Palladium
November 10 - Cambridge, UK - Cambridge Corn Exchange
November 11 - Liverpool, UK - Liverpool Philharmonic Hall
*80th birthday celebration with special guests.