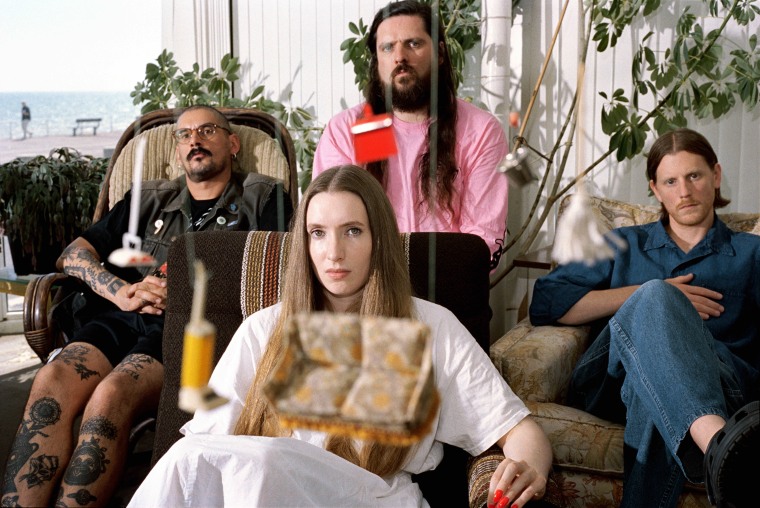 The FADER's "Songs You Need" are the tracks we can't stop playing. Check back every day for new music and follow along on our Spotify playlist.
If record stores had a section labeled "ASMR for Anglophiles," Dry Cleaning would be a mainstay. The London band sink their calloused fingertips into the brains of Brit and Brit-obsessed alike and massage the folds: gnarled post-punk, lyrics with the soul of beat poetry, and an engrossing ambivalence deep within the music's deadpan delivery catapulted the band to success with last year's New Long Leg. The restlessness of their sound carried over into the creation of their new project Stumpwork, released last week. Dry Cleaning sound emboldened, tapping from a well of "first thought best thought" that was deeper than previously imagined, something summarized nicely on the album standout "Hot Penny Day."
A surge of crystalline, dream-sequence electric guitar announces the song, followed by a far more surprising twist: a funky bassline. But don't head to the disco just yet: Frontperson Florence Shaw, the energy source of the captivating arrhythmia at Dry Cleaning's heart, offers a more mundane narrative. "If I could live across the road from a boot fair," she intones, her voice a kaleidoscope of monotones, "Wouldn't that be something? / If I'm thin as a bean pole, I can slip through the fence." The rest of Shaw's lyrics are fed by tributaries: relationship disillusionment and the violence of the patriarchy are some of the few concrete topics for us to latch onto. For the most part, though, the song delivers a captivating sketch of a train of thought set gloriously loose. Deciphering it is beside the point: Dry Cleaning's music isn't so much a puzzle to be deciphered as it is a reflection of our own interior puzzles — not exactly the same as the one on "Hot Penny Day," but just as elusive nonetheless.