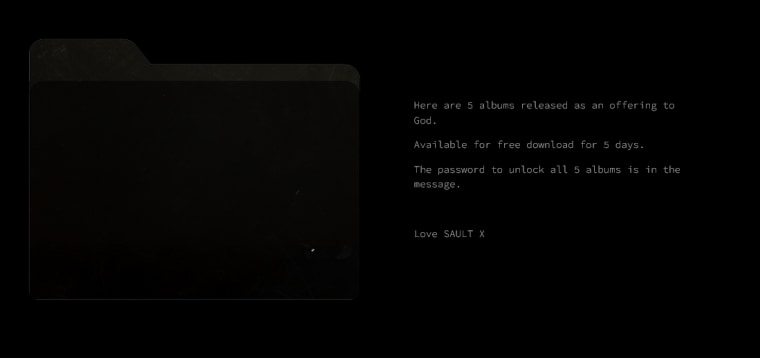 SAULT, the enigmatic British group whose identity is shrouded in secrecy, have released five new albums. The catch? They are all password-protected.
News of the albums was announced on Tuesday with a message on social media. Describing the albums as "an offering to God," the post explained that the password that unlocks the folder containing all five albums "is in the message." It included a link to the SAULT album where the encrypted folder can be downloaded.
The albums, should they be accessed, are titled 11, Aiir, Earth, Today & Tomorrow, and (Untitled) God. The link will be available for five days, expiring on November 5.
Last month SAULT released a new EP titled Angel. The 10-minute releasewas released as a single track and features singer-songwriter Jack Peñate and reggae musician Chronixx with production from Inflo, according to Spotify's credit information.
It followed modern choral album Air, released in April. Since emerging in 2020, SAULT have released a series of albums including Untitled (Black Is), Untitled (Rise), and Nine. That 2021 project was available to stream, download, and buy for just 99 days following its release.