Pure moods at Porter Robinson's Second Sky
As the electronic singer-songwriter's star grows, his annual music festival still feels like a personal labor of love.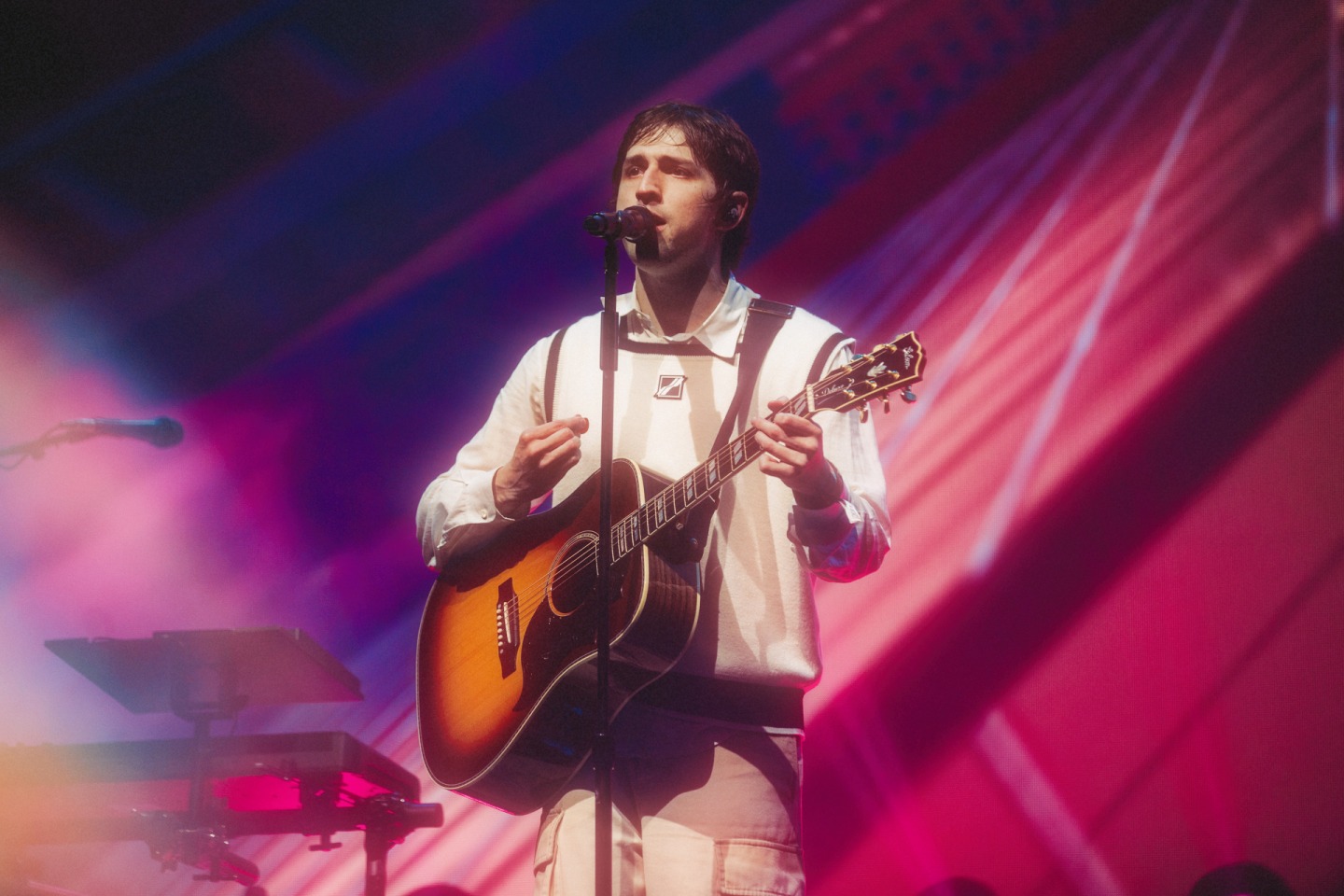 It's high noon in the parking lot of the Oakland Arena and I'm waiting in a snaking VIP line to enter Porter Robinson's annual music festival Second Sky. As the heat bears down on me and thousands of other attendees, most of whom are costumed, tongues begin to loosen and truths emerge. "At the end of the day," the tall, pale man from Sacramento in front of me says, "everyone here is just a big internet nerd." The couple he's speaking to, dressed in his-and-hers costumes based on the Disney alien Stitch, giggle with approval. There's very little daylight between Robinson's sensibilities and that of his fans, which engenders their dogged loyalty: Porter Robinson knows his audience because he is his audience.
From its conception in 2019, Second Sky has invited fans into both the shifting ambitions of Robinson's creativity and his enduring sensibilities. At first, he imagined it as a concert that would close the door on the previous iteration of his live show; it evolved into a self-curated, self-headlined festival showcasing the often-overlooked music he loved. Past lineups have brought together pop misfits (Anamanaguchi, Kero Kero Bonito), borderline household names (Cashmere Cat, Toro y Moi), and iconoclasts of electronic music production (Jon Hopkins and Madeon, a close friend of Robinson's who has played Second Sky twice). For Robinson's devout fanbase, it's an opportunity not just to party, but to understand something deeper about the artist they love.
This format exploded with Tyler, the Creator's Camp Flog Gnaw in 2011, and superstars like Post Malone and J. Cole have started their own festivals, eager to erode the line between artist and fan. But Second Sky digs deeper than any of them: rather than just create a live Porter Robinson playlist, the event plays with the idea of lore. It's clear when I first emerge onto the grounds that Second Sky is creating its own mythology; just south of general admission stands a huge installation of vine-covered ruins from some futuristic society, like a post-apocalyptic scene from Breath of the Wild. Next door, half a dozen columns lead to a relic of Potaro, a bird-like mascot created by Robinson that's become a sensation, the Gritty of EDM — throughout the day, there are never fewer than 20 people standing in line for a photo. Watching the dozens of Narutos, Marios, and one or two Jesus Christs mill about the structures, I find myself pondering possibilities for Second Sky's fictional narrative, something that predates the young festival by millennia and ends with me staring at a giant, faux-stone carving of an anime bird.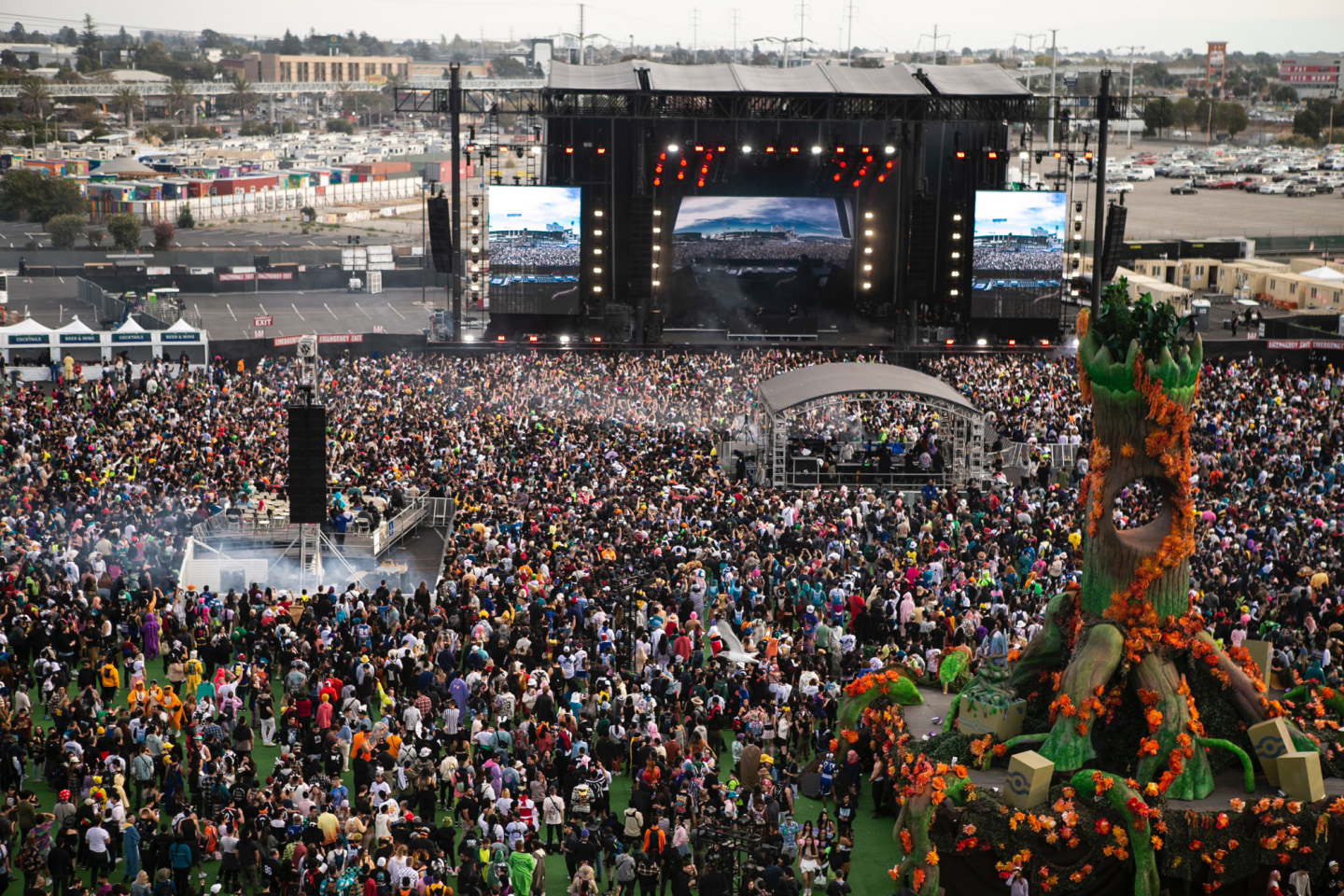 "I think of Second Sky as this world between worlds," Robinson tells me a few hours later. We're speaking in his green room, a box seat above the Arena's baseball pitch, and Robinson is playing with a thread on his oversized Rick Owens sweater. "It's like in Avatar: The Last Airbender, there's this thing called the Spirit Realm. The laws of physics don't quite apply, and there's a little bit of magic." He emphasizes the significant, year-round workload that goes into Second Sky. "There's ways that we could seriously cut corners," he says, "but that's really not what it's about. It's about joy for me."
Back at the festival, Robinson's close-to-the-chest approach to Second Sky is bearing fruit. The lineup for 2022 is its best yet, and each performance is received generously by the crowd (when I ask Robinson what distinguishes Second Sky from other festivals, he quickly says the attendees: "I think it attracts some extremely great people.") Swedish rapper Bladee wins over the non-Drainers in the crowd when he transitions from his narcotic raps into his catalog's EDM-influenced tracks. Magdalena Bay delight with a sludgy layer of guitar added to their boutique synth-pop, overseen by a jagged, disembodied assortment of pixels named Jerry. And while the performance from Skrillex, who subbed in at the last minute for Fred again.., is beset by technical problems, the crowd erupts after each successful drop as if to cast away the negative energies from the fried CDJs.
The early afternoon set by Kyary Pamyu Pamyu, Robinson tells me, brings tears to his eyes. The iconic Harajuku performer's set is a nonstop sugar rush with two pastel-colored backup jesters and a setlist of electro J-pop hits that included "PONPONPON," a song Robinson says was formative for him. "I looked out in the crowd and I saw how much fun people were having and just started bawling," Robinson says, becoming visibly emotional. "That's the point of it. I do this because I want it to be great and because it's fun, and for no other reason."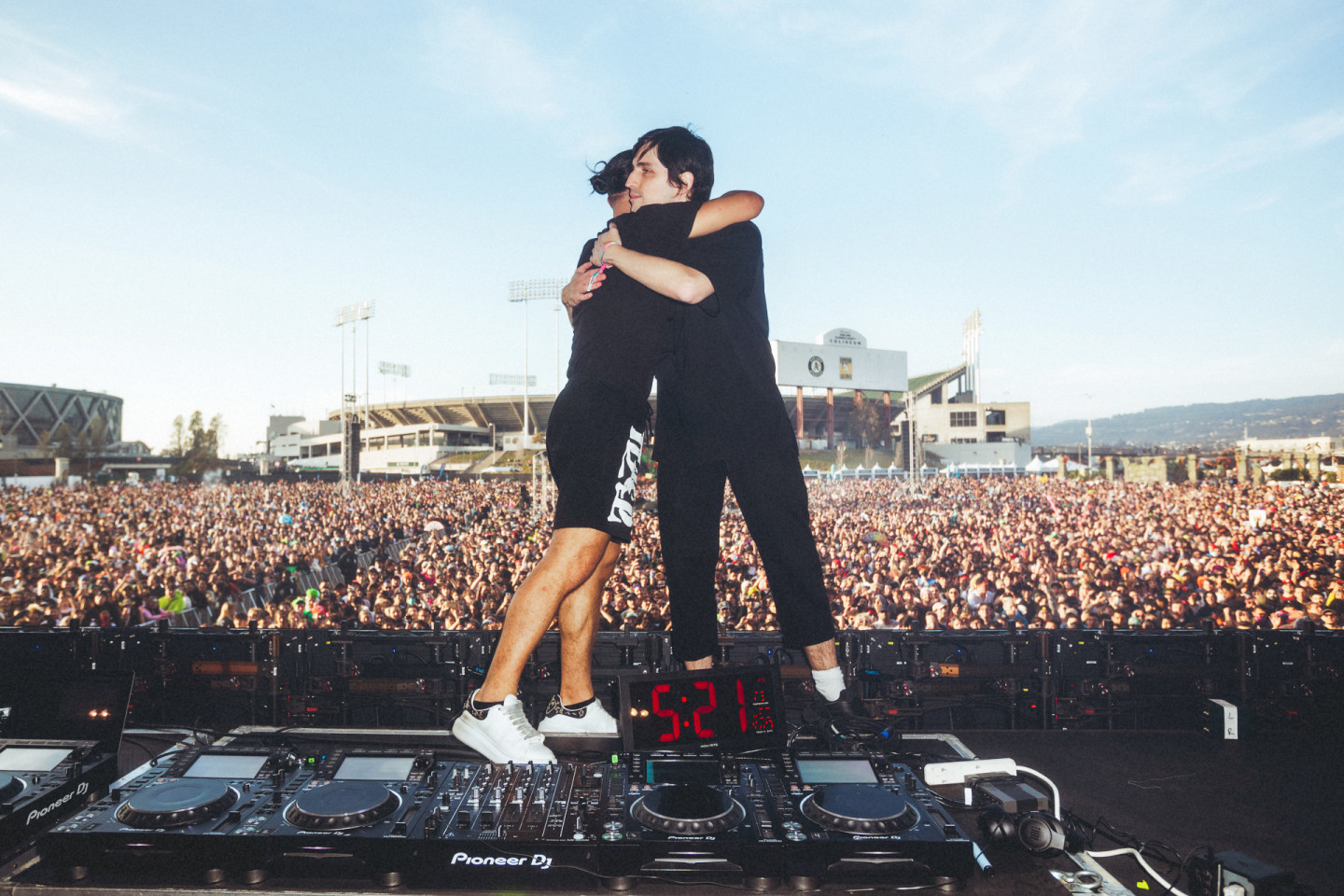 And Robinson has significant ambitions for his headlining performance, too. Last year, he premiered a refurbished version of the live show for his Nurture album, The FADER's favorite album of 2021. Second Sky 2022 marks the first time he performs these new songs with the backing of a full band. Nurture, with its expressed focus on pop songwriting and Robinson's vocals, made labeling Robinson as an "electronic artist" a tenuous prospect at best; the presence of the musicians onstage behind Robinson feels like the logical, if still thrilling, conclusion to this journey.
Onstage, Robinson has the presence of someone performing their heart out for a small group of friends. The live band's performance is mostly a faithful recreation of Nurture (they leave the stage when Porter performs music from Worlds, his electro-focused debut album) but their presence bolsters the already considerable catharsis of the songs. The ceaseless sense of soaring — fireworks launch during nearly every song, as well as Nurture's built-in sense of redemption — leave me wondering if this is what Evangelicals feel at Megachurch every Sunday.
Robinson, however, is no youth pastor, and his sincerity is difficult to impugn. He has laid bare his struggles with writer's block, depression, and a family illness that stood in his way while creating Nurture, and moments in his set add more depth to his story. During "Trying To Feel Alive," the song's lyrics and chords appear as background visuals. These annotations are Porter Robinson's treasure map back to himself. Shared onstage, they become invisible threads tying Robinson to anyone in the crowd on a similar journey.
Ultimately, Nurture is music to heal your inner child to. Whenever Robinson's voice transforms into a pitched-up, Vocaloid-adjacent sound live on stage, the euphoria of the crowd trends inward, as if they're allowing Robinson's unambiguous songs of struggle and encouragement to settle somewhere deep inside them. This feeling doesn't stop even when Robinson plays the song "Sweet Time," which he tells the crowd was written for his fiancee Rika. Clips of iPhone videos play in the background, not depicting a specific person, but things like a tree or a lake, perhaps places where the filmer found peace for a moment. The specificity of "Sweet Time" is the same that created the Potaro relic, that organized Second Sky's line-up, that rehearsed endlessly with a band for the first time: Robinson's own, outside world be damned. In creating a festival with himself in mind, Porter Robinson has devised a potent transmitter of connection.