The duality of Mount Kimbie
Kai Campos and Dom Maker break down their new split double album, MK 3.5: Die Cuts | City Planning, track by track.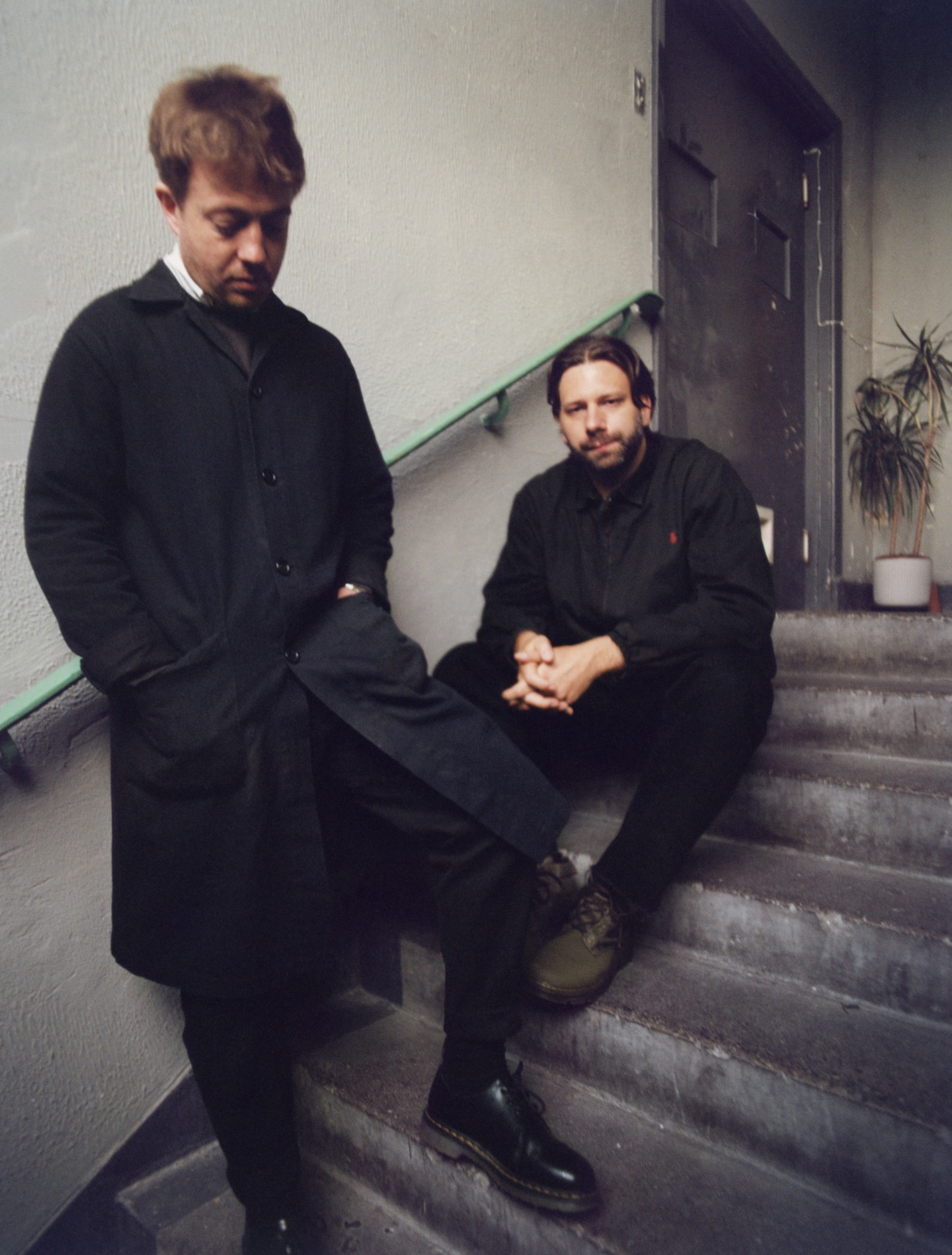 Mount Kimbie have found success over the past decade by presenting a united front, producing sleek electronic instrumentals that can feel impenetrably solid. But Dom Maker and Kai Campos are not a monolith. On their new double LP, MK 3.5: Die Cuts | City Planning, the duo spread out in opposite directions.
Maker's Die Cuts is a veritable orgy of collaboration, including a listed feature on all but two of its 12 tracks and far more behind the scenes. Though its backbone is the slippery synth work that Mount Kimbie is best known for, the disc delves into the nether realms of hip-hop and R&B, finding some of their most compelling artists on the way down.
Campos takes an almost opposite approach on City Planning. With only one collaborator on the 11-track project, he creates a world of solitary sketches, blueprints of an imaginary metropolis set far in the future.
On the eve of their completely distinct albums' joint release, Maker and then Campos broke down the process and themes behind each of their discs, track by track.
1. DVD (feat. Choker)
Dom Maker: To me, Die Cuts is all about the process of assembling something unique using pieces of larger, raw material. The construction of "DVD" embodies that concept. Duval Timothy sent me a lengthy, unedited recording of him and Sampha together — playing the piano, talking, singing, improvising — at Duval's basement studio in South London (a large, beautifully creative space, walls hung with colorful textiles, an upright piano mic'd up, keyboards lent against the wall, comfy seating). I sliced up that material and made two loops that worked glued together. The next week I had a session with Michael Uzowuru, and that's where I met Choker. We all traded a few ideas and Choker sent me those loops back with his vocals on them. He then bought in Teo Halm, who recorded bass and drums on them, and I boiled the stems down a little to finish.
2. In Your Eyes (feat. slowthai & Danny Brown)
Being denied the use of a sample is similar to waking up from an amazing dream and realizing it was just fantasy. Unfortunately, that happened on "In your Eyes." I had to reconstruct the whole first half of the instrumental around the verse that Ty had laid down at Truth Studios in Los Angeles, and Danny's verse was flown in for the second half. I wanted to make it feel like the first half of the song is a rain storm and the beat switch is the moment when the clouds part and the sun breaks through.
3. F1 Racer (feat. Kučka)
Kučka supported us on our U.S. tour a few years back, and we've stayed close ever since. I sent her this instrumental one morning, and she quickly sent it back with this vocal idea, confessing that the night before, she'd had a dream about being an F1 racing driver competing in a Grand Prix and had written this song about it. I wanted to try and create the feeling of movement and momentum in the beat. As with the majority of the songs on this album, I collaborated on this instrumental with my friends. I had James Blake add the main synth line, and my good friend Chris Trowbridge (Partner Music) chopped up and sent me the original sampled loop that makes up the spine of this song.

4. Heat On, Lips On
I chopped each individual word of a poem, written and performed by a spoken word artist I discovered on YouTube. I then reassembled them to create new sentences over two different beats I'd made by sampling some stock 'jazz music' that someone had made and posted on one of those 'royalty free' music sites. I see this as a couple of messy pages in my audio scrapbook.
5. End of the Road (feat. reggie)
Me and reggie made this in our first session together. He suggested pitching up his vocal on it, which, to me, sealed the fact that I wanted to work with this guy as much as possible! The original sample is from an old low rider soul tune that I discovered. To me, it feels like a drive thru somewhere in Southern California. reggie is a rare talent and I'm honored to feature him on Die Cuts.
6. Somehow She's Still Here (feat. James Blake)
Originally, me and James produced this song for Jay-Z. It was about 24 hours away from being on 4:44 and got canned at the last minute. Jay's loss is my gain (definitely the only opportunity I'll ever get to say that). It features a great sample from the legend, Mahalia Jackson. I remember a surreal incident where I was playing this on my headphones in the back of an Uber after I'd just left one of the sessions with Jay and James. We were snaking down a narrow, scarcely lit road in the Hollywood hills and the driver stopped and asked me to play it over his stereo as we continued down, passing mansions and Bugattis.
7. Kissing (feat. slowthai)
One of the oldest tracks on the album. One of my favorite slowthai vocals ever. I spent many hours trying to exact the drum programming on this one. My friend Josh Stadlen came up with the melody that comes in after the first chorus, when the beat switches. The song feels so "British" to me, very nostalgic. Despite having moved to the U.S. over seven years ago, I still miss the U.K. a lot, and that longing definitely gets into my music.
8. Say That (feat. Nomi)
This is the first time Nomi has ever released music under her name. It's my favourite track on the album. Her vocal is so pure and beautiful, I underlaid the entire instrumental with the sound of a crackling fire, and there are a few moments of ASMR recordings of people whispering sentences about love and commitment. Me and Nomi are gonna make a lot of music together in the future. She's fantastic.
9. Need U Tonight
The one interlude on the album. I made this with Chris Trowbridge: the guy always supplying me with amazing samples and chops. It's a quick flick to another channel for a second, and then its gone. It feels like a flash of a memory.
10. If and When (feat. Wiki)
I was so in love with what Wiki had recorded, I had to gut the original beat that I'd sent him and make something totally new. I resonated with what he speaks about: alcoholism, trying to hold everything together. There's so much energy in his delivery, and I wanted to match that. Wik came over to L.A. to finish the song with me. I probably sent him 15 different versions of it, but this is where we ended up.
11. Tender Hearts Meet the Sky (feat. KeiyaA)
KeiyaA flew over from New York to work on this with me. We spent most of our time talking and laughing together, then at the very end of her stay, my friend Cedie Janson came into the studio with his Kaoss Pad and came up with a crazy chop that K wrote to and recorded over. I absolutely love KeiyaA's music, so it was huge for me to have her involved.
12. A Deities Encore (feat. Liv.e)
Liv.e and I spent a couple of hours together playing music back and forth at each other, exchanging an aux cord. She took the main loop home with her and came back the next day with this entire vocal recorded — an intricate weave of layers upon layers of harmony. Working with her inspires me like no one else. Liv.e makes me feel like I can do anything musically and be completely free.
1. Q
Kai Campos: "Q" is a small little thing: just a nice loop I had made, a 606, and a pitch delay effect. It came late in the day, but after it was done, it was obviously the first track because I think it succinctly establishes the world of the record.
2. Quartz
"Quartz" is an expansion of the first track. I'm not considering tempo when I'm working, just listening for what feels right, but I was a bit surprised to see this was running so fast. I was finding more pockets of space when the tracks started getting faster. This was a rhythm track for a long time, but in the end, I felt like it benefited from adding the color that came with the chord sequence.
3. Transit Map (Flattened)
"Transit Map" is the only collaboration on the record. I was listening to a piece of piano improv from our bandmate Andrea Balency-Béarn and was instantly obsessed with this one phrase, which is the piano line of this track. Much against the intention of the original piece, I felt like it needed to be looped forever underneath a kick drum.
4. Satellite 7
"Satellite 7," "9," and "6" are all closely related. Early on, I found a sequencer I hadn't used in several years and started playing round with some old ideas that were saved in it. I was into the idea of exploring one idea from several different view points. "Satellite 7" was the first, and originally, it turned into this really big, more clubby track that at some point I realized wasn't very good.
5. Satellite 9
"Satellite 9" was made while mixing the record and came together in a really short time. That process was how the best part of this record came together. There was a long and slow period of making lots and lots of ideas. And then the last part was stripping them back, cutting them apart, and working really quickly on new ones — mixing them in that moment, following the energy they were presenting.
6. Satellite 6 (Corrupted)
"Satellite 6" is one of my favorite moments of the record. It was pretty much a happy accident that came from a really boring type of error in the studio, but these are the most exciting parts of making music. I wanted it to feel beautiful but also uncomfortable, like looking at the sun.
7–9. "Zone 3 (City Limits)," "Zone 2 (Last Connection)," "Zone 1 (24 Hours)"
Zones "3," "2," and "1" are another three-parter! It started off as quite a simple arpeggio which I built on and tried to look at from a few different angles. It makes heavy use of the Roland JV1080, which is a synth that was very popular in the late '90s but still has a lot of magic to me. "Zone 1" is the most dense and complete bit of music on the record, but I wanted to show the inner workings of tracks as well, and Zone 3 is the DNA of the whole thing.
10. Industry
"Industry" signals a change in direction at the end of the record and is quite an abrasive end to the trip that the previous three tracks have been on. It's the sound of leaving somewhere intoxicating.
11. Human Voices
"Human Voices" is a soft landing at the end of the record and is meant to feel like a time that's between night and the next morning. It's a return to something outside of the world of the record and neither happy nor sad. It's not a big statement of an exit, just something that slips away. As much as possible, I wanted the record to not feel like it had a strict beginning, middle and end and was more of a looping experience.