Inside the miraculous world of Deerhoof's first studio project
Their newly announced 19th album, Miracle-Level, is their first recorded wholly in a professional studio. Listen to their new song "Sit Down, Let Me Tell You a Story," premiering below alongside an interview with the band.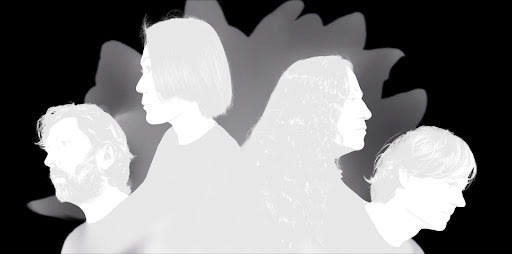 Closing in on their 30th year as a band, Deerhoof are finally announcing their first bona fide studio LP. Miracle-Level is, in fact, the group's 19th album, but it's the only one so far to be recorded, mixed, and mastered from start to finish in a legitimate studio space under the supervision of a producer. The studio in question was Winnipeg, Manitoba's No Fun Club, and the producer was Mike Bridavsky, one of the space's designers — and the owner of Lil BUB, the late celebrity feline to whose memory the record's first single, "My Lovely Cat," was dedicated.
"In my first call with [drummer] Greg [Saunier], I was relieved that we had an instant rapport," Bridavsky recalls in a press release. "Their biggest concern was dispensing with the months of obsessive tinkering that usually make their albums sound so beautiful and insane. He told me, 'We don't want to do our usual aggro control-freak thing. We're going for bare-minimum production that doesn't push the listener around.'"
Miracle-Level is not only the first Deerhoof project created in a controlled environment, but also the first for which the group's visionary frontwoman, Satomi Matsuzaki, penned the lyrics entirely in her native Japanese. The resulting record is sonically precise and spiritually wild, 36 minutes of joyful noise celebrating the myriad miracles that exist around us and within ourselves — marvels that can be hard to envision when trapped in a doomeristic mindset but become plainly visible when we fight back against our learned helplessness.
On the eve of the album's announcement and the release of its second single — "Sit Down, Let Me Tell You a Story" — The FADER spoke over email to Saunier, Matsuzaki, and guitarist John Dieterich about their process and intent. Read the conversation, watch the new song's Noriko Oishi-directed music video, check out Miracle-Level's cover art and tracklist, and view all of Deerhoof's upcoming tour dates below. The album is due out March 31 via Joyful Noise and available for pre-order now via the label's website.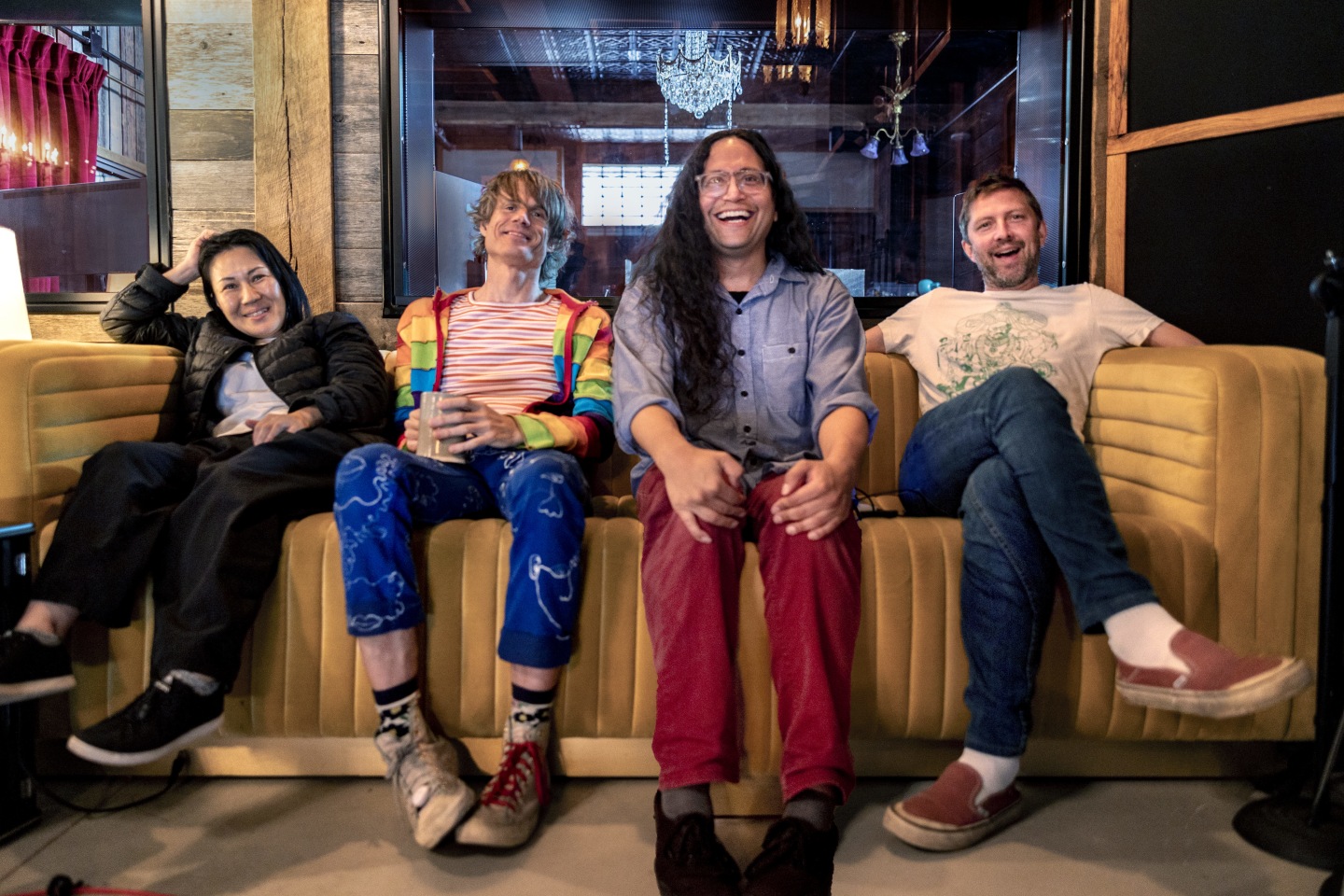 The FADER: Miracle-Level is a huge event in that it's Deerhoof's first album recorded in a studio. As a band that's always innovating, what made you decide now was the time to throw out the old approach, and what about the proposition of recording in a proper studio with a proper producer made you uncomfortable in the past?
John Dieterich: It was kind of a lucky accident. Karl Hofstetter from Joyful Noise told us that Mike Bridavsky was interested in working with us at this great studio he helped design. While we trusted Karl, we didn't know Mike, and he didn't know us, so we wanted to make sure that we weren't wasting time on explaining ourselves too much and could just hit the ground running. It's not that we've never worked in studios before, it's that we haven't finished records in studios, because studios are incredibly expensive. What made this different was that Mike was really keen on doing the whole thing, from giving feedback on roughs to mixing.
Greg Saunier: Yeah, the studio itself wasn't the uncomfortable part. Mike was the uncomfortable part! Who is this guy? He's going to put the mics where? Why is he asking us to leave the room while he mixes the song? Turns out Mike was a miracle. A total stranger who cared about our record as much as we did. An instant true friend. We let someone into our little mini-universe. It was so fun.
Can you expand on Mike Bridavsky's comment about how the band wanted to avoid your usual "months of obsessive tinkering?" Was recording in a studio partly an attempt to reduce the need for editing in post?
GS: I, for one, was convinced we would still desire months of editing in post. But we were feeling brave. We wrote songs we thought we could pull off live in one take. If I had a song on piano, well then Ed or Satomi had to play the drums. Any loops John painstakingly devised on his computer would have to be saved for the next album. We've never made anything anywhere close to this fast, and it was weirdly freeing to have our act together like this.
JD: There still ended up being months of tinkering, but it was before we had recorded a single note at the studio. The obsessive tinkering went into the front end, so we had an airtight idea of how to approach the recording. We knew we only had two weeks in the studio to do the whole record, start to finish. We worked really hard to be rehearsed so we didn't have to do 20 takes of each song. All of the material that ended up on the record are actual takes. We prepared in such a way that we could just blast through the material and not worry too much about little accidents.
Satomi, this is also the first Deerhoof record where all the lyrics are in Japanese. At this point in your career, do you feel more comfortable writing songs in your native language or in English? What do you feel are the advantages of Japanese as a songwriting language over English, and vice versa?
Satomi Matsuzaki: I feel natural and comfortable writing and singing both in English and Japanese after living in the U.S. for almost 30 years. It is refreshing to sing the entire album in Japanese because I could present one of the minor beautiful languages. K-pop singers sing in English to approach American fans, but now Deerhoof feels that people are eager to reach out to experience expressions of other cultures.
GS: I also sang some main vocals on Miracle-Level, and I enjoyed having Satomi correct my pronunciation.
Instrumentally, the guitar recording technique seems to have been the biggest studio revelation on this record. Can you talk me through the process that led to the unorthodox setup you ended up going with?
GS: When we heard John's demo for what became "Everybody Marvel," we were all like, "How'd you get that guitar sound, John?" The way we recorded the guitars on Miracle-Level is not the same, actually. But it's kind of the same.
JD: Yeah, I wrote my songs for the record on a half-broken, ukulele-type guitar that I got at a Saturday morning market in some little town in France on tour like 15 years ago. I like to write with janky, half-broken instruments sometimes because funny stuff happens. I experimented with running that sound through amplifiers. When I showed my demos to everybody, they loved the sound, and felt like it should be applied across the board. But the bridge broke off that guitar a couple weeks before the recording. So we ended up miking hollow body electric guitars in a room that was separated from our amplifiers. The microphones were routed to tiny, distorted amplifiers in the other room, and that ended up being a huge part of the sound. At the same time, we plugged in normally, with pedals and all the sounds we were getting in rehearsal. And then, on top of that, we put both guitars through one amp. It was a huge headache for all concerned, but it came out quite cool.
GS: Every song had just one or two guitars, but it was like 50 tracks.
The song we're premiering today — "Sit Down, Let Me Tell You a Story" — is the album's opening track. Conceptually, it's a more straightforward introduction than we're used to. What about this record necessitates this sort of statement of intent?
GS: If anyone in this band tells you they know what is and isn't a straightforward musical anything, they are lying! Are you talking about the chords? It has all these major chords. I begged Ed and John to use the bottom string on their barre chords so it would sound more like Nirvana. But then "Breakup Song" starts with octaves on the guitar. That's even more straightforward than chords. "Milk Man" starts with one note!
The song is in a pretty rigid 6/4 meter, anchored by the triplets in the drums and the rhythm guitar, so it feels really freeing when the tempo picks up near the end and the lead guitar starts wailing a little. Was your intention — with this song and the record as a whole — to have the album feel more disciplined than the usual Deerhoof project, so that those moments of pure freedom are even more cathartic when they arrive?
GS: "Sit Down" is a waltz. We hadn't done a waltz since "Lady People" in 1997. I thought it was time. Walzes symbolize the end of empire, the Hapsburg aristocracy idling away their final moments in decadence. And that's where our American aristocracy is right now. When I wrote the first section, it was just instrumental. It was based on a Cajun song called "Valse de Tante Adele" by Le Freres Michot. When Ed heard my demo, he thought the mood of it sounded like someone saying "sit down, let me tell you a story," and we decided then and there that that's what it would be about. Of course, once Satomi got her hands on it, the lyrics went out into space with her magical realism visionary thing.
Miracle-Level, and this song as a microcosm of it, have at least one very intentional message: Miracles are all around us, in the natural world and in the things we do as humans. What about the world we live in right now, which can often seem like such a barren dystopia, inspired such a hopeful epiphany?
JD: To me, it's just an acknowledgement that the good, magical, transformative things in people and in the world are everywhere and nearly infinite, and the lame things are few but hugely powerful. It's like our minds have been gerrymandered to think and do things that go against what we actually think and believe, which makes you realize that it's not hopeless. We need to creatively reorganize the world in such a way that it reflects how the vast majority of us actually want to live.
GS: Hopelessness has to be created. Especially when a population starts getting wild, uppity ideas that they deserve better. The 2020 protests were the biggest ones in US history. We're in a golden age for labor organizing that has yet to even peak. It is striking terror in the hearts of the handful of jerks who feel their outrageous wealth or power threatened. David Graeber spoke of an "industry of hopelessness," and I see every day that he was right. And it's a billion dollar industry, built into the way history is taught, or economics, or anthropology, the kind of discourse that's allowed on TV. It's power keeping the poor so busy, stressed, and hungry that they get demoralized. It's bullshit artists like Trump and Biden stoking fear of black and brown immigrants.
The industry of hopelessness doesn't tell you "stop protesting" or "stop striking." It's more sophisticated. It tells you that your neighbor across the street will never have the courage to stand up to bosses and landlords. It tells you that your neighbor will never want a society without armed cops. So no matter what you or I might wish for this planet, too bad, because "Joe Blow will never understand," or "This is just the way the world works," or "Capitalism and violence are just human nature." They want you to forget that Joe Blow was the one out in the streets shouting "Black Lives Matter." He wants higher wages. He wants gun control and legal abortion. He thinks the Pentagon budget is too big. He knows politicians don't represent us. He wants money out of politics. He knows that generosity, creativity, and love are just as much human nature as competition, coercion, and brutality.
Miracle-Level cover art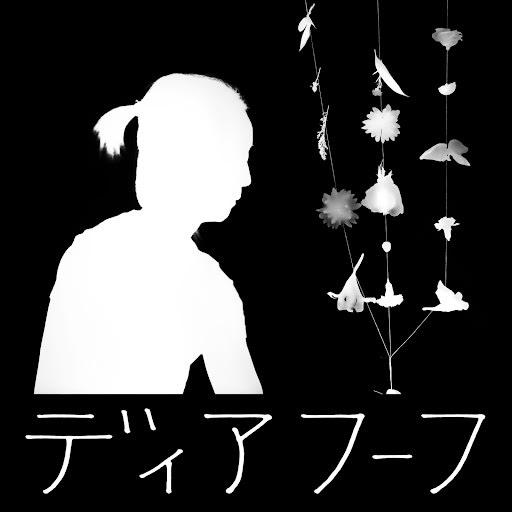 Miracle-Level tracklist
1. Sit Down, Let Me Tell You a Story
2. My Lovely Cat
3. Everybody, Marvel
4. Jet-Black Double-Shield
5. Miracle-Level
6. And the Moon Laughs
7. The Little Maker
8. Phase-Out All Remaining Non-Miracles by 2028
9. Momentary Art of Soul!
10. Wedding, March, Flower
Deerhoof 2023 North American tour dates
March 31 - Toronto, ON - Wavelength Winter Festival
April 1 - Montreal, QC - La Sala Rossa
April 2 - Greenfield, MA - Hawks and Reed Performing Arts Center
April 4 - Brooklyn, NY - Elsewhere
April 5 - Philadelphia, PA - Underground Arts
April 6 - Providence, RI - Columbus Theatre
May 4 - Seattle, WA - Neumos
May 5 - Portland, OR - Aladdin Theater
May 7 - Sacramento, CA - Harlow's
May 8 - San Francisco, CA - Great American Music Hall
May 10 - Los Angeles, CA - Lodge Room
May 12 - Salt Lake City, UT - Kilby Court Block Party
May 13 - Boise, ID - Treefort Music Hall
July 7 - Des Moines, IA - 80-35 Fest
July 8 - St. Paul, MN - Turf Club
July 11 - Louisville, KY - Zanzabar
July 12 - Grand Rapids, MI - Pyramid Scheme
July 14 - Chicago, IL - Lincoln Hall