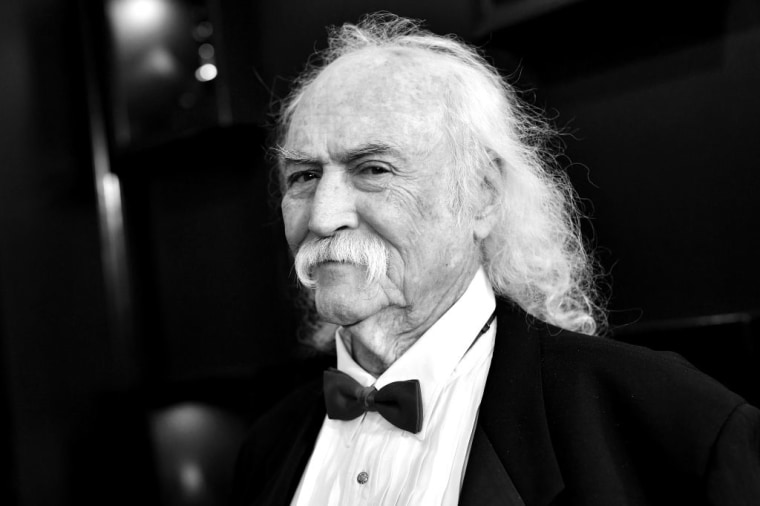 David Crosby — founding member of The Byrds and Crosby, Stills & Nash — has passed away at 81. His wife confirmed the news to Variety this afternoon (January 19). "It is with great sadness after a long illness, that our beloved David (Croz) Crosby has passed away," she wrote. "He was lovingly surrounded by his wife and soulmate Jan and son Django. Although he is no longer here with us, his humanity and kind soul will continue to guide and inspire us. His legacy will continue to live on through his legendary music. Peace, love, and harmony to all who knew David and those he touched. We will miss him dearly. At this time, we respectfully and kindly ask for privacy as we grieve and try to deal with our profound loss. Thank you for the love and prayers."
Born in Los Angeles to a high-society couple — acclaimed cinematographer Floyd Crosby and Macy's saleswoman Aliph Van Cortlandt Whitehead — in 1941, Crosby studied drama at Santa Barbara City College before dropping out to pursue a music career. In 1964, along with Jim McGuinn and Gene Clark, he founded The Byrds. They scored their first number-one hit the following year with a cover of Bob Dylan's "Mr. Tambourine Man." His stint with the band was short-lived: he left in 1967 but would return in 1973 to reunite with the original lineup for their final, self-titled album.
Shortly after his initial departure from The Byrds, Crosby joined forces with Stephen Stills and Graham Nash to start a new band. Crosby, Still & Nash (CSN) was solidified with a memorable performance at Woodstock and their self-titled debut LP, after which Neil Young joined the band to form Crosby, Stills, Nash & Young (CSNY). As a four-piece, they recorded Déjà Vu, which remains the group's bestselling record, certified 7X Platinum in the United States. They disbanded after the release of their first live album, 4 Way Street, but the original lineup would reunite in 1974 and remain together until 2016, with Young returning to tour and record with them sporadically over the years.
Crosby continued to work on solo and side projects throughout his time with CSN/CSNY. He released nine studio records of his own, as well as an LP and three live albums with keyboardist James Raymond (his son) and session guitarist Jeff Pevar as Crosby, Pevar & Raymond (CPR). He was a polarizing figure throughout his public life, passionate and strongly opinionated until his last days. He struggled publicly with addiction and was briefly incarcerated in 1985 for possession of heroin and cocaine. He was burdened with health issues for decades, including hepatitis C and type-two diabetes. He is survived by Raymond as well as his wife Jan Dance, their son Django, and Erika and Donovan, daughters from previous relationships.