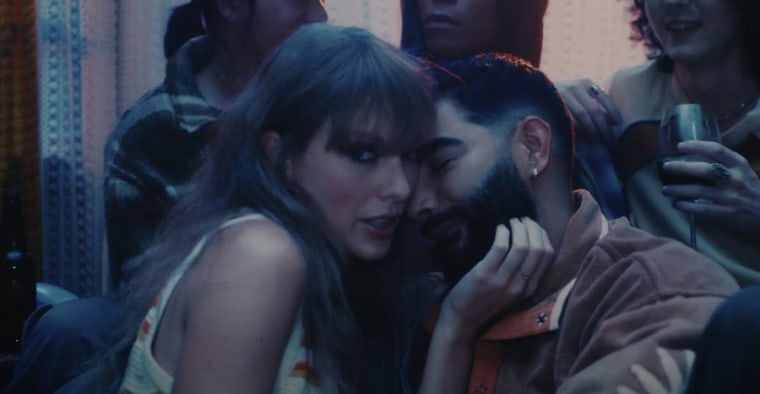 Taylor Swift has shared her video for Midnights track "Lavender Haze." The video stars transgender actor Laith Ashley de la Cruz as Swift's love interest. The pop star fills their bedroom with the purple smoke which, in turn, opens up a series of trippy scenarios, from fish in a TV set to a floating cloud that transports her through the sky. Check it out below.
"The 'Lavender Haze' video is out now," Swift posted on Instagram when sharing the video. "There is lots of lavender. There is lots of haze. This was the first video I wrote out of the 3 that have been released, and this one really helped me conceptualize the world and mood of Midnights, like a sultry sleepless 70's fever dream. Hope you like it 😁"
"Lavender Haze" follows Swift's previous Midnights videos "Bejweled" and "Anti-Hero." She recently joined The 1975 on stage in London to perform the latter live for the first time.
Later this year Swift will begin her own headline tour. The Eras Tour will take Swift across stadiums nationwide alongside guests including Paramore and Phoebe Bridgers. In December fans of the pop artist filed a lawsuit against Ticketmaster, and parent company Live Nation, after the roll-out of ticket sales for the tour proved disastrous. Their complaint accuses the corporations of "fraud, price-fixing, and antitrust violations."