ANOHNI announces Blacklips Performance Cult book and compilation album
The news arrives with two new songs from the forthcoming release.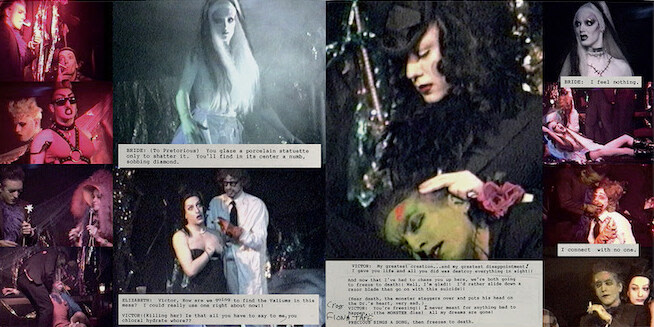 In 1992, English songstress and visual artist ANOHNI co-founded the drag theater troupe Blacklips Performance Cult with Johanna Constantine and Psychotic Eve. Forged in the fire of the AIDS crisis on Manhattan's Lower East Side, the group put on a new play a week for three years at the Pyramid Club on Avenue A. Today, Anthology Editions has announced a compilation record and a book commemorating the group's groundbreaking work, both helmed by ANOHNI herself.
Blacklips Bar: Androgyns and Deviants — Industrial Romance for Bruised and Battered Angels, 1992–1995 is scheduled for a March 10 release as a double LP. And Blacklips: Her Life and Her Many, Many Deaths, co-edited by Marti Wilkerson, is due out March 14. Wilkerson and ANOHNI will join Laurie Anderson at the New York Public Library to discuss the book on the eve of its wide publication.
Along with today's news, Anthology has released two singles from the compilation: "Rapture" — a lush ballad from ANOHNI (as Fiona Blue), originally released on her group Antony and the Johnsons' self-titled 2000 debut — and James F. Murphy's demented take on "Satan's Li'l Lamb," a Great Depression-era song penned by Johnny Mercer and Harold Arlen. The record will also feature contributions from Diamanda Galás, Divine, the Damned's Dave Vanian, and other underground icons from Blacklips and the adjacent scene.
Listen to "Rapture" and "Satan's Li'l Lamb," check out the book's cover, and view the album art and tracklist, for Blacklips Bar below.
Blacklips: Her Life and Her Many, Many Deaths book cover
Blacklips Bar album cover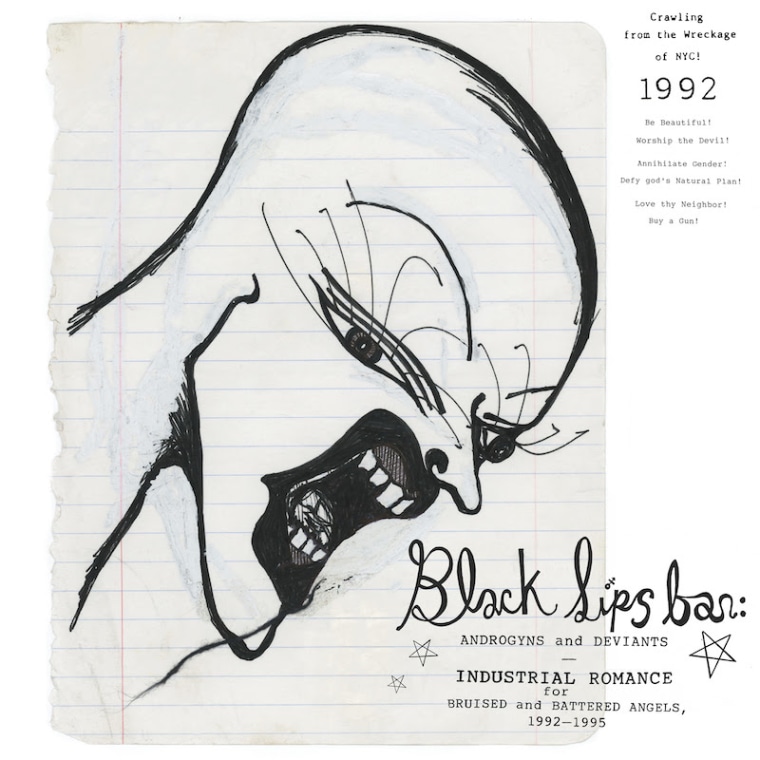 Blacklist Bar tracklist
SIDE A
1. Meng & Ecker - Shoot Yer Load
2. Joey Arias - Good Morning Heartache
3. Edith Massey - Punks, Get Off The Grass
4. ANOHNI (as Precious Liar) - Ladies and Gentlemen
5. James F. Murphy - Satan's Li'l Lamb
6. ANOHNI and Pearls - Janet Vampire
7. Christian Death - Stairs – Uncertain Journey
8. Vito Russo (with Gary Reynolds) - Disrupt Their Lives
9. ANOHNI (as Fiona Blue) - Rapture

SIDE B
1. Diamanda Galás - Double-Barrel Prayer
2. Sissy Fitt - Sister Morphine
3. Tammy Taste Test - Natasha
4. Divine - You Think You're a Man
5. Marilyn and The Movie Stars - So Disgraceful

SIDE C
1. Ebony Jet - Satellite of Love
2. Dean and the Weenies - Fuck You
3. ANOHNI (as Justin Grey) - People are Small
4. Princess Tinymeat - Angels in Pain
5. coke - Your Cigarette
6. Dave Vanian - Tenterhook
7. Sissy Fitt as Carol TooGood - Suspecting Mrs. Shyster
8. ANOHNI and Johanna Constantine - The Yellowing Angel

SIDE D
1. Dr. Clark Render - 13 Ways To Die
2. Minty - Useless Man
3. Kabuki Starshine - My Final Moments
4. Meng & Ecker - Golden Showers
5. ANOHNI (as Fiona Blue) - Love Letters
6. ANOHNI (as Precious Liar) - Blacklips