While we're celebrating Kim Petras' historic achievement, let's give Wendy Carlos her flowers
Carlos came out as trans in 1979, nine years after winning three Grammys for her debut album, Switched-On Bach.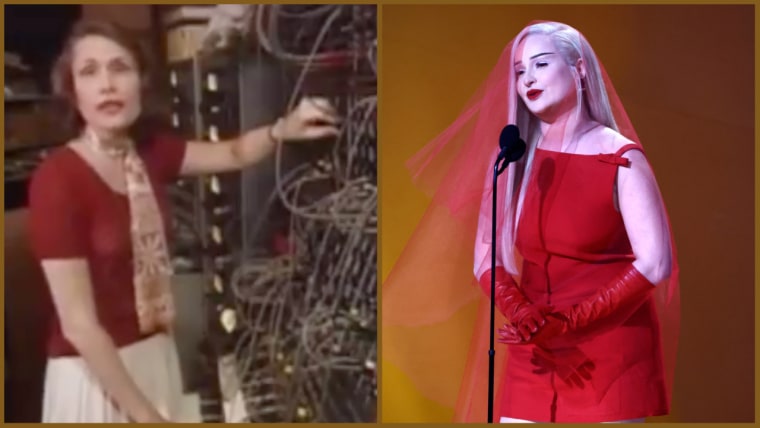 Kim Petras made history last night when she became the first openly trans woman to win a Grammy, taking home Best Pop Duo/Vocal Performance for her Sam Smith collaboration "Unholy." She accepted the award with a moving speech in which she paid homage to the trans artists who paved the way for her win, most notably the late, visionary producer and DJ SOPHIE. "I just want to thank all the transgender legends before me who kicked these doors open for me so I could be here tonight," she said. "SOPHIE, especially — my friend who passed away two years ago, who told me this would happen and always believed in me. Thank you so much for your inspiration, SOPHIE. I adore you, and your inspiration will forever be in my music."
Petras' win deserves all the fanfare it's getting today. But as we celebrate her achievement, let's also honor Wendy Carlos, who won three Grammys in 1970 for her debut album Switched-On Bach, nine years before coming out as trans.
Born in Rhode Island in 1939, Carlos studied physics at Brown and music composition at Columbia. While living in New York, she met Robert Moog and aided in the development of the Moog synthesizer, which revolutionized the music world as the first commercially available keyboard synth and remains the industry standard for analog synthesizers. In 1965, she helped Leonard Bernstein present a night of electronic music at the New York Philharmonic. And in October 1968, she released her first album, Switched-On Bach.
The record, which comprises 12 short pieces by Bach performed on a Moog modular synth, was a massive hit, peaking at number 10 on the Billboard 200 and remaining at number one on the Classical Albums chart for three years. In 1970, the Recording Academy honored Carlos with three awards: Best Classical Album, Best Engineered Classical Recording, and Best Classical Performance by an Instrumental Soloist. It would go on to be certified RIAA platinum in 1986, making it the first synthesized album and only the second classical album ever to do so.
By the time of Switched-On Bach's release, Carlos was already living privately as a trans woman, but she was not yet comfortable revealing her transition to her new fans. At public performances and in television appearances in the late '60s and early '70s (such as the clip embedded below, in which she shows off some of the functions of her Moog for the BBC), she wore fake sideburns and a man's wig to hide the effects of the hormone replacement therapy she was undergoing at the time. The success of the record allowed her to pay for gender-affirming surgery in 1972, but she continued to release music under her given name for the remainder of the decade. Her first six albums, including her hugely popular score for Stanley Kubrik's A Clockwork Orange (1971), were reissued as Wendy Carlos releases in the years after she came out publicly in a 1979 Playboy interview with journalist and LGBT rights activist Arthur Bell. She'd go on to write the theme for Kubrik's The Shining (1980), and to score the 1982 sci-fi cult classic Tron.
Wendy Carlos — still alive today at 83 — remains a titan of electronic music, and it's important to acknowledge her as such. But it's especially urgent now, as politicians like Ron DeSantis and Donald Trump attempt to paint the gender spectrum as a novel phenomenon in their ghoulish campaigns to criminalize queerness, to remember that trans people have produced some of society's greatest advancements, and that they've been doing it for a long time, despite the horrific discrimination they've always faced.