The FADER's "Songs You Need" are the tracks we can't stop playing. Check back every day for new music and follow along on our Spotify playlist.
Few bands wear their hearts on their sleeves like Pearl & The Oysters do. The Parisian duo of multi-instrumentalists Joachim Polack and Juliette Pearl Davis (also the group's singer) — now based in Los Angeles after an extended stint in Gainesville, Florida — make rich, maximalist, joyful music. The fourth single from their fourth album, Coast 2 Coast, is no less lush than their typical fare, but it comes with a call for circumspection.
"Read the Room," featuring co-lead vocals from Stereolab frontwoman Lætitia Sadier, is a catchy, guitar-driven jam whose only lyric is its titular refrain. But while it may seem straightforward, the track works because of its slowly developing undercurrents: the tactile dissonance of Davis and Sadier's vocal sparring, a spiraling synth beat that dovetails with shaken percussion to lead into an all-out instrumental chorus buzzing with baroque harmony. It's a neatly rendered, self-contained machine.
"We knew straight away that we wanted to work with Lætitia when we had the idea of double-lead vocals," Juliette and Joachim explain in a press release. "We wanted a heavier guitar track on the album, and looking back, recording these outrageously loud guitars in our tiny Highland Park one-bedroom during peak COVID panic was both an absurd and exhilarating experience. Freedom road!"
Watch Mickey Miles animated visual treatment for "Read the Room," check out Coast to Coast's cover art and tracklist, and view Pearl & The Oysters' upcoming tour dates below.
Coast 2 Coast album art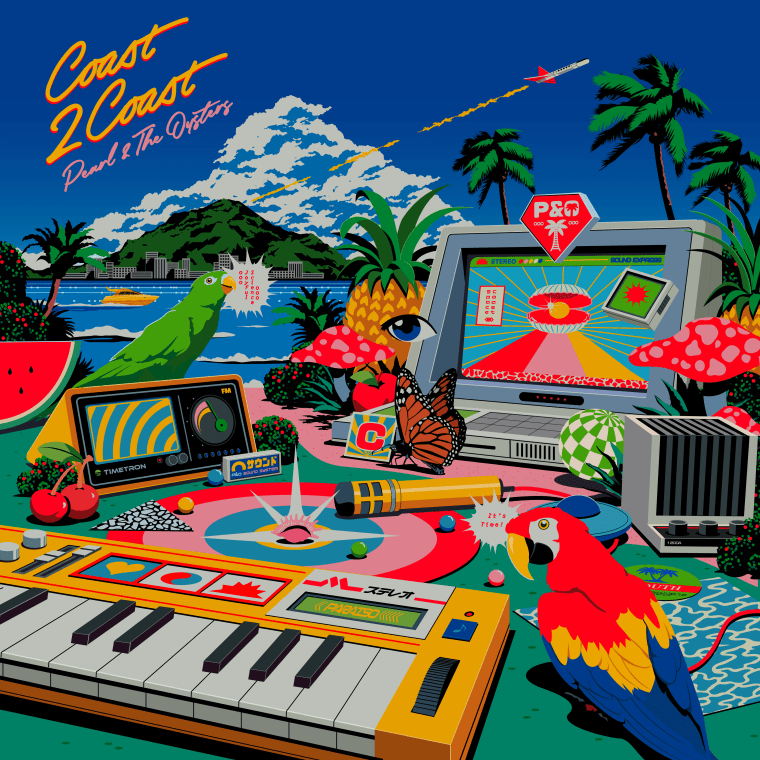 Coast 2 Coast tracklist
1. Intro (…on the Sea-Forest)
2. Fireflies
3. Konami
4. Pacific Ave
5. Timetron
6. Loading Screen
7. Space Coast
8. Moon Canyon Park
9. D'Ya Hear Me!
10. Paraiso
11. Read the Room ft. Lætitia Sadier
12. Vicarious Voyage
13. Joyful Science
Pearl & The Oysters spring 2023 North American tour
April 29 - Los Angeles, CA - Lodge Room
May 2 - Sacramento, CA - Starlet Room
May 4 - Portland, OR - Mississippi Studios
May 5 - Seattle, WA - Belltown Bloom Festival
May 6 - Boise, ID - Neurolux
May 7 - Salt Lake City, UT - Kilby Court
May 9 - Kansas City, MO - recordBar
May 10 - Minneapolis, MN - Green Room
May 11 - Chicago, IL - Empty Bottle
May 12 - Detroit, MI - The Magic Bag
May 13 - Kingston, ON - Hotel Wolfe Island
May 14 - Montreal, QC - Casa Del Popolo
May 15 - Troy, NY - No Fun
May 17 - Brooklyn, NY - Elsewhere Zone 1
May 18 - Philadelphia, PA - PhilaMoca
May 19 - Lancaster, PA - The B Stage
May 20 - Washington, DC - Comet Ping Pong
May 22 - Charlotte, NC - Snug Harbor
May 23 - Athens, GA - 40 Watt Club
May 24 - Gainesville, FL - Heartwood Soundstage
May 26 - Austin, TX - Mohawk
May 27 - San Antonio, TX - Paper Tiger
May 29 - Phoenix, AZ - Trunk Space
May 31 - San Francisco, CA - The Chapel