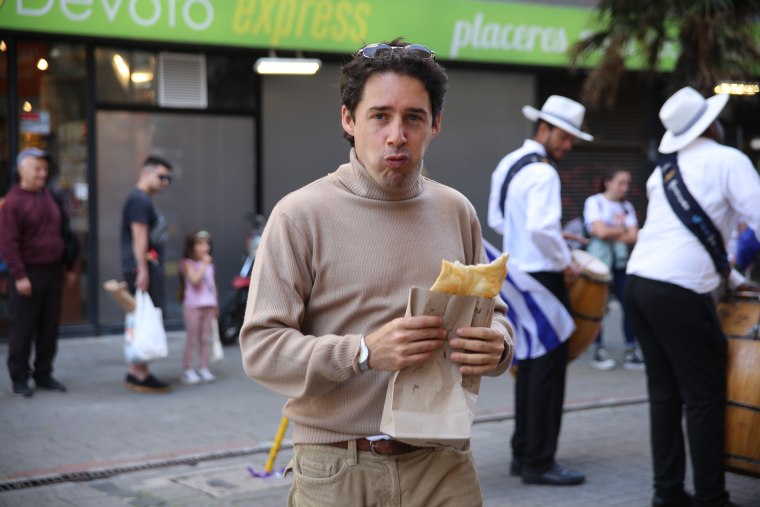 The FADER's "Songs You Need" are the tracks we can't stop playing. Check back every day for new music and follow along on our Spotify playlist.
"Modus Operandi," the second single from Juan Wauters' forthcoming album Wandering Rebel, starts with some bright acoustic fingerpicking, followed by a familiar voice. The soothing alto of Frankie Cosmos' Greta Kline blows through the track like a spring breeze as she walks through quiet New York streets, wondering where everyone has gone. "Everywhere I go I hear / It's the end of the season for the NYC," she reasons.
Then Wauters enters, responding directly to Kline's musings: "See, it might be just my opinion / But it's happened time and time again / That when it gets rough out here / People that have options go back to their suburbs / To them this was just like some kind of Disney World / Some kind of commodity." His light but clearly audible Uruguayan accent floats pleasantly over the guitar instrumental, which has now been built up with bass, drums, and some tasteful strings. When all is said and done, "Modus Operandi" is an incisive but gentle indictment of New York's transplant leisure class.
In the song's music video, directed by Fatos Marishta, Wauters and Kline's back and forth is represented as a phone conversation, as the artists meander through the tourist centers of Montevideo and Manhattan, respectively.
"The idea of 'Modus Operandi' is that even though Juan lives elsewhere now, his essence stays in New York," Marishta writes, referring to his recent move from his longtime home base of Jackson Heights, Queens back to his home country. "Sometimes he's in NY, sometimes he's not; he can be anywhere. We shot through one week in two different countries with Juan wandering through the streets of Montevideo during the inaugural carnival parade and Greta in Union Square, NYC. As they are having a conversation about New York City, Greta senses and sees Juan in the vicinity but can't seem to reach him."
Watch the clip, check out Wandering Rebel's cover art and tracklist, and view Juan Wauters' upcoming U.S. tour dates below.

Wandering Rebel album art
Wandering Rebel tracklist
1. Eloping
2. Milanesa al Pan (ft. Zoe Gotusso)
3. Nube Negra (ft. Y La Bamba)
4. Amor, Amor
5. Modus Operandi (ft. Frankie Cosmos)
6. Bolero (ft. Super Willy K)
7. Mensaje Codificado
8. Millionaire
9. Wandering Rebel (ft. John Carroll Kirby)
10. Carriage
11. Let Loose
12. En Un Barrio De Montevideo
Juan Wauters tour 2023 U.S. tour dates
June 1 - Hudson, NY - The Half Moon
June 2 - Freeport, ME - Desert of Maine
June 3 - Cambridge, MA - Lilypad
June 4 - Philly, PA - Kung Fu Necktie
June 6 - Columbus, OH - Rumba Café
June 7 - Louisville, KY - PORTAL
June 8 - Rock Island, IL - Rozz Tox
June 9 -Chicago, IL - Avondale Music Hall
June 10 - Detroit, MI - Lager House
June 12 - Atlanta, GA - The Earl
June 13 - Charlotte, NC - Petra's
June 14 - DC,DC - Comet Ping Pong
June 27 - Seattle, WA - Substation
June 28 - Portland, OR - Doug Fir/ Monqui
June 30 - San Francisco, CA - Cafe Du Nord
July 1 - Modesto, CA - Greens on Tenth
July 2 - Los Angeles, CA - ECHO
July 3 - San Diego, CA - Voodoo Room at House of Blues
July 5 - Phoenix, AZ - The Rebel Lounge
July 6 - Tucson, AZ - Club Congress
July 7 - Albuquerque, NM - Sister
July 8 - Denver, CO - Hi-Dive
July 10 - Oklahoma, OK - Res Head
July 11 - Austin, TX - The Ballroom
July 12 - Houston, TX - White Oak Music Hall
July 13 - Denton, TX - Rubber Gloves
July 14 - Nashville, TN - Third Man
July 16 - Brooklyn, NY - Brooklyn Made