Blood Orange features on Wild Up's third Julius Eastman record
Julius Eastman Vol. 3: If You're So Smart, Why Aren't You Rich is out June 3 via New Amsterdam. It's lead single, an intense performance of Eastman's "Evil N—," is out today.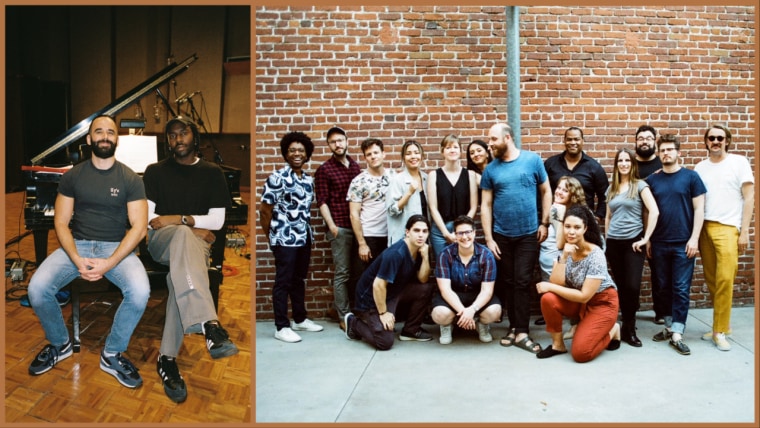 Los Angeles experimental ensemble Wild Up have announced their third record comprising works written by the late, legendary, composer, musician, vocalist, and performance artist Julius Eastman. Julius Eastman Vol. 3: If You're So Smart, Why Aren't You Rich is due out June 16 via New Amsterdam, and it's lead single — an intense, 21-minute performance of one of Eastman's most controversial pieces along with special guests Devonté Hynes (Blood Orange) and Adam Tendler — is out today (April 19).
"Evil N—," whose title is edited here against Eastman's original intentions, is one link in a chain of compositions he wrote in the late 1970s with similarly confrontational names. "Now, there was, there was a little problem with the titles of the piece," Eastman said, introducing the piece along with "Crazy N—" and "Gay Guerrilla" to an audience at Northwestern University in January 1980, during his residency at the school. A radically experimental queer artist of color, Eastman was consistently misunderstood throughout his career, often forcing him to defend his art.
"There were some students — and one faculty member — who felt that the titles were somehow derogatory in some manner, being that the word 'n*****' is in it. These particular titles: the reason I use them is because — in fact, I use — there is a whole series of these pieces, and they're called the 'N— Series.' Now, the reason I use that particular word is because, for me, it has a — what is, what I call — a basic-ness about it. That is to say, I feel that — and in any case, the first n*****s were, of course, field n*****s, and upon that is really the basis of what I call the American economic system: without field n*****s you wouldn't really have such a great and grand economy that we have.
"So, that is what I call the First and Great N*****: field n*****s. And what I mean by n*****s is that thing which is fundamental, that person or thing that obtains to a basic-ness, a fundamental-ness, and eschews that thing which is superficial, or — what can we say — elegant. So that a n*****, for me, is that kind of thing which is: attains himself or herself to the ground of anything, you see. And that's what I mean by n***** — so, there are many n*****s, there are many kinds of n*****s. There might be — there are, of course, ninety-nine names of Allah but then there are fifty-two n*****s. And so, therefore, we are playing two of these n*****s."
Listen to Wild Up's performance of "Evil N—" featuring Devonté Hynes and Adam Tendler, and view <Julius Eastman Vol. 3: If You're So Smart, Why Aren't You Rich's cover art, tracklist, and credits below.
Julius Eastman Vol. 3: If You're So Smart, Why Aren't You Rich album art
Julius Eastman Vol. 3: If You're So Smart, Why Aren't You Rich tracklist
1. If You're So Smart, Why Aren't You Rich?
2. The Moon's Silent Modulation
3. Evil N—
Julius Eastman Vol. 3: If You're So Smart, Why Aren't You Rich credits
Andrew Tholl, violin
Adrianne Pope, violin
Mona Tian, violin
Rachel Iba, violin
Andrew McIntosh, viola
Linnea Powell, viola
Derek Stein, cello
Mia Barcia Colombo, cello
Jonathan Richards, bass
Marlon Martinez, bass
Erin McKibben, flute
Michael Matsuno, flute
Breana Gilcher, oboe
Archie Carey, bassoon
Brian Walsh, saxophones / clarinets
M.A. Tiesenga, saxophones
Shelley Washington, saxophones
Pat Posey, saxophones
Patrick Shiroishi, saxophones
Amy Sanchez, horn
Danielle Ondarza, horn
Drew Ninmer, trumpet
Jonah Levy, trumpet
Mattie Barbier, trombone
William Roper, tuba / animal bones
Richard Valitutto, piano
Matt Cook, percussion
Sidney Hopson, percussion
Jodie Landau, percussion / voice
Anna Schubert, voice
Laurel Irene, voice
Molly Pease, voice
Chloe Vought, voice
Eliza Bagg, voice
Catherine Brookman, voice
Odeya Nini, voice
Sharon Chohi Kim, voice
Fahad Siadat, voice
Saunder Choi, voice
James Hayden, voice
Scott Graff, voice
Devonté Hynes, piano / leader
Adam Tendler, piano / leader
Christopher Rountree, conductor / artistic director