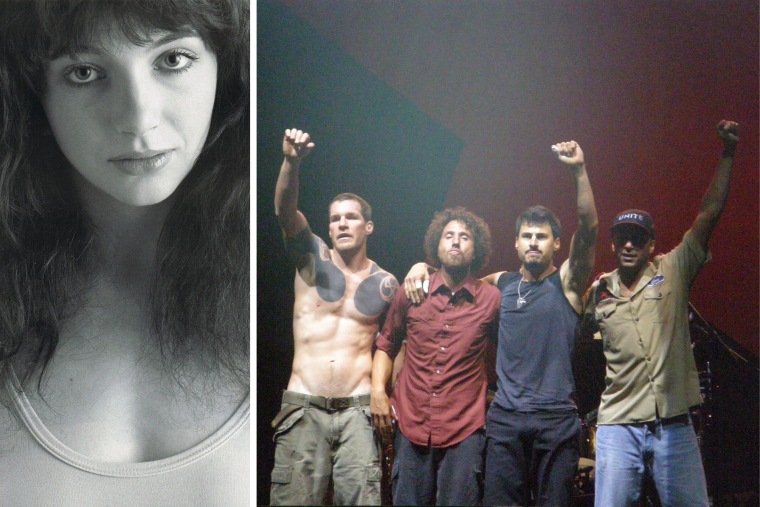 Kate Bush and Rage Against The Machine have each made statements about their Rock & Roll Hall of Fame inductions. Earlier today (May 3), the two acts have been confirmed for the coveted placement alongside George Michael, Sheryl Crow, Missy Elliott, and more.
On Kate Bush's official website, she writes, "I have to admit I'm completely shocked at the news of being inducted into the Hall of Fame! It's something I just never thought would happen. Thank you so much to everyone who voted for me. It means a great deal that you would think of me. It's such a huge honour." The English pop star also jokes, "Now as part of the initiation ceremony I get to find out about the secret handshake... there is one, right?"
Legendary Los Angeles rock band Rage Against The Machine shared their own sentiments on social media:
"It is a surprising trajectory for us to be welcomed into the Rock and Roll Hall of Fame. In 1991 four people in Los Angeles formed a musical group to stand where sound and solidarity intersect. We called ourselves Rage Against the Machine.
A band who is as well known for our albums as we are for our fierce opposition to the US war machine, white supremacy and exploitation[.]
A band whose songs drove alternative radio to new heights while right wing media companies tried to purge every song we ever wrote from the airwaves[.]
Kate Bush had been nominated three times previously and Rage Against The Machine had been nominated four times. The official ceremony will take place on November 3 at Barclays Center in Brooklyn, NY.