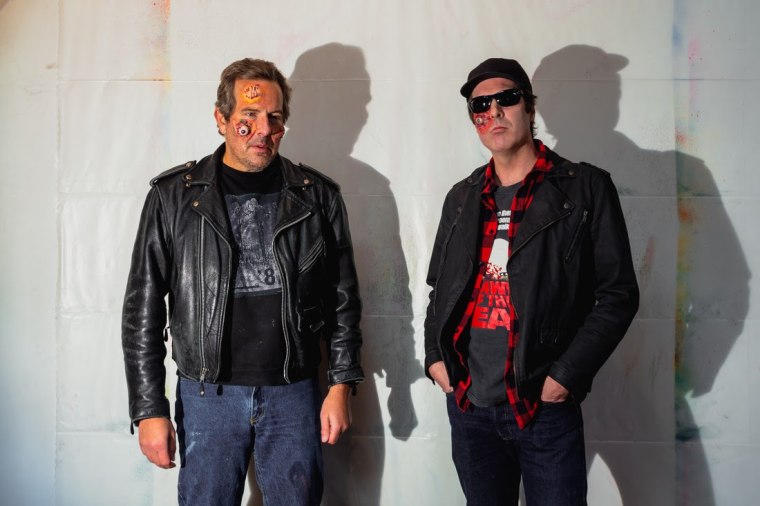 Experimental duo Wolf Eyes, made up of Nate Young and John Olson, have announced their new album. Dreams In Splattered Lines is their first non-compilation album in six years and will be available everywhere on May 26 via Disciples.
"This record was recorded after we finished the New York Public Library residency in early 2022," Young says in a press statement. "We had spent a lot of time in NYC during the residency but because of COVID we had limited access to the Library archives. We would spend 4-5 hours at the library and then go to museums. The MET's Surrealism Beyond Borders exhibit was a huge influence on this record. Learning about the Chicago Surrealists' spoken-word poetry performed with musicians was inspiring and affirmative." The record expands on the ideas formed in Difficult Messages, he explains.
Along with the announcement, the group have also released a sampler trio called Splinters Of Shattered Time. The collection includes three tracks from the new album, "Engaged Withdrawal," "My Whole Life," and "Days Decay."
2023 will mark 25 years of Young and Olson's collaboration. To celebrate the anniversary, they'll be hosting a few shows in their hometown of Ypsilanti, Michigan. Award-winning saxophone player and composer Anthony Braxton will be one of the acts joining them on additional live dates.
Listen to the album's teaser Splinters Of Shattered Time and check out the tour dates below.
Dreams In Splattered Lines tracklist
1. Car Wash Two w/ Short Hands
2. Radio Box (excerpt)
3. Plus Warning
4. Engaged Withdrawal
5. Exploding Time
6. My Whole Life
7. The Museums We Carry
8. Pointerstare
9. Comforts of The Mind
10. In Society
11. Find You (Vocal)
12. Days Decay
13. Dreams in Shattered Time
Wolf Eyes 2023 tour dates
May 5 - Ypsilanti MI - Ziggy's
May 20 - Ypsilanti MI - Ziggy's (w/ Aaron Dilloway)
May 25 - Ypsilanti MI - Ziggy's (w/ Model Home)
May 26 - Rochester NY - Bug Jar
May 27- Hudson, NY - Basilica ( 24HR DRONE w/ Laraaji, Raven Chacon, and more)
May 28 - Buffalo NY - The Mohawk
Oct 4 - Los Angeles CA - Zebulon (w/ Anthony Braxton)