Melissa Auf der Maur passes "the baton of sound" at 24-HOUR DRONE
The rock legend and Basilica co-founder discusses the significance of this year's premiere marathon music event.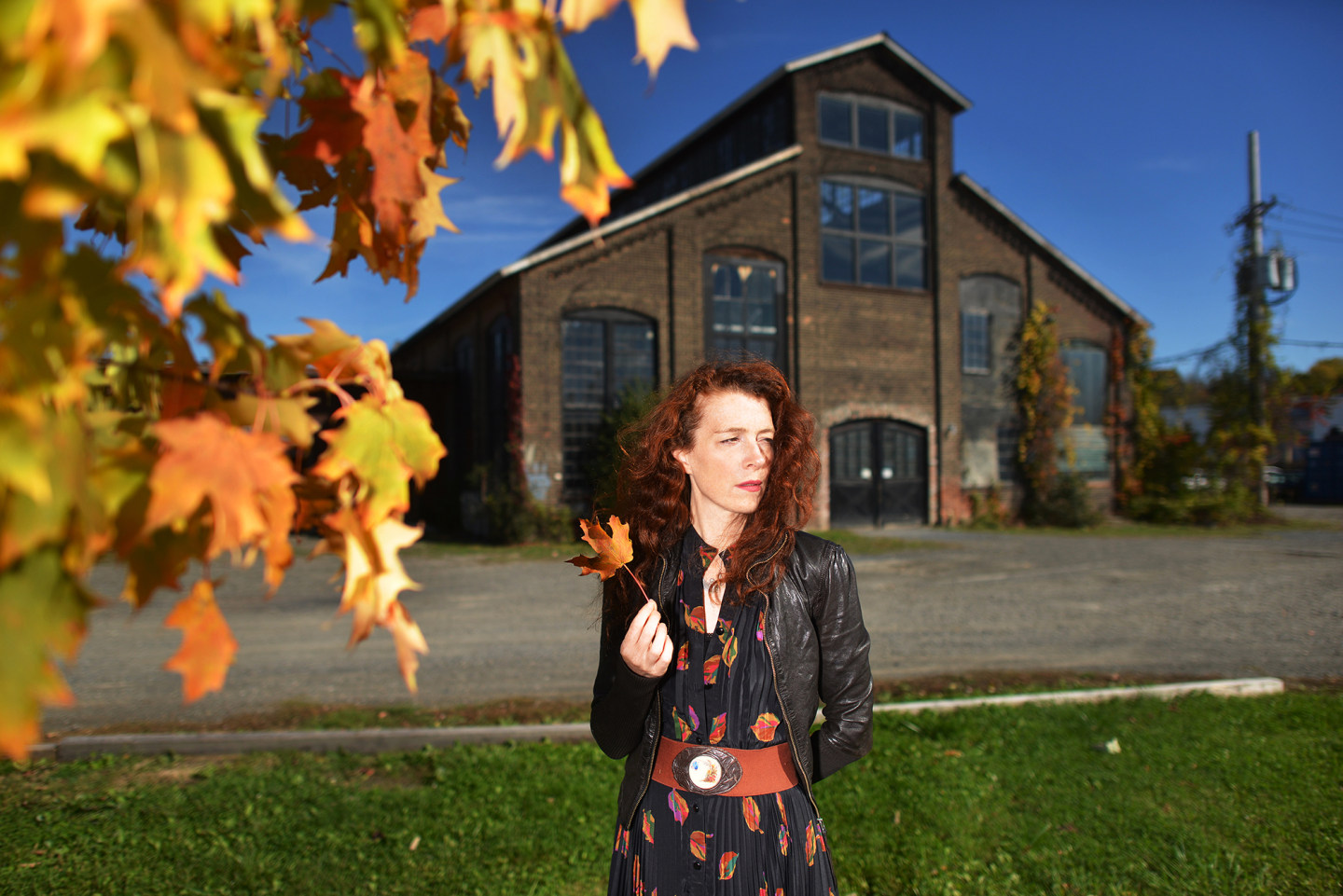 When I call Melissa Auf der Maur on the eve of 24-HOUR DRONE, her only child is preparing for battle. "I'm delivering my daughter to be part of a reenactment of the Greek Olympic Games," she explains. "I'm watching hundreds of children in grade five with white tunics congregate on a field, waiting for the opening torch ceremony."
The next day, she'll witness the start of a ritual performance of her own design. At noon, as early entrants to her day-long music festival mill about, laying out yoga mats and sleeping bags to stake out space on the floor of Basilica Hudson's cavernous warehouse, New York City's premiere Balian gamelan group Dharma Swara will strike a gong, kicking off an event that's exactly what it sounds like: 24 hours of unbroken sound.
Born in the early '70s, Auf der Maur views her own life in roughly 10-year epochs. In the late '80s and early '90s, she was an avid experimentalist, living for a time with members of Godspeed You! Black Emperor in her native Montréal. In 1994, she pivoted to the more mainstream world of post-Cobain grunge. "When I accepted my invitation to join Hole, it truly was, in my camp, like joining Celine Dion's band," she recalls. "It was kind of radical. I ended up deciding to do it to change the cultural mainstream landscape for women in music."
After a five-year stint as Courtney Love's bassist and a two-year run with The Smashing Pumpkins, she went solo, releasing two rock albums under her own name. Then, in 2010, she and her husband of four years, filmmaker Tony Stone, bought Basilica — an abandoned railroad wheel foundry turned impromptu performance space on the east bank of the Hudson River. They'd been eyeing the property from the backyard of their home nearby since their move, imagining its potential as a multi-purpose music and arts venue. The seed of 24-HOUR DRONE took root at their housewarming/New Year's Eve party, during a late-night conversation with Bob van Heur, the founder of Holland's Le Guess Who? festival. "We were standing on the back porch after midnight, all glittery under the beautiful winter night sky, and we could see the glow of that factory," Auf der Maur recalls. "That's where we came up with the idea: 'Imagine a 24-hour sound festival in that building.'"
The plan to acquire the campus was set in motion shortly thereafter, when its owner, Patrick Doyle, made Auf der Maur and Stone "an offer we couldn't refuse." Stone started the years-long, ongoing process of gutting and renovating the space into the state-of-the-art, eco-conscious venue it is today, and Auf der Maur began scheming up unconventional gatherings. Bona fide events began to coalesce: The eclectic music festival Soundscape started in 2012 (a year after the birth of Stone and Auf der Maur's daughter, River), with the inaugural Thanksgiving Farm and Flea market launching in 2013.
"Even in the 21st century, when the corporate assholes own everything and people's minds are controlled by algorithms, there are still people who listen to an analog voice saying into their ear, 'There's something special happening right here.'"
The first 24-HOUR DRONE, however, came further down the road. After collaborating in 2014 with van Heur for a successful trial run in Utrecht featuring titans of the form such as William Basinski and Stephen O'Malley, Auf der Maur brought the experiment to Basilica the following year, under less controlled conditions. Dominick Fernow's Prurient project headed the bill, but the overall lineup lacked the (relative) star power of its continental predecessor.
This approach caused consternation in the Le Guess Who? Camp. "There was a doubt that it was a good idea the first year," Auf der Maur remembers. "But I was right in my instinct that if we built it, they would come. We passed it on: word of mouth, grassroots. Everything we've done at Basilica is that, and it continues to prove that even in the 21st century, when the corporate assholes own everything and people's minds are controlled by algorithms, there are still people who listen to an analog voice saying into their ear, 'There's something special happening right here.'"
In later years, DRONE's undercard became even more fluid, taking shape via an open call for local performers sent out by Auf der Maur's first and only full-time employee, Sarah Van Buren. "Underground people keep their ears to the ground," Auf der Maur reasoned. "They need to know where they can play. Weird throat singers can't play everywhere all the time."
"We're really lucky," Van Buren tells me a few days after DRONE 2023. "The reason this event works, and the reason it began, is that there's a rich, deep community of people who appreciate experimental music in our area. There's a few people here who are legends in that world. Pauline Oliveros lived in Kingston for many years, and her whole Deep Listening community really was intrinsically linked to the Hudson Valley. There was already this very open community of people who had been doing experimental durational listening and sound events even before DRONE began, so we were picking up on that legacy."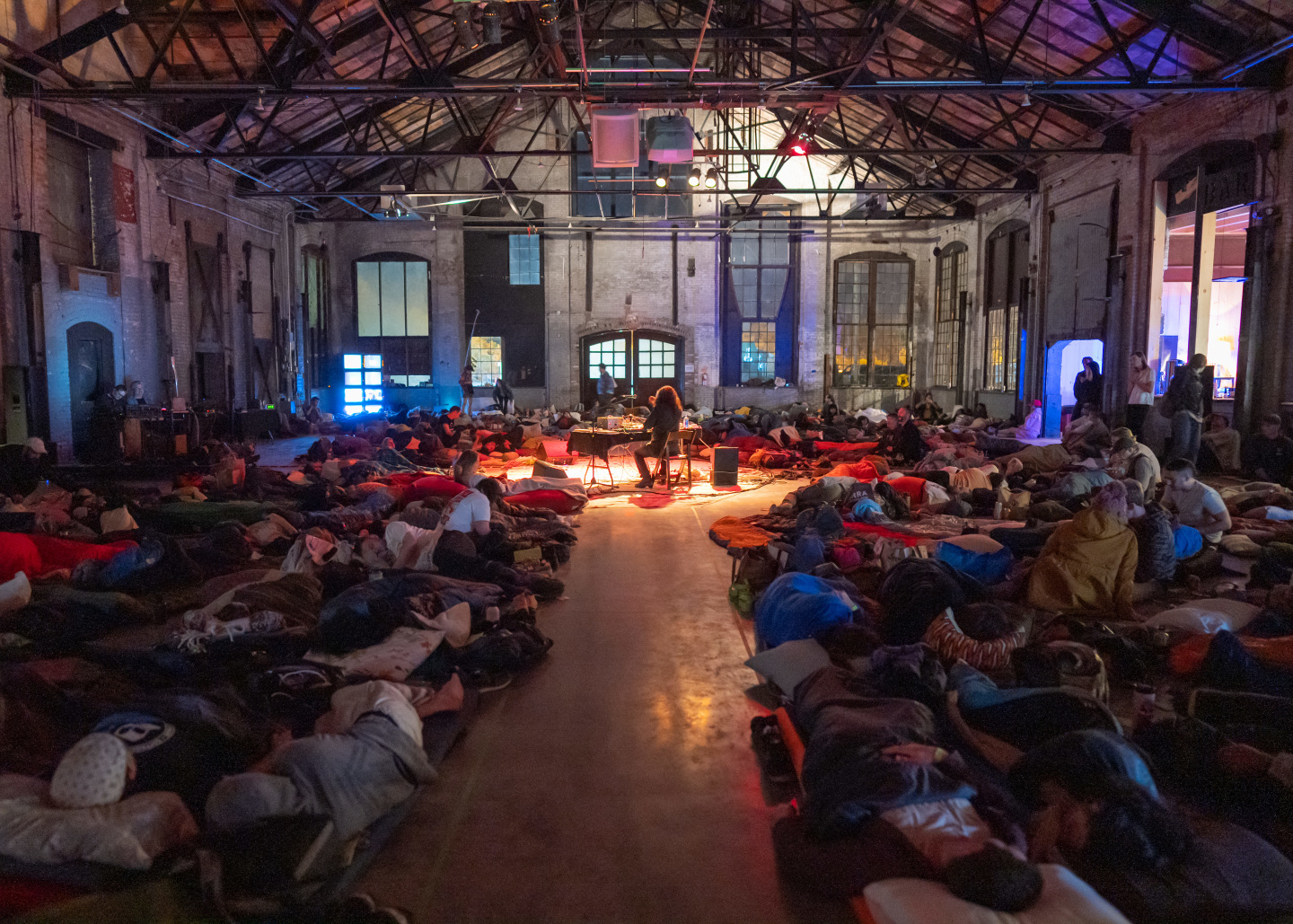 There was no open call for DRONE '23, but many of the festival's featured artists are based locally, a testament to the deeply invested community Van Buren mentions. Pulitzer-winning Navajo composer Raven Chacon and acclaimed percussionist Sarah Hennies both teach at Bard College in Annandale-on-Hudson; Photay, an adventurous DJ sharing the stage with Laraaji at this year's DRONE, hails from Woodstock; and Yuka Honda, a prolific synth sorceress playing DRONE as Eucademix, lives with her husband (Wilco's Nels Cline) just over the Catskills.
Still, the intentional mapping of 24-HOUR DRONE '23 room leaves room for four three-hour endurance sets as well as 12 hour-long performances (the final one split in three), each bleeding into the next. These brief transitional periods (10 minutes each, give or take) make for some of the most exciting moments of the festival. "When one person is winding down their set," Auf der Mar explains, "another is setting up — plugging in, clunking, a little awkward — and then they merge into one. It's the most beautiful handing of the baton of sound."
These liminal sonic spaces might not be especially powerful on their own, but in the context of 24-HOUR DRONE, they're breathtaking: Dharma Swara's microtonal percussion fades into Gushes' eerie ambient plumes. Sarah Hennies and Tristen Kasten Krause's tightly wound bass/cymbals duet expands into the electronic adventures of Honda's Eucademix, which in turn blossoms into the lushness of a sunset endurance run from Laraaji and friends. Liturgy's lashing guitar becomes one with Laura Ortman's shockingly noisy violin. Wolf Eyes' haunted psycho jazz sets the stage for Raven Chacon's alien analog synthesizers. And FUJI||||||||||TA's full-body pipe organ Gagaku dies out as Sister Redhawk leads the festival into its final hour with quiet, glistening percussion.
Oliveros, the patron saint of the post-war avant-garde, died in 2016, never having performed at DRONE, but the festival makes a valiant effort to keep her spirit alive. DRONE '23 closes with her deep listening meditation "Heart Chant," in which hundreds of participants, this writer included, stand in a circle with one hand on our heart and the other on the back of the person next to us. We then each begin to hum at whatever pitch resonates with our heart, creating a serene tapestry of overtones. When the chant tapers off naturally after a few minutes, many Droners have tears in their eyes.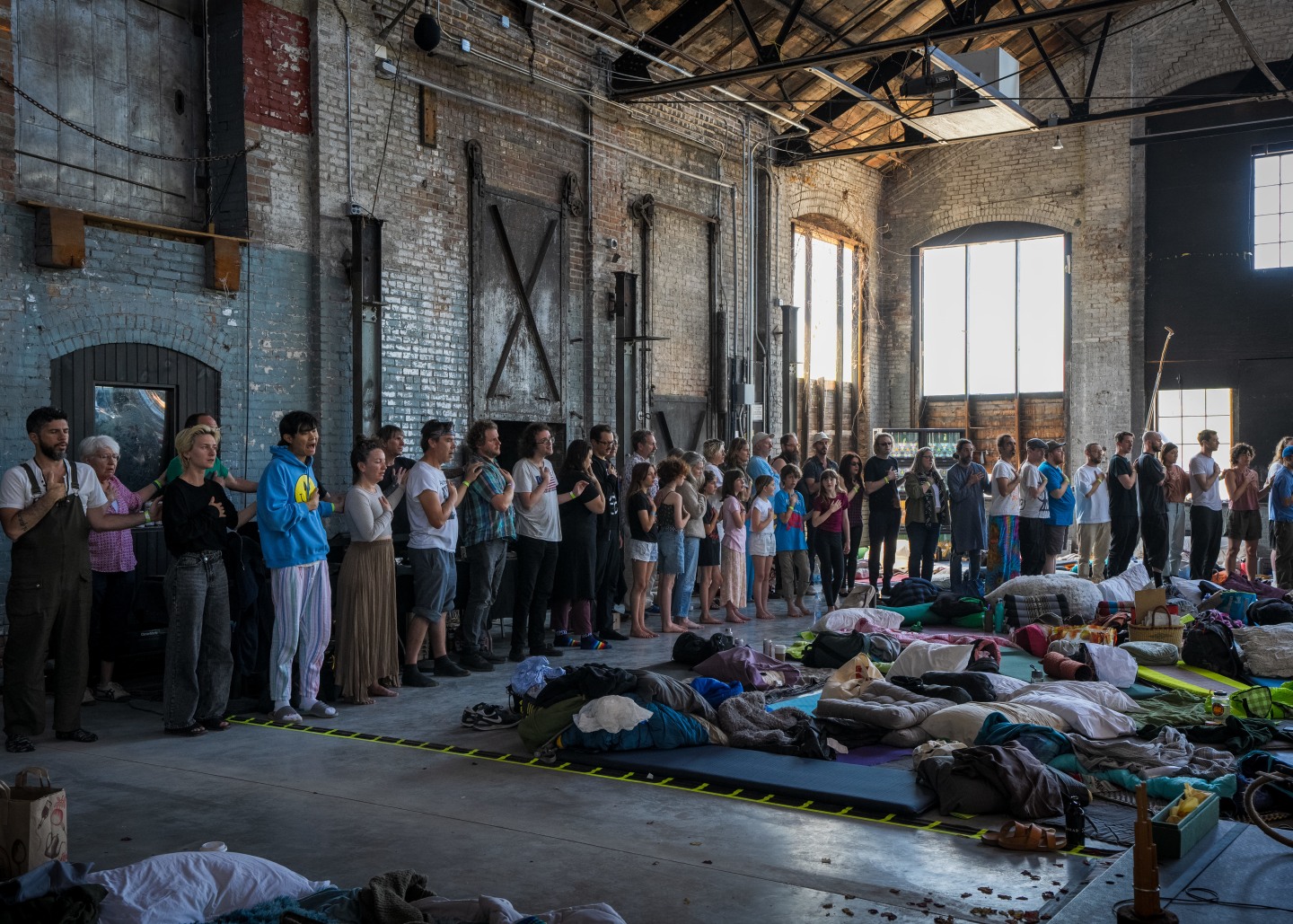 "The poetry of transforming an 1880s industrial mammoth into a center of immersive conceptual art… is, for me, the ultimate reclaiming of a world gone wrong."
Auf der Maur sees the world cosmically, so the serendipity of her daughter's Olympiad falling a day before her own ritual performance is not lost on her — nor is the deep significance of DRONE '23 in the broader landscape of her life. "I work in decade chapters," she reminds me. "It's always been my way. And here I am, 13 years later, starting a new chapter as we speak. DRONE is an exciting baton handoff for my own creative pursuits, because I'm going back into my creative realm now, having established something I believe offers the world a little bit of beauty." In 2024, she'll step back as director and focus on her multimedia rock memoir: a book, a museum exhibit sampling the roughly 30,000 35-millimeter negatives she says she accumulated from taking a roll of film every day during her time in Hole and The Smashing Pumpkins, and a soundtrack to that exhibit, created in collaboration with Montréal musicians.
This year is the first time Van Buren has been listed as an official collaborator in Drone's curation, though she's been heavily involved in the process since the Basilica's very first drone. 2023 also marks the end of Auf der Maur and Stone's "unofficial and intuitive 10-year strategic plan" (stretched three years longer due to COVID): They've locked in their "anchor events" — Soundscape, Drone, Farm and Flea, a non-fiction film screening series, and Jupiter Nights, a "non-destination," locally focused concert series Auf der Maur founded post-lockdown when she "realized that the whole world was moving to Upstate New York and everything was getting really touristy and weird." They've also established Basilica as one of the Hudson Valley's premiere wedding venues, leading to a surprise windfall that's helped fund their riskier endeavors. And, with Drone and the opening of their summer season, they've finally unveiled the first phase of their "historic green construction project."
"For the last 12 years, we've functioned as an industrial barn that has not had heating or cooling," Auf der Maur explains. "We'd shut down after Thanksgiving and reopen in the spring with Drone. We've never had things in the winter, and it's been hot and uncomfortable in the summer. But we've completed today, as we're speaking, phase one of our all-year-round, fossil-fuel-free historically restored factory."
Phase one includes a new glass-block, copper-top bar at which one could conceivably sit for the entirety of Drone, watching the full sound ritual from a less rustic, more industrial-chic vantage. Phase two will finalize renovations on several satellite buildings on the grounds and implement the radiant heating floors that have already been installed, allowing Basilica to operate as a venue year-round. For the foreseeable future, Basilica Hudson will continue on as a living, breathing work in progress, even as its current conservators pass the baton.
"The building is still the central muse to this project," Auf der Maur says. "The poetry of transforming an 1880s industrial mammoth into a center of immersive conceptual art and open-minded people is, for me, the ultimate reclaiming of a world gone wrong."