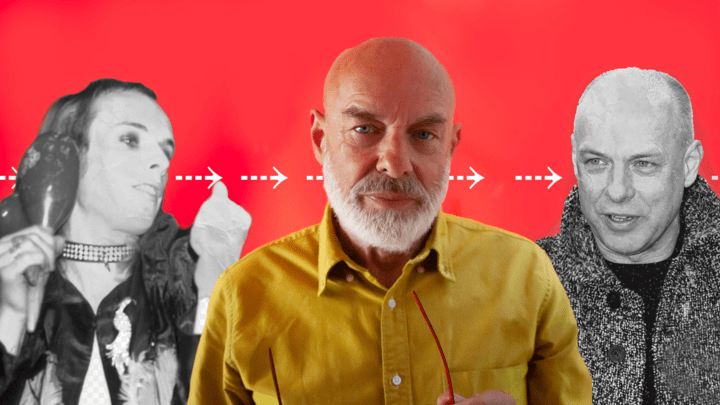 The surprise announcement of Fred again.. and Brian Eno's album Secret Life arguably did more for Fred again..'s ascent to the upper echelons of electronic music than his Coachella set with Skrillex and Four Tet did. The 75-year-old Eno is one of the most respected figures in the history of modern music, an iconoclast with an endless font of creative wisdom and revelation from his beginnings in the glam-rock band Roxy Music to his present status as one of sound's elder statesman.
Eno's attachment to Secret Life quickly made it one of the year's most anticipated releases. He may be best known as the father of ambient music, but his 40-plus years in the industry — which include seminal collaborations with fellow pioneers such as David Bowie, Talking Heads, and Devo — have acted as a Tree of Life, providing oxygen to the genres of electronic music, pop, and beyond. Eno is by no means a recluse — his 13th solo studio album ForeverAndEverNoMore was released in October 2022 — but the sheer scope of his mastery makes any release a major event.
For new Eno fans turned on by Secret Life, this guide offers thoughts on a handful of special albums in a career with few dull moments, a glimpse of his excellence in the spheres beyond music, and a few tidbits that show the scope of his influence on modern creativity.

The perfect entry point for new converts: Music For Airports
Eno first began developing the idea for ambient music during a hospital stay in the '70s after a serious car accident. A visitor had put on an album of harp music just before leaving, though the volume was too low for Eno to hear the music over the rain that was pattering against his window. Unable to move from his bed and turn the music up, Eno was frustrated at first, but as time went on, he began to imagine a new genre "…that didn't impose itself on your space in the same way, but created a sort of landscape that you could belong to." The most successful iteration of this goal can be found on Ambient 1: Music For Airports, the first and best-loved installment in his Ambient series. Listening to Music For Airports peels back one's perceptions like wallpaper to reveal something even more vivid underneath.
The album we should play for the aliens if we want to impress them: Another Green World
Eno's aspiration to create art without boundaries and search for new ways ushering it into existence peaked with Another Green World, an album that's nearly a half century old but still sounds as cool as the day it came out. Eno famously used his Oblique Strategies to help guide the album's creation; these instructional cards forced Eno and his musicians to approach a song from a new perspective (examples include "Do we need holes?," which makes more sense the longer you stay with it, and "Abandon normal instruments," an Eno cheat code if there ever was one). Another Green World melds Eno's ambient excursions with his affinity for art-rock, employing collaborators like Phil Collins, Robert Fripp, and John Cale, and maintains a piercing vulnerability throughout, whether words are spoken or not: "Becalmed," its 10th track, moves from a desolate near silence to electronics that sway back and forth like the motion of a gentle cradling, and the jaunty "I'll Come Running" is a sweet, piano-driven pop song that's still waiting to become a wedding reception staple. For a deep dive into the album, read Geeta Dayal's installment of the 33 ⅓ series.
His commercial peak as a producer: U2's The Joshua Tree
One of the best-selling albums of all time, with over 25 million units sold, U2's fifth studio album The Joshua Tree marked the beginning of Irish band's transition to rock-god status. Co-produced by Eno with Daniel Lenois, The Joshua Tree doesn't shy away from Eno's influence: The opening synth organ on "Where The Streets Have No Name" could easily have been pulled from one of Eno's ambient albums, and the industrial echoes of closing track "Mothers of the Disappeared" feels like a nod to Another Green World's moments of avant-garde synth rock.
Eno's most widely heard composition? The Windows 95 startup sound
Can't do a beginner's guide without at least mentioning Roxy Music, the iconic glam-rock band he co-founded
"What happens when you go look at a painting you've never seen before? What I think happens is that when you look at that picture, you're seeing it in the context of all the other pictures you've ever seen. When you go and look at something new, what you're saying is, 'What's different about this experience?'"
…and a rare 40-minute documentary from 1989
The best song on MGMT's best album is named after him