Neon Indian's Alan Palomo announces first album under his name
"Stay-At-Home DJ" kicks off the rollout for World of Hassle, out September 15 via Mom+Pop records with a tour to follow in October.
Chillwave pioneer Alan Palomo has been a part of the indiesphere for over a decade now, but if his name doesn't sound familiar, that's because he's been releasing music as Neon Indian for most of that time. Responsible for stone-cold iPod classics like "Polish Girl" and "Deadbeat Summer," Palomo is stepping out from beyond the alias to deliver World of Hassle, his first album under his own name.
World of Hassle's next single is "Stay-at-Home DJ," which is a) right in Palomo's niche of jazzy electro-pop (he even name-drops Prefab Sprout in the lyrics) and b) an eerily prescient name for a song that was written in 2019. "This is the song that started the whole conversation," Palomo said in a press release. "It signaled a change in direction I'd been looking for but had yet to really know what to do with."
See below for many things, including the visualizer for "Stay-At-Home DJ," plus the cover art and tracklist for World of Hassle, out September 15 via Mom+Pop. Following the release, Palomo is going on a tour that will feature both live band shows and a smattering of DJ sets. Those dates are listed here too.

World of Hassle tracklist
1. The Wailing Mall
2. Meutrière (feat. Flore Benguigui)
3. La Madrileña
4. Nudista Mundial '89 (feat. Mac DeMarco)
5. The Return of Mickey Milan
6. Stay-At-Home DJ
7. Club People
8. Alibi for Petra
9. Nobody's Woman
10. Is There Nightlife After Death?
11. Big Night of Heartache
12. The Island Years
13. Trouble In Mind
World of Hassle cover art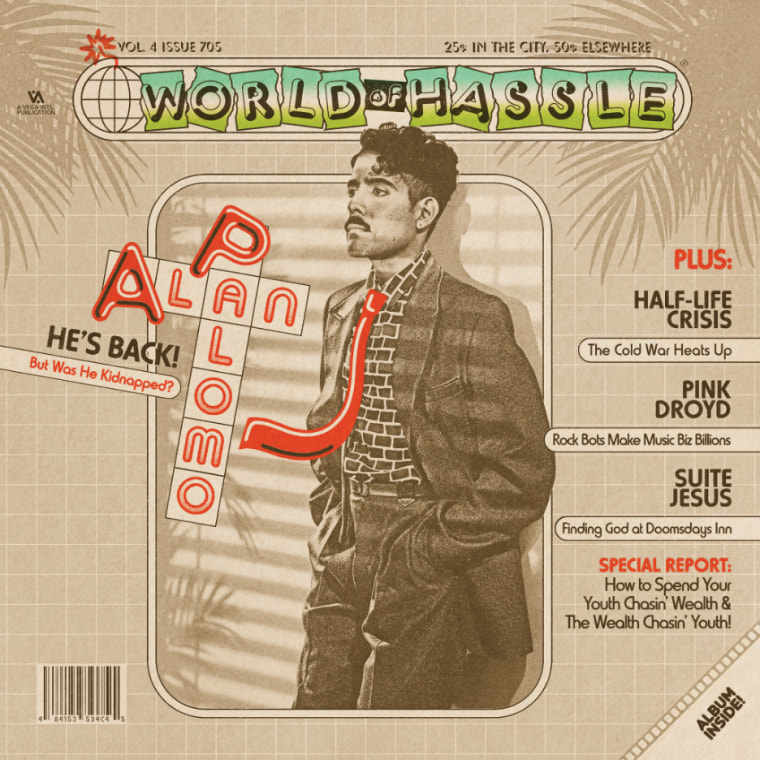 Alan Palomo 2023 tour dates
DJ performances:
June 25 - Houston, TX - Sound Waves at El Segundo Swim Club
Aug 20 - San Francisco, CA - Stern Grove Festival with Flaming Lips
Live band performances:
October 17 - San Francisco, CA - The Chapel
October 20 - Pioneertown, CA - Pappy & Harriet's
October 21 - Los Angeles, CA - El Rey
October 23 - El Paso, TX - Lowbrow Palace
October 26 - San Antonio, TX - Paper Tiger
October 28 - Dallas, TX - Ferris Wheelers
November 2 - Chicago, IL - Metro
November 3 - Detroit, MI - El Club
November 4 - Lakewood, OH - The Roxy
November 8 - Philadelphia, PA - Underground Arts
November 9 - Washington, DC - Atlantis Club
November 10 - Pawtucket RI - The Met
November 11 - Brooklyn, NY - Elsewhere