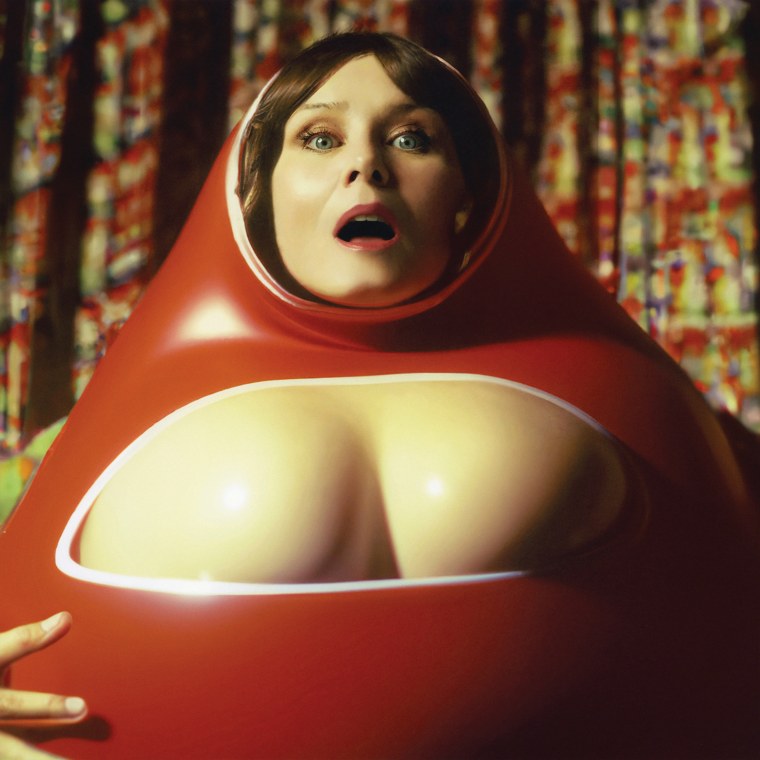 The FADER's "Songs You Need" are the tracks we can't stop playing. Check back every day for new music and follow along on our Spotify playlist.
Róisín Murphy's new song is called "Fader," and if she wanted this magazine's attention, she's got it. The third single from Hit Parade, due out September 8 via Ninja Tune, its already the second to achieve a Song You Need certification — a rare honor indeed. We sincerely hope she's happy.
Beyond the new track's excellent title, it's quite a good tune. Above a smooth soul groove embellished by occasional strings and a full brass section (all courtesy of DJ Koze, who's producing the forthcoming record in its Hit Parade in its entirety), Murphy sounds like Macy Gray at her most sensuous, showing off the powerful pliability of her vocal chords. "Take your hands off, hater / Of my baby's fader," she sings on the hook. "When it comes to this song / You can't play it too long." Simple words indeed, but just bold enough to grab our attention without making us angry. Well played.
"Fader" arrives with a self-directed, black-and-white visual treatment shot in Murphy's home town of Arklow, Ireland. The video focuses on a parade through the center of town, featuring Irish dancers, boy and girl scouts, and, of course, a brass band. Find Murphy's statement on the short film below, as well as the clip itself, Hit Parade's cover art and tracklist, and her upcoming tour dates.
"This idea came to me partly in reaction to making such surreal and 'other' imagery for the album artwork, and partly in response to the track itself. I felt I needed a totally authentic space in which to perform 'Fader.' The song is about life and death and music, so I went home to where it all started for me. Just as in the music, there's a huge hip-hop influence on the video, and for me to have the sheer front for that, it needed to ring true. And so my home town, Arklow, was, in fact, the only option. It was a huge task to take on, connecting with local government counselors, because we had to close the high street and then, with local groups of all kinds, musicians, dancers, scouts, majorettes, farmers, fishermen, etc., and much of my family… Doing something like this is a massive responsibility and it threatened to overwhelm me at times. But on the day, we had Hollywood sunshine and just an incredible sense of goodwill. The people of Arklow made me so proud. It truly turned out to be one of best days of life."
Hit Parade album art
Hit Parade tracklist
1. What Not To Do
2. CooCool
3. The Universe
4. Hurtz So Bad
5. The House
6. Spacetime
7. Fader
8. Free Will
9. You Knew
10. Can't Replicate
11. Crazy Ants Reprise
12. Two Ways
13. Eureka
Róisin Murphy 2023 tour dates
July 2 - Dublin, IE - Trinity Summer Series
July 7 - Bilbao, ES - Bilbao BBK
July 8 - Rotterdam, NE - North Sea Jazz
July 9 - Bruges, BE - Cactus Festival
July 13 - Meco, PT - Super Bock Super Rock
July 15 - Bern, CH - Gurtenfestival
July 16 - Milan, IT - Castello Sforzesco
July 21 - Jodrell Bank, UK - Blue Dot
July 23 - Abbots Ripton, UK - Secret Garden Party
July 29 - Dangest, DE - Watt En Schlick
August 6 - Burgas, BG - Spice Music Event Port of Burgas
August 9 - Tøyenparken, NO - Øyafestivalen
August 10 - Chorzow, PL - Fest Fest
August 12 - Wimborne, UK - We Out Here
August 26 - Edinburgh, UK - Connect
August 27 - Lincoln, UK - Lost Village
September 27 - New York, NY - Terminal 5
September 29 - Los Angeles, CA - The Wiltern
October 1 - San Francisco, CA - Portola