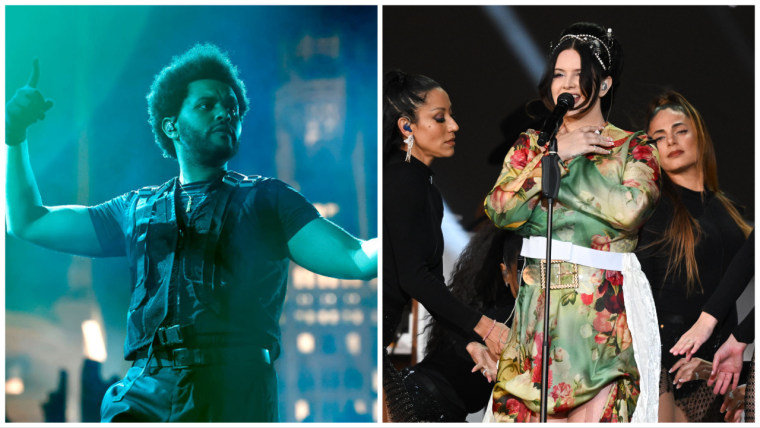 Over the past decade, Lana Del Rey and the Weeknd have written extensively, both together and apart, about doomed relationships and the friction between good-for-nothing men and the pursuits that define them. As both artists arrived in London for a pair of individual headline shows, it's striking to note the radically different ways they present these shared interests from the stage.
The Weeknd's After Hours Til Dawn tour is pure bombast, an outsized show purpose-built to fill stadiums across the globe. Abel Tesfaye takes to the stage at the London Stadium hidden behind a titanium mask, though shielding his identity isn't entirely necessary given that the vast chrome city sculpture on his stage already renders spotting him from the cheap seats akin to a pop star version of Where's Waldo? Stage designer extraordinaire Es Devlin has detailed some of her work in staging the tour, explaining that Tesfaye wanted to nod to the 1929 Fritz Lang classic Metropolis as well as Batman and some unnamed manga. As he emerges from the cityscape and starts to make his way via a catwalk toward a seven-meter-high rendering of a machine woman. It's a fitting metaphor for the women in the Weeknd's music, at the center of the narrative but never truly heard from.
He opens the show with "Take My Breath" and "Sacrifice," a pair of songs about a lover losing all power when they enter his world. Even hidden behind the mask, this hypnotizing power is displayed as the sold-out 80,000 crowd is pulled into his orbit accordingly. At this point in his career, Tesfaye almost has too many hits to fully honor each one accordingly in the live environment. What follows is an assault on the senses as flames erupt into the night sky while he runs through sleaze-pop classics including "Crew Love," "Often," and Class A love song "Can't Feel My Face." It's a dizzying array of songs carried by Tesfaye's deceptively sweet falsetto, flawless throughout, that map out a career that has see him transform from subterranean R&B experimentalist to Super Bowl half-time headliner.
Like the Weeknd, Lana Del Rey emerged amid a blizzard of questions about her identity and authenticity. However, met with misogyny in her early career, she was unable to use mystique as a barrier while she fleshed out her identity as an artist. If The Weeknd's journey has been remarkable for its transformation then Lana Del Rey's is noteworthy for its consistency. She has doubled down on the things that make her songwriting great, a hopelessly romantic worldview with a dash of acidic fatalism, and built a world in which there is a reassuring homogeneity. If the strength of the music wasn't enough to make catching her live a special event, then various misfires have made the audience at her British Summer Time headline slot in London even keener still. A Norman Fucking Rockwell tour in 2020 was canceled pre-COVID while a recent appearance at Glastonbury was pulled mid-set after she arrived on stage 45 minutes late and wound up breaking the curfew.
As such, Del Rey's audience are ravenous and greet her every move with screams and whoops in a way that feels different to the average festival atmosphere. You know you have a crowd in the palm of your hand when they scream as you take a hit from your vape. There are similar camp moments, including a wonderful rendition of "Bartender" sung from behind a dressing table as an assistant tended to her hair. She sings about a love between a working man and someone in the public eye that is "sweet enough on the vine," even without the influence of alcohol. A moment in which Del Rey called out her ex, revealing he married another woman while they were together, has made headlines, though the idea that this is a live show to be consumed by anyone beyond the Lana fandom seems laughable. Outside of greying legends in the songwriter pantheon, artists who trade mainly in ballads rarely make it to festival headliner status, where high energy and easily replicated melodies reign supreme. Del Rey's mastery of the languid ballad, however, lends a hypnotic air to her set. The James Dean-referencing "Blue Jeans" drips with dreams of Old Hollywood and the reality of being ghosted. Those themes of loneliness and putting faith into ill-fated scenarios have been a through line in her work from the beginning and are heard again in "Did You Know That There's a Tunnel Under Ocean Blvd," which is transformed into a sprawling highlight tonight. Backed by her additional vocalists, she threatens to break curfew again while she takes the song to church.

Ultraviolence track "Pretty When You Cry," a tear-stained break-up song, meanwhile, soars. Ironically, its lyrics of heartbreak and illicit habits ("All those special times I spent with you, my love/They don't mean shit compared to all your drugs") would be just as at home in a Weeknd song. It is only during Tesfaye's show, however, that evidence of their working relationship makes it to either setlist.
He performs "Party Monster," a song co-written by Del Rey and featured on 2016's Starboy, from beneath the shadow of his gargantuan robot lover. There's a tenderness to the original recording that is traded for the more brash approach that defines much of the After Hours Til Dawn. Flames lick the stage as Del Rey's backing vocals filter around the stadium and Tesfaye dives into a grand crescendo. It's an effective elevation of the material, something the Weeknd's chrome-plated show turns into another form of hedonism. For Del Rey, however, the reflection is baked deep into her songs.