Novagang are the hypest outsider artists around
Revisiting the collective's catalog in anticipation of their upcoming project H.T.N.G. VOL 2: JUDGEMENT DAY.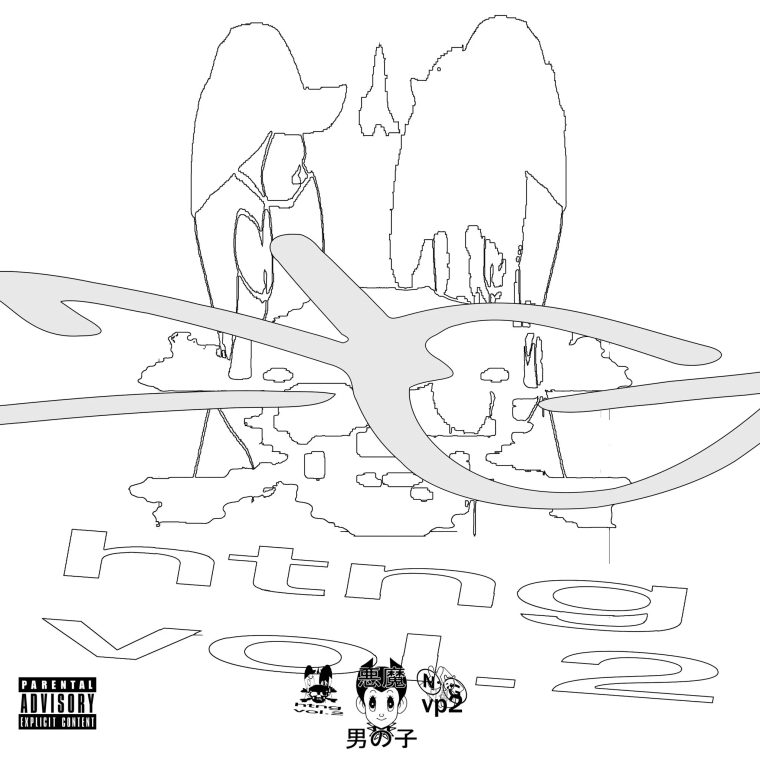 My interview with osquinn three years ago came as SoundCloud had become ground zero for groups of intensely creative teenagers whose restlessness — COVID-era uncertainty along with your average adolescent angst — begat new genres of music. Most of these categories are four-letter words now, and you're unlikely to find many exciting musicians willingly embracing the labels of "hyperpop" and "digicore" thanks to internecine conflicts and homogeneity stoked by major label deals. Even when I corresponded with osquinn back in 2020, it was becoming apparent that the bubble was bursting in slow motion. But she was excited for the future, thanks to the collectives of like-minded artists she was a part of — groups like Novagang, who bring a freewheeling outsider's perspective to the world of experimental rap.
For Novagang and its rotating cast of affiliated artists, underground hip-hop is the starting pistol sending their music to ludicrous and entrancing places. Essential acts like osquinn and xaviersobased have released songs with Novagang over the years — on "Purple Rain," a track sitting at nearly one million SoundCloud plays, osquinn drops haggard lifestyle raps over a distorted storm cloud rap beat from HOODWTCH. A short scroll down on Novagang's Top Tracks on SoundCloud, you'll hear "Better," a xaviersobased cut that epitomizes his one-of-a-kind, Enya-meets-Lil B sound. But part of Novagang's success is the built-in treasure hunt: Novagang artists will frequently stretch their association with the rap genre to its limits, a charge led by Prblm, the group's founder. "let the water freeze (tiny moving parts on crack)," a song from the yzma ''mar 28 22 project release by Prblm under the dj yzma alias, deconstructs modern music's obsession with pop-punk and so-called "emo rap" into shards of spacious and compelling sound art. Gems like these are everywhere, on official pages and archive accounts started by dedicated fans who are wary of Novagang's tendency to suddenly delete beloved songs without warning.

Novagang's origins are murky; like any internet movement worth tracking, they seemed to appear out of nowhere, and you'll have to go deeper than the first page of Google to find reliable information. After following breadcrumbs left by defunct SoundCloud posts and one very suspect Last.FM page, I emailed Stef, an artist and producer who co-manages Novagang with Prblm. It was satisfying to learn that the lack of concrete facts extended to Novagang's upper echelons: Novagang was formed "by a couple of people in 2018/19," Stef told me, though Prblm was its chief engineer. The group's name is a portmanteau of Prblm's alias "Nova" and "gang," and came about as artists were beginning to flock to Prblm's vision.
Unsurprisingly, Novagang don't consider "hyperpop" a term of endearment. "Feels wrong to kinda wrong [to] reduce it to a single word," Stef says of Novagang's music. "It's a very eclectic sound."
To see this eclecticism in action, listen to H.T.N.G., Novagang's debut project as a collective. Released in 2022, the 20-track effort that remains one of the best within their seemingly endless discography. H.T.N.G. harnesses the disparate sounds and vibes of its nearly two-dozen artists under the framework of SoundCloud rap to create an all-too-rare assemblage of extremely online internet music that's loose yet cohesive, lovingly crafted yet readily accessible. Songs like "LOOSESCREWS" and "NEUMAL NEW MAN" make frantic work of their Spaceghostpurrp and Goth Money influences, while the Jersey club-inspired "DAT STREET" and Milwaukee rap fever dream "WEDNESDAY" are early indicators of how those scenes would explode in the coming months. Is it overwhelming at times? Sure. But the boundless energy is sourced from two passions: the underground and the camaraderie it can inspire.

On August 6, Novagang will share their second full-length project as a collective, H.T.N.G. VOL 2: JUDGEMENT DAY. Its release comes two weeks before a sold-out show in New York City headlined by osquinn and xaviersobased. Stef feels like they're at a turning point. "We've all put so much into this," he says. I feel like a lot of our lives are about to change forever." He's excited and reflective; underground music on SoundCloud is in a great place, and Novagang helped get it there.
"To me, a lot of it has moved away from being this one singular thing that's popular and back into niches," he continues. "I like that. I think some real groundbreaking music is gonna be born out of this." As buzzy subgenres grip the internet and disappear, Novagang are in position to leave a mark far beyond your standard hype cycle.