Open Mike Eagle has announced a new, nine-track album titled Another Triumph of Ghetto Engineering, due out August 25 via Auto Reverse. Its lead single, "WFLD 32," is out today, produced by Kenny Segal and featuring Hannibal Buress under his rap alias eshu tune, as well as Mike's frequent collaborators video dave and still rift.
The new song is a chilled-out cypher featuring the sharp, highly referential, unabashedly nerdy bars characteristic of Mike and his creative co-conspirators. "I'm hating them turns in Laurel Canyon / I'm stranded, which side is I'm on / Susan Sarandon is candid," Mike raps early on (most likely referencing the famed final shot of Thelma & Louise) over Segal's smoky boom-bap instrumental, before Buress kicks off his verse with a discussion of his addiction to the video game Rocket League. Later, Dave points out a continuity error in the cult classic 1992 film Juice.
"In the ghetto we never stop toiling!," Mike says in a press release, discussing his newly announced record. "These songs are all fancy ways of saying 'fuck you' to people that ignore us and 'thank you' to people that care if we live or die! Pay close attention to the song titles! This is another triumph of ghetto engineering! I took that cover photo. Thats my mama's hand!"
Check out the project's cover art and tracklist and view Mike's fast-approaching U.S. tour dates below.
Another Triumph of Ghetto Engineering album art and tracklist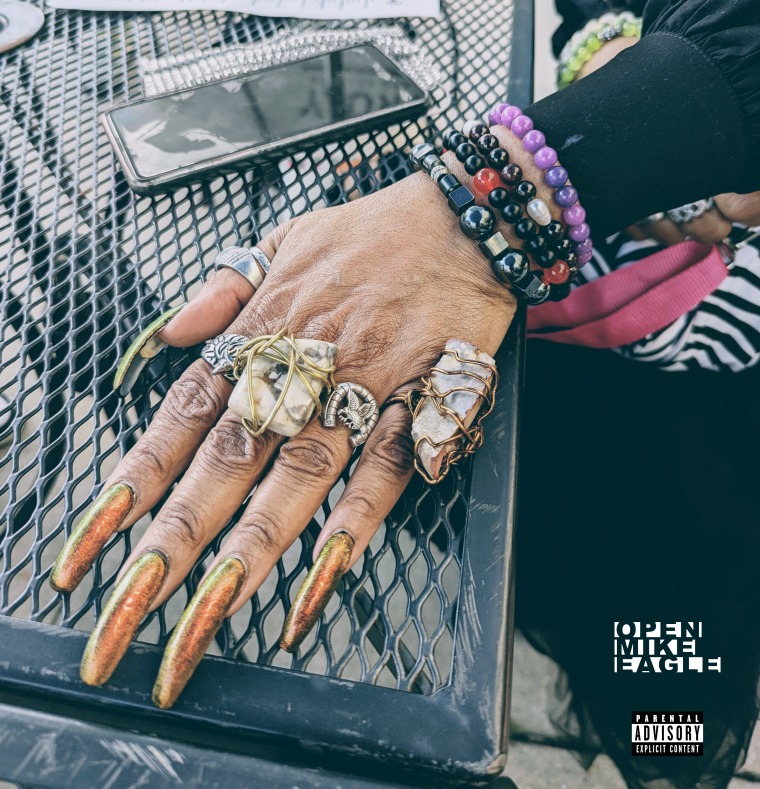 1. I bled on stage at first rave
2. BET's rap city feat. young zee
3. a new rap festival called falling loud
4. the grand prize game on the bozo show feat. video dave and still rift
5. we should have made other ground a thing
6. WFLD 32 feat. eshu tune, still rift and video dave
7. the wire s3 e1 feat. blu
8. dave said these are the liner notes
9. mad enough to aim a pyramid at you
Open Mike Eagle summer 2023 tour
August 16 - Lansing, MI - Hall 224
August 17 - Pittsburgh, PA - Spirit Hall
August 18 - Cleveland, OH - Grog Shop
August 19 - Lexington, KY - The Burl
August 20 - Nashville, TN - Exit/In
August 21 - Asheville, NC - The Grey Eagle
August 22 - Charlotte, NC - Neighborhood Tavern
August 23 - Carrboro, NC - Cat's Cradle
August 24 - Charleston, NC - Music Farm
August 25 - Atlanta, GA - Hell at The Masquerade
August 26 - Memphis, TN - Growlers
8/27 - St. Louis, MO - Delmar Hall
August 29 - Columbia, MO - The Blue Note
August 31 - Oklahoma City, OK - Resident Head
September 1 - Albuquerque, NM - Launchpad