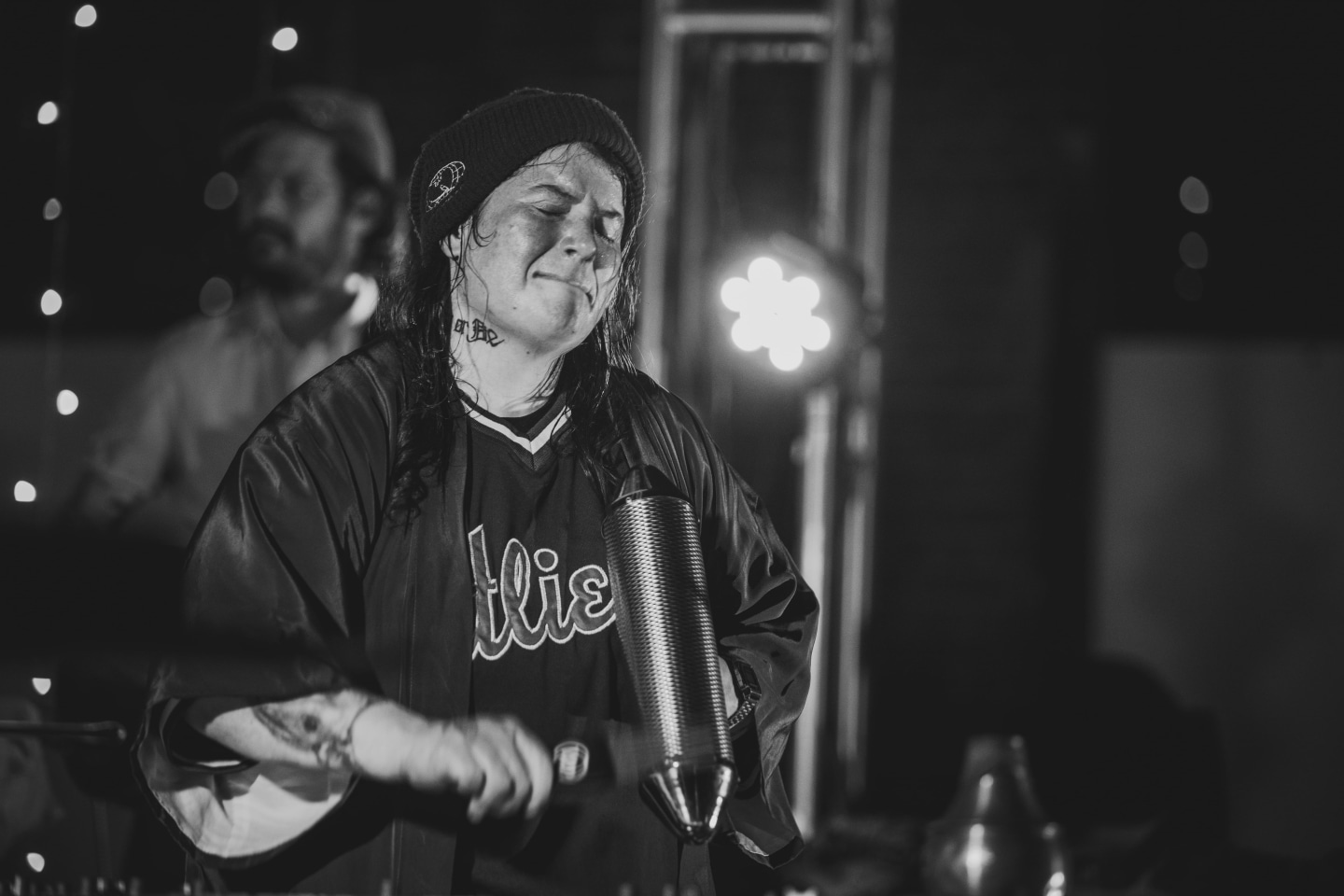 The experimental music community mourns its losses intensely. Just this past weekend, an army of deep listeners rushed to pay tribute to one of their own — Stars of the Lid co-founder Brian McBride, who died on Sunday, August 27 at the age of 53.
Last summer, the small and sometimes insular but largely warm and welcoming scene took a hit of similar magnitude when jaimie branch — a trumpet master, visionary bandleader, generous side player, and passionate environmental and human rights advocate — transitioned to the next world at 39.
Two days later, those who knew and loved jaimie — both personally and through her music — marched through her adopted neighborhood of Red Hook, Brooklyn, where she lived with her dog Kuma until her final moments. Instruments and noisemakers in hand, the crowd made their way to Valentino Pier, where they sent off their hero and friend in the same unbridled, improvisatory manner by which she lived.
Watching branch perform in the months before her passing and speaking with some of those lucky enough to cross creative paths with her, it was impossible not to feel the glow of pure confidence and love she emanated and evoked in others. Similarly, her fiercely independent spirit and firm principles inspired those who stood in awe of her to stand for what they believed in as well.
This past Friday, August 25 — one year and three days since branch's passing — her longtime label International Anthem released the third and final album from Fly or Die, her quartet with bassist Jason Ajemian, cellist Lester St. Louis (who replaced Tomeka Reid following the group's self-titled debut LP), and percussionist Chad Taylor. Fly or Die Fly or Die Fly or Die ((world war)) feels, in its best moments, like the ecstatic consummation of an incomparable energy channeled through sound. From the organ drone that opens the album to the clinking bells that fade it to black, FOD III is a record of uncompromising force, but also one characterized by symmetry and restraint.
Its twin flames — the tentative groove of "borealis dancing" and the more confident strut of "bolinko bass," as well as the defiant fight song "burning gray" and the righteous war chant "take over the world" — are the pillars that hold the rest of the project, from its inchoate intros (the budding "aurora rising" and the primal "and kuma walks") to the towering tracks that stand alone: the brilliantly understated folk harmonies of "The Mountain," the piercing quietude of "world war ((reprise))," and the project's literal and emotional centerpiece, the sprawling and glorious "baba louie."
Contributors to FOD III outside the core quartet include Nick Broste, Rob Frye, Akenya Seymour, Daniel Villarreal, and Kuma Dog — a small sampling of the countless collaborators branch worked with directly in her short life. (Notable among these is Jason Nazary, with whom she released two albums across four years as Anteloper.) The true scope of her influence, however, lies not only in the bonds she formed with longtime creative partners, but also in the deep love and respect she inspired in the souls of those she only knew briefly, or who only knew her from afar.
Over email, 10 veritable giants in experimental music responded to a series of short questions I asked about the jaimie they remembered. Some, like Wilco guitarist Nels Cline, never met branch in person. Others, such as Sonic Youth co-founder Thurston Moore and Yo La Tengo's Ira Kaplan, experienced brief flashes of her warmth and brilliance that left indelible impressions on their hearts and minds. Still others — Ben LaMar Gay, Angel Bat Dawid, Angus Fairbairn (Alabaster DePlume), Roberto Carlos Lange (Helado Negro) — were close personal friends of jaimie's. Regardless of the amount of time they spent with her, every respondent expressed a powerful kinship they felt with the late luminary, as musicians and as human beings. All of them described her passing as a devastating loss.
Listen to Fly or Die Fly or Die Fly or Die ((world war)) below, and read on to get a feel for the breadth of jaimie branch's soaring legacy through tributes from Moore, Cline, Kaplan, Lange, Fairbairn, Gay, and Dawid, as well as Jeff Parker, Fay Victor, and Terri Lynne Carrington. Their responses have been lightly edited for clarity and flow, and my questions have been removed for the same reason, except where unavoidable.
Thurston Moore
While visiting Washington, D.C. to be part of the Women's March of February 2017 against the appointment of Donald Dump, my wife Eva and I heard from our old musician pal Michael Bernstein (Double Leopards, Religious Knives, Workbench, Model Home, White Rock, Acid Bed) — who was now the proprietor of an awesome second-hand record store named HR (Home Rule) — telling us there was a gig the next night featuring legendary avant-jazz saxophonist David Murray. Also on the bill was a group consisting of contrabassist Luke Stewart (who we knew from the ensemble Heroes Are Gang Leaders, who we worked with the previous summer at the Jack Kerouac School of Disembodied Poetics summer writing workshop at Naropa University in Boulder, Colorado), along with the cellist Tomeka Reid and trumpeter jaimie branch.
I hadn't seen or heard either Tomeka or jaimie, and they both were astounding — Tomeka with her composure of dark dream drone and jaimie with her dynamic of lines: some short, sharp like fragments of lightning, others long and howling in a spirit tone coming from an obviously profound soul. jaimie was enchanting in her tough, backwards-baseball-cap, street-corner shuffle, fully engaged in the stream of listening and unified improvisation/action/response in full trust to the magic of exchange. We knew right away this person was special.
I never shared any real time with jaimie. We hung out afterwards and had some dinner and drinks, all of us, and that was that. In early 2022 I went to see her play in a trio with Luke (again) and the great drummer Mike Reed, and she was on fire — trumpeting, singing, just lighting up the outdoor Lower East Side, New York City weeds-and-cement park with her in-the-moment energy. By this point, everyone was in love with and talking about jaimie — her good vibes, urban and rowdy, friendship the key, recognizing each other's creative impulses and spirits. I could only hope to someday jam out with her, but these things happen when they do, if they do.
I watched as she packed up her gear and scattered off out of the park. A minute later, I felt a slap on my back (I was at the gig by myself, sat alone in a wonky folding chair), and I turned around and it was jaimie, smiling, saying, "What's up, man? Thanks for coming to hear us!" I got up and gave her a hug — my too-tall body like a praying mantis negotiating someone about half my size. It melted my heart that she acknowledged me there — purely as a musician-to-musician, friend-to-friend greeting, even though we had only crossed paths these now two times. When she passed away, I was, like everyone, shattered.
jaimie will always be in the magic stream of creative music, a particular and charmed light. Anyone who knew her will attest to this. Shortly after her passing, I began recording new music at Total Refreshment Centre, a small studio spot in North London — a place I always dug as the vibes were loose, and it's where a lot of the Chicago-forward jazz etc. scene around the International Anthem label would congregate when in England. While I have many of the documents from this label, including jaimie's Fly or Die masterpieces, I wasn't really an interwoven participant. On the first day of recording, I noticed a small photograph of jaimie pinned to a wall and asked the engineer there what was up, and [he] regaled me with stories of jaimie walking into the performance space there when in town and transforming it into a sound world of beauty and action. As soon as he said this, I could feel her energy, and the session was lit.
Thank you, jaimie, forever, from all of us.
Alabaster DePlume
Something exploded out of the live room as I sat with my companion in the main space of the TRC [that] night. We had come for each other, not anticipating meeting with a future best friend. What emerged was a whirlwind of devotion, glory, and fury. My companion and I, with our delicate ideas of leadership, tried to hold onto what we believed but couldn't help being schooled by what we saw communicated between J Breezy and her band on their 30-second break from their exceptional mission.
One night, without knowing it, I was holding onto an idea someone had of me — a cruel idea, really. In a swift and deft adjustment, my friend jaimie took me to a show down the road and insisted, without explanation, that I must, for the sake of everyone, define myself, stand by my convictions, and do what I've come to this world to do. Letting go of unfortunate notions was a given, from that point on.
The unknown between people that is not stipulated by any individual, but instead made welcome by the space those people are capable of holding through their strength and honesty, is what comes to my mind when I look at your question [(What made jaimie such a singular artist?, essentially)]. What made her special was a shared thing, personal in each instance. In this way, we can see how it is universal yet unrepeatable.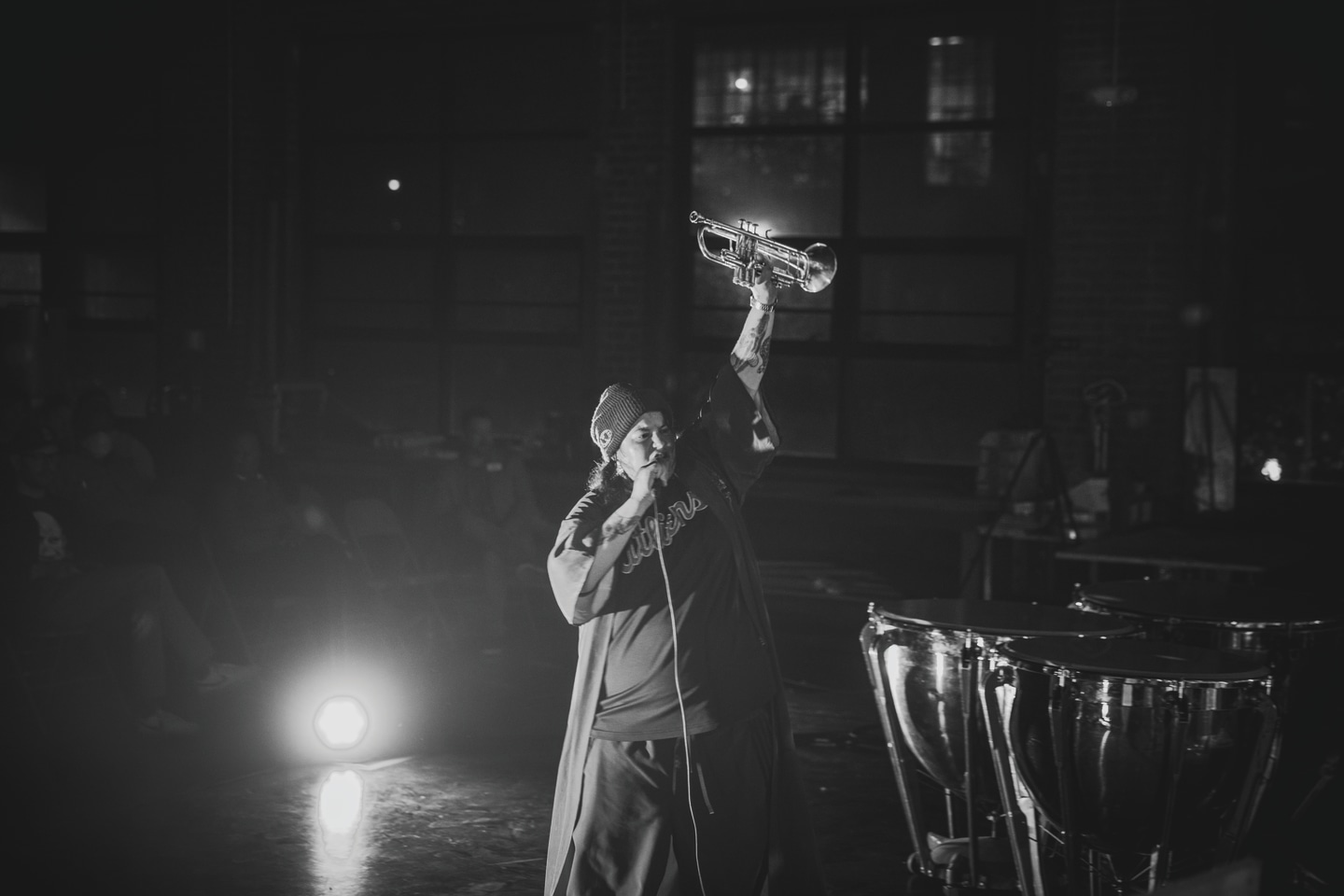 Ben LaMar Gay
The first time I met jaimie was at Elastic Arts in Chicago around 15 years ago. She was a part of a large ensemble performing Anthony Braxton's 22-M (Opus 58). At this time, I didn't know her personally. I knew the name but not the sound. This performance was also the first time I heard the beautiful 22-M. What made me focus on Jaimie that night was her presence inside of the ensemble and Braxton's march. Her sound made you realize that she was into the moment, the music, and the community 100%. Her flavor with the baseball fit, brim cocked to one side, the vibrating joy she left inside of everyone she shared a joke with before the hit… It was like I experienced the music before the band made a sound… It was wonderful.
Years later, after my first experience of jaimie, I slowly met her through the recollections of mutual Chicago homies. No matter who was telling the story, the lore would end with the similar cadence of, "Oh! You don't know jaimie?! Y'all gotta meet. It would be a vibe." We were finally connected through the friendship, love, super-slick storytelling skills of Chicago bassist Matt Lux. Lux shared so many stories of us to each other that when we finally met, it was inside of an embrace filled with jokes, admiration, encouraging competitiveness, brass bewilderment, and excitement about each other's latest greatest, perfectly placed emojis inside of hilarious text message "check ins," friendly warnings of wack emcees in the game, and warm "Yoo, let's get up soon!" wishes.
"jaimie was enchanting in her tough, backwards-baseball-cap, street-corner shuffle, fully engaged in the stream of listening and unified improvisation/action/response in full trust to the magic of exchange. We knew right away this person was special." — Thurston Moore
Terri Lynne Carrington
I did not know jaimie very well. I only met her in person once but corresponded with her quite a bit about her contribution to the book I put out, New Standards: 101 Lead Sheets by Women Composers***. My impression of her was that she was a renegade in the best sense of the word. I felt that she was highly dedicated to her craft with pure artistic integrity. When I finally met her at last year's Vision Festival — which, by the way, had an amazing performance by her trio — the impression that stayed with me the strongest was a certain kind of childlike spirit, a look of wonder in her eyes. In some ways, I felt a certain kind of innocence that I could not pinpoint exactly. I spoke to her about a project that I was going to be working on with Anna Deavere Smith, where Anna would perform vignettes of jazz musicians, accompanied by me and a band playing some of their music. If this project gets off the ground, I still plan to include jaimie as one of the artists being [paid tribute to].
I didn't really work with jaimie, other than acquiring one of her graphic scores for my book. But from listening to her music and seeing her perform live, I feel that her honesty and her connection to humanity and others are big parts of what made her so special. Also her sense of adventure and curiosity. The sound and notes she got from her horn truly felt like just an extension of herself, like the instrument wasn't really there. That is what we all strive for.
The thing that makes me the saddest is not being able to hear and see what she would have developed next. There was so much possibility… as with all great artists. She would have evolved as her life evolved, and I feel she would have helped to transform our community and culture on various levels. She was the type of artist who helps others expand. Now we can only imagine what could've been, but I'm so grateful that we are able to still listen and learn from her vast contributions that happened in such a short time.
Nels Cline
So many thoughts and feelings fill my head as I sadly only now catch up with and hear jaimie branch's Fly Or Die. Though I did not know jaimie personally, she played with so many of my esteemed colleagues in both Brooklyn (where I lived until 2020) and Chicago (my sort of home away from home) that I feel like I knew her in some way. I did run into her here and there, but never played or hung out with her.
As I listen to what will now be a posthumous recording, I am so impressed by the amazing vitality, passion, and articulate vision that this record contains — or barely contains, as the energy branch and her band imbue it with is so explosive. With certain debts to the music we refer to as "jazz," "groove," and other tags such as "hip-hop," "Afrobeat", etc., etc. (I am reluctantly uttering these inherently inhibiting words), branch's music communicates in a manner so direct and so immediate that it circumvents the feeling that it is some abstruse, private conversation. Rather, [it is] a bold and universal proclamation verging on confrontation. Involving. Irresistible. jaimie: I regret that I did not know you. But thank you for this music.
Angel Bat Dawid
I first met jaimie branch from this sensational video [(above)] shedding light on her magnificent influences, incredible compositional insight, and a sincerity and respect for the Great Blk Music she so greatly respected. She took the utmost care of it as best as she could. I was an instant fan of her work and greatly inspired by her music.
Around the same time, in 2017, I physically met jaimie at the wonderful, legendary Danny's Tavern (now closed), a local hub for a lot of us creative musicians to kick back, hang out, and perform.
One night, International Anthem musicians and folks from the label were hangin at Danny's, buzzing about this big event they were preparing to host in London. I wasn't on the label at the time, and the London event was happening around my bday. I had never been to London, so I decided to just go for fun. Word got around, I guess, because when jaimie got to Dannys, she walked up to me (I'm fan gurlin lol), and said:
"aren't you that clarinetist?"
"yeah"
"so u comin to London… wanna play on my set??"
I almost passed out. I of course accepted and had the best bday of my life. Basically, jaimie gave me my first international gig. She poured deeply into my life, encouraging me and supporting my music ever since. jaimie was that kind of person.
My happiest time with jaimie was a few weeks before she transitioned. jaimie & I (I was with Black Monument Ensemble) were both booked at a festival in Portugal. Irreversible Entanglements also was there, and I was super excited to catch their set. These mugzz were on the stage tearing it up, and I wanted to enjoy their sonic waves away from the crowds, so I stepped away and found a good little post-up spot. To my delight, I see jaimie walkin my way. I was excited to see her cause we rarely see each other in person and I wanted to catch up wit my homie. We also were just buggin out about how good Irreversible Entanglements sounded. Yeah, it was a special moment and i'm so grateful that we had that time 🙏🏿.
Working with jaimie was always a wonderful experience. She left so much room in her compositions for me to be myself. She encouraged deep self-expression or what I like to call "letting the Spirit move." It's really hard to explain, but she really wanted to push the sound of the frequencies to some other levels, not to mention she was an exceptional trumpeter; her technique and skills were undeniable. I could hear all her training, and I could also hear and feel that the music was the most important thing in the world to her. It was sacred… It was more than notes on a page, exciting melodies, and richly textured compositions… it was her life.
Over [my] time knowing jaimie, I saw her work get more expansive undoubtedly. jaimie was definitely a revolutionary, and her music was also increasingly becoming more political. "Prayers for Amerikkka pt. 1 & 2" was so kickass. That powerful blues/protest chant was a salve to the ears and heart during those dark, weird pandemic times. Her work with Anteloper was also some of the most in-depth, boundary-pushing protest music ever.
I miss the kindness of jaimie branch. What a kind and caring compassionate person she was. I remember I was in NY one time, and my 19-year-old mentee had a show in Brooklyn. I told jaimie about it, and she said she had a gig but [would] come after her show. I told her if she couldn't make it, it's all good, but she insisted that she would be there no matter what cause she wanted to show support. jaimie was so supportive and fun and also very serious about the music. I miss jaimie a lot. She was such a powerful musician, and people were mesmerized by her skills and her bold, fearless approach to sound. So happy that there are recordings of her brilliance, as she left an amazing sonic legacy.
Jeff Parker
I first met jaimie in Chicago, probably around 2005. I used to play every Tuesday at a place in Wicker Park called Rodan, and she used to come and listen regularly. Sometimes she would set up a remote recording system and record the shows. She was always so enthusiastic, had a lot of energy.
I remember her being backstage at a Tortoise show in Brooklyn, and we had a conversation about "tube wattage vs. solid state wattage." I was impressed that she, as primarily an acoustic musician, had such extensive knowledge of such a specific aspect of electronics. She tended to go deeply into whatever she was into. We also used to talk a lot about Kenny Dorham records. She staunchly defended her decision to stick with the trumpet when a lot of cats switched to cornet or smaller horns because they're considered easier to play. She was proud to take the hard road.
jaimie played with a pure heart and lots of energy. In my view, that was her thing: honesty and fire. She wasn't a harmonic player. She was unique, and not that she sounded like him, but her playing always reminded me of Hannibal Marvin Peterson. She knew and believed that, culturally, art could heal, enlighten, and change people's perception. She elevated whatever musical situation she was in, but as a bandleader, she was poised to be a star.
I was flattered when jaimie and Jason Nazary asked me to do production work on the Anteloper album Pink Dolphins. It was a challenging project because it was done completely remote, via file sharing, with jaimie living in Alaska or N.Y.C., Jason in N.Y.C., and me in L.A. jaimie and I are both pretty strong-willed, so we would butt heads sometimes, but she was very flexible and open to different ideas. It's not an easy thing to trust one's music in the hands of someone else. I'm grateful for the opportunity that they gave me.
"She poured deeply into my life, encouraging me and supporting my music ever since. jaimie was that kind of person." — Angel Bat Dawid
Ira Kaplan
We were fans of jaimie before we met her. Saw her for the first time when she took part in a tribute to Roy Campbell Jr., and even amidst all those trumpeters, she stood out. Fly or Die Live were generous enough to donate their time to one of our 2021 Hanukkah shows, and it was a powerhouse, jaimie's vision drawing on any and nearly every type of music she wanted with her one-of-a-kind, charismatic bandleading.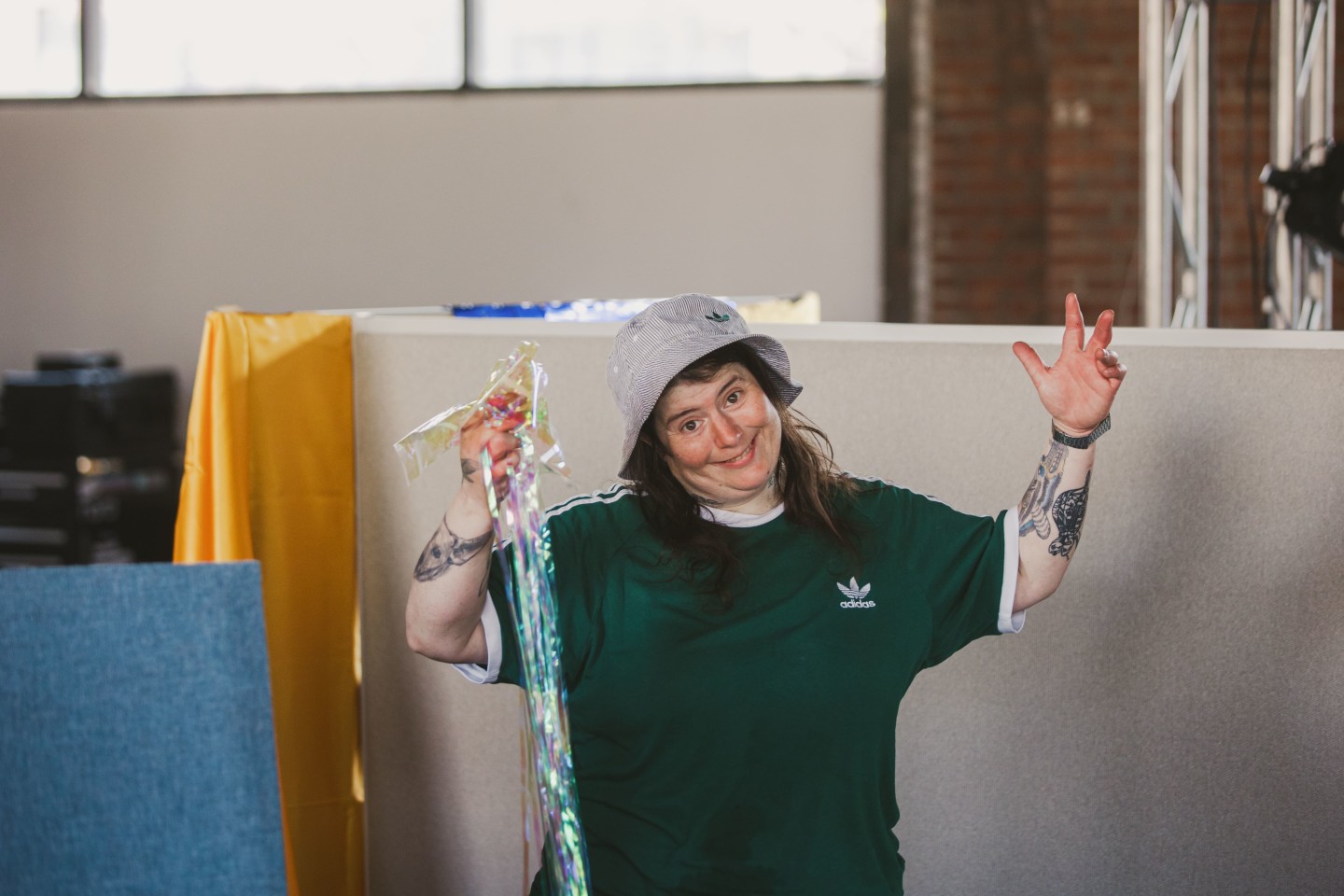 Fay Victor
I met jaimie in 2015 at an event put on by her teacher and my friend Joe Morris in Hartford at a venue called Real Art Ways. He used to put on these large ensemble events called Spectacle, where he'd invite 15 or so improvisers for the day and break us all up into ensembles. That's when I heard jaimie for the first time.
We played in one configuration, and I remember being in awe of how she listened and how deep her contribution would be. We spoke after because I definitely wanted to keep in touch. She said she just moved to Brooklyn, and I remember her saying to me, "You look like you could be a whole lot of trouble!," which is the truth, but something so few people actually see in me, I think, especially the first time! I dug her from that moment on.
jaimie was a core part of my Mutations for Justice group, and the rehearsals leading up to a big Vision Festival show are really special in my memory. jaimie had her residency at Pioneer Works, and we rehearsed there for two days — vibing, getting into the music, eating, hearing jaimie play synths for the first time… How deep a connection we formed in that space.
jaimie was incredible at knowing what the musical space needed at any given time. Whether playing with her or seeing her live, her contribution always felt ordained, in a way. A strong and powerful player with deep sensitivity and soul, her bandleading of Fly or Die is a masterclass in how to lead a band and have the musical result sound so fluid, present, and urgent. jaimie continued tapping into the rich resource of her soul and activism through her music. I saw and heard her connection deepen over the years, especially the more she used her vocal instrument to make her messages plain.
I miss her laugh, her depth, how much she seemed to understand about life at such a young age. I felt we not only lost a fearless musician, composer, and bandleader, but also an activist with a deep sense of community. She's an example of how we can create art that reflects who we are and what we believe in… and be successful at the same time.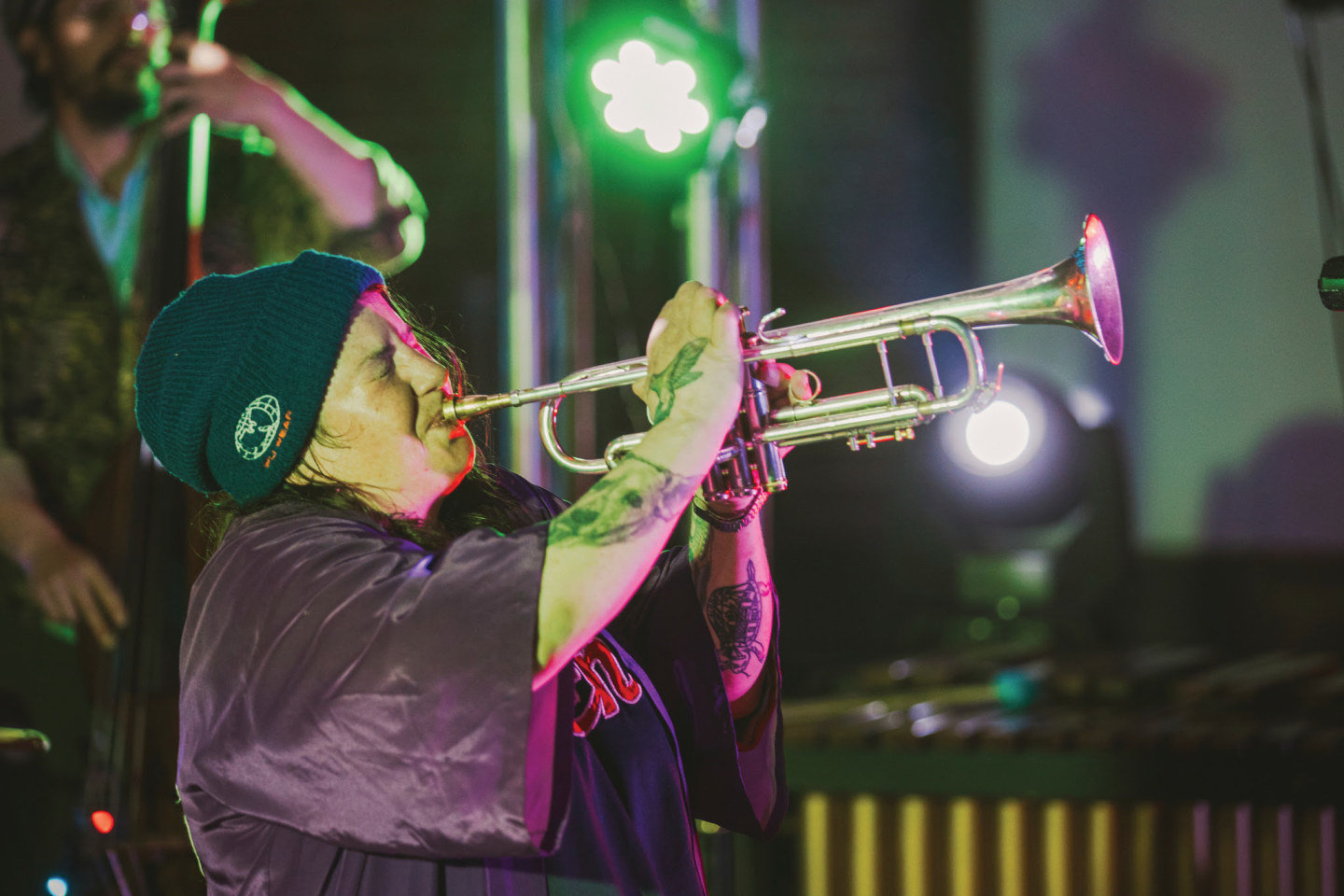 Helado Negro
I met Jaimie for the first time seeing her play in one of Jason Ajemian's bands at the cake shop in N.Y.C. She was very chill and soft-spoken with me in that moment. Brief but sweet. As we got to know each other, we shared more about music we enjoyed and confided in each other about music business advice and more. She was always humble and sweet.
My favorite memories [of jaimie] were always random photos or videos she would text me from somewhere around the world — absolute fun and encouraging words about new music we would share with each other. The happiest times were always finding myself watching her perform and being in awe of her creativity and talent.
One thing we spoke about a lot was the future. She wanted to be out there playing as much as possible. She always knew there was more for her, and she spoke to me about being in that form: the place where you are playing so much you know the stage is your second home and you feel everything.
[What will you miss most about jaimie?]
Phone calls, voicemails, and her.
[What will the music world miss most without her as a guiding light?]
We need everyone, and everyone needed her.