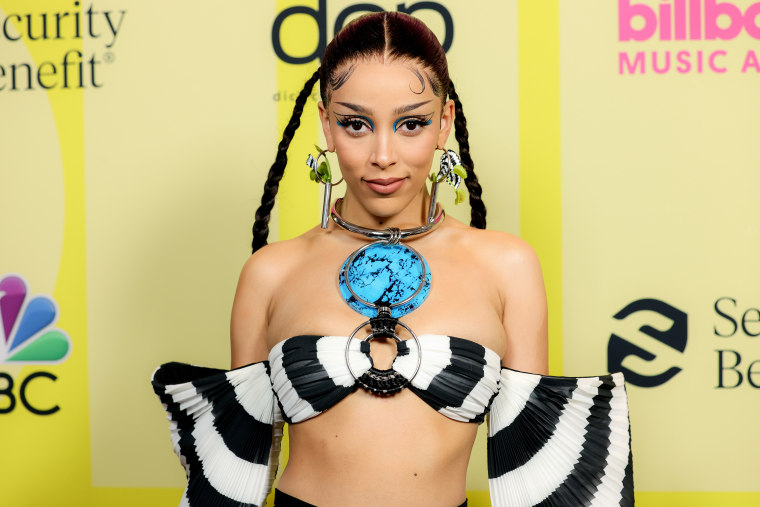 Doja Cat's "Paint the Town Red" has become the first rap track to reach No. 1 on the Billboard Hot 100 chart in over a year.
The second single from her upcoming album Scarlet, "Paint the Town Red" finally ended a 54-week dry spell for rap, with Nicki Minaj's "Super Freaky Girl" the last song to go No. 1 in August 2022. As Billboard noted, the success of "Paint the Town Red" has put an end to the longest break between rap No. 1s since 2001, despite the genre dominating the charts.
When it comes to Doja herself though, "Paint the Town Red" is her second chart-topper following the success of her 2020 song "Say So," which coincidentally featured Minaj. The track had been hovering at the No. 3 spot for the past five weeks. As of right now, the single is also holding on to the No. 2 spot on Billboard's streaming songs chart. "Paint the Town Red" has also reportedly risen to its highest point for digital song sales and radio play, all of which make for its top placement on the Hot 100.
According to Billboard, its recent surge to the top appears to be a byproduct of the song going viral on TikTok about two weeks ago, which has seemingly helped the song become her seventh release to hit the top 10.
Doja Cat's fourth studio album Scarlet is slated for release on September 22. She recently shared a music video for her new song "Demons" starring Christina Ricci, as well as cover art for the album that actually belonged to a German death metal band. In the lead-up to the album's release, she's been regularly provoking her fans, refusing to say that she loves them and comparing the resulting drop-off in social media followers to "defeating a large beast."