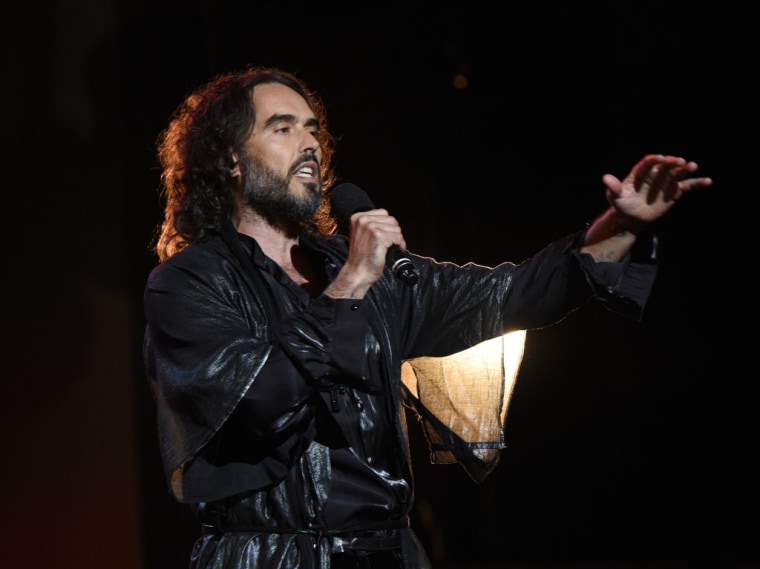 Comedian Russell Brand has been accused of sexual assault, rape and predatory behaviour between 2006 and 2013 by four women.
The allegations were published in the U.K. on Saturday as part of a joint investigation by the London Times and Channel 4's Dispatches.
One woman who spoke to reporters claimed she was in a relationship with Brand when she was 16 and he was 31. She claimed her would refer to her as "the child" and coached her on what to tell her parents when he wanted to see her. It is alleged that he would send a car to collect her from school.
Another woman alleges that Brand raped her against a wall in his Los Angeles home. She provided text messages sent by the comedian and actor in which he apologised for his behavior on the night she alleged she was attacked. The woman, who, like all who have spoken out, remains anonymous, says she visited a rape crisis centre the same day and received therapy there for the next five months.
The report features additional claims about Brand's mistreatment of women and his workplace conduct over the same period.
Brand, who has pivoted to promoting conspiracy theories on YouTube in recent years, has denied the accusations, suggesting that the "mainstream media" has a "agenda" against him. His videos, shared to millions across social media, often feature far-right influencers and discussion of the Covid pandemic, climate crisis, and the war in Ukraine.
In the wake of the report being published on Saturday Brand was dropped by his talent agency. He has found supporters on the right, however, with Andrew Tate tweeting about the news and Elon Musk seeming to back Brand's theory about the "mainstream media" trying to take him down. "Of course," the Twitter/X owner wrote. "They don't like competition."
The BBC, Channel 4, and a production firm Brand was hired by at the time of the accusations are all investigating. MPs in Britain have also called for a police investigation into the claims made by the women.