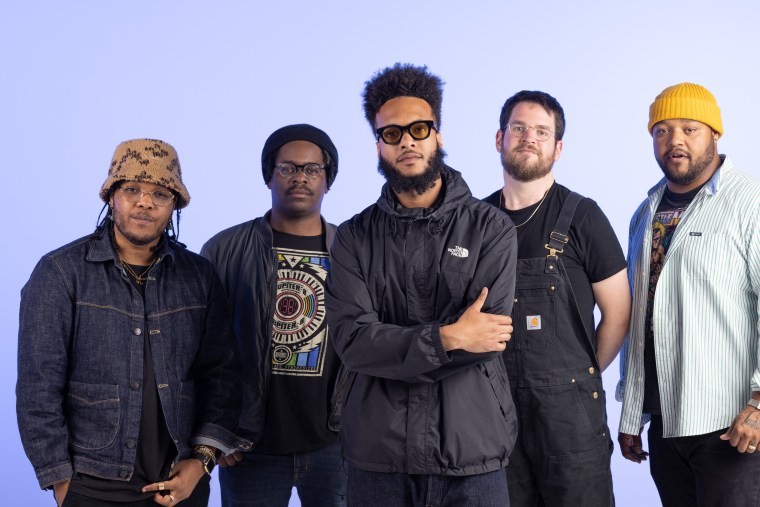 The FADER's "Songs You Need" are the tracks we can't stop playing. Check back every day for new music and follow along on our Spotify playlist.
People have been rapping over jazz since long before hip-hop's official birthday half a century ago. Still, what Richmond, Virginia quintet Butcher Brown achieve on their new song with Pink Siifu sounds completely fresh. "Eye Never Knew," the fourth single from the band's forthcoming album Solar Music, is a leather-smooth guided tour through a rip in spacetime, MCed not only by Siifu but also by master trumpeter Keyon Harrold, whose accents and inspired solos are essential to the vibe.
Most important to the song's anachronistic aura, though, are Siifu's vocals, whispered and smoky as a secret, delivered in garbled trap cadences that sound like transmissions from another dimension. "Don't let 'em get ya / Skipping death the best feeling," he raps early on, panting like he's just sprinted a mile but free-associating like he's off three tabs. "Sippin', Sinnin' / Shawty forgive me / God forgive me / Allah get me."
"Eye Never Knew" comes with an animated lyric video, premiering today with The FADER. Created by Chris Acosta and Concord, the clip contributes to the track's trippy ethos, featuring a morphing 20-sided die, planetary vistas, futuristic cityscapes, alien clubs, and a reveler who looks suspiciously like Miley Cyrus.
Watch the visuals exclusively below. Scroll further to stream the song on its own, check out Solar Music's cover art and tracklist, and view Butcher Brown's upcoming U.S. and European tour dates.
Solar Music album art and tracklist
1. Cozumel
2. Espionage featuring Charlie Hunter
3. I Can Say To You featuring Vanisha Gould
4. MOVE (RIDE) featuring Jay Prince
5. Turismo featuring Julia Shuren
6. Eye Never Knew featuring Pink Siifu and Keyon Harrold
7. No Way Around It
8. Half of It featuring Nappy Nina
9. DYKWYD featuring Braxton Cook
10. Happy Hourrr
11. Run It Up featuring Pink Siifu
12. Pink Fur featuring Michael Millions
13. This Side Of Sunshine
14. BubbleBath
15. Touring Pains
16. It Was Me
17. Around For A While
Butcher Brown 2023 tour dates
September 22 - Harrisonburg, VA - James Madison University
October 12 - Reno, NV - University of Nevada
October 17 - Boston, MA - Brighton Music Hall
October 18 - New York, NY - (Le) Poisson Rouge
October 20 - Charlottesville, VA - The Southern Café
October 21 - Philadelphia, PA - World Cafe Live
October 22 - Pittsburgh, PA - Club Cafe
October 24 - Minneapolis, MN - Dakota
October 25 - Chicago, IL - Sleeping Village
October 26 - Detroit, MI - El Club
October 27 - Indianapolis, IN - Jazz Kitchen
November 4 - Eindhoven, NL - So What's Next?
November 6 - London, UK - The Forge
November 7 - Antwerp, BE - De Roma
November 8 - Berlin, DE - J.A.W. (Zenner)
November 9 - Mannheim, DE - Alte Feuerwache
November 10 - Técou, FR - Coco Jazz
November 11 - Groningen, NL - Rockit
November 12 - Rotterdam, NL - Bird
November 13 - Amsterdam, NL - Bimhuis
November 14 - Charloeroi, BE - Palais des Beaux Arts
November 15 - Paris, FR - Le Trabendo
November 18 - Eilat, IL - Red Sea Jazz Festival
November 24 - Richmond, VA - The Broadberry
November 25 - Washington, DC - Atlantis
December 5 - Seattle, WA - Madame Lou's
December 6 - Portland, OR - The Get Down
December 7 - San Francisco, CA - The Independent
December 8 - Santa Cruz, CA - Kuumbwa
December 9 - Los Angeles, CA - Lodge Room
December 10 - San Diego, CA - House of Blues