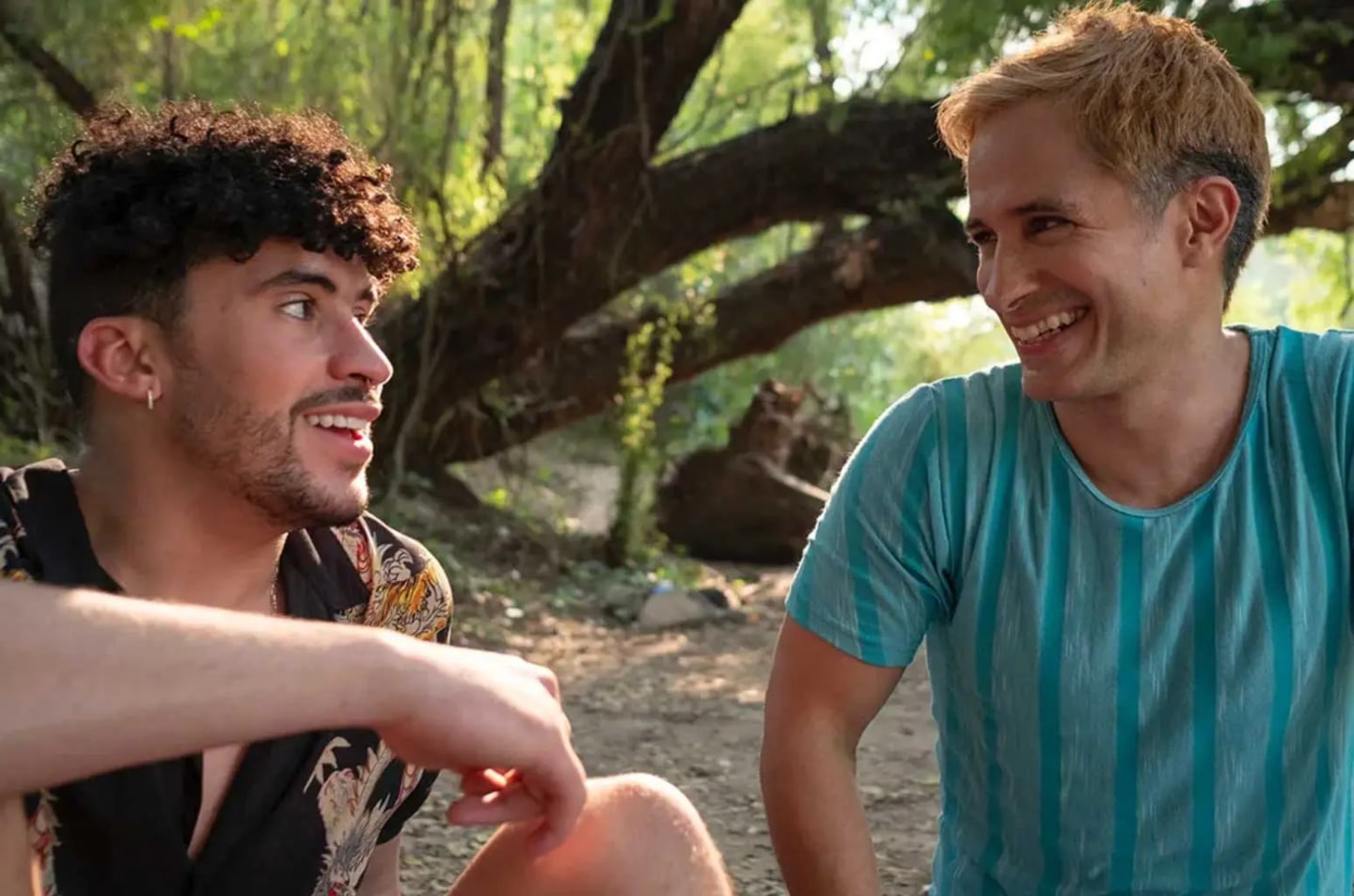 Cassandro tells a larger-than-life true story in the most grounded way possible. Gael García Bernal plays Saúl Armendáriz, an amateur wrestler who, struggling to make a breakthrough on the local scene, reinvents himself as an "exótico." The role of the exótico in 1980s Mexico was to act flamboyant, dress even more so, and to lose to the muscle-bound hulks they stepped into the ring with. Cassandro was different, though. He was openly gay and wrestled in a drag-inspired costume, matching his elbow pads with a pop of red lipstick. The "Liberace of lucha libre" as he describes himself in the film, Cassandro was a rare queer presence in the macho world of sports entertainment and captured the attention of the fans. He broke new ground when he was invited to wrestle El Hijo del Santo, one of Mexican wrestling's biggest names, live on TV.
This telling of the story feels intentionally small, with director Roger Ross Williams favoring a tight aspect ratio and shallow focus to capture the action both in and out of the ring. Unlike a lot of fight-based films (Ali, The Wrestler) Cassandro actually works better outside of the ring when we see more of Saúl than his high flying alter-ego. It is in these scenes that the movie explores his distant relationship with his father and how that affects the bond between him and his mother. There is also space to see Saúl's romantic life with the closeted Gerardo and their time together away from the latter's wife. In a film about turning vulnerabilities into assets.
Amid all of this is Bad Bunny, who plays a small-time drug dealer named Felipe. He and Saúl flirt a little, do coke together, and grow close in the Puerto Rican musician's limited time on screen. Bad Bunny is an engaging screen presence, with charisma to burn and an aura that sits somewhere between scumbag and sex symbol.
For a film that chooses sober camerawork to capture sensitive moments between characters trapped between identities, it is a little strange that a large chunk of the promotion of Cassandro has been focused around Bad Bunny's role in the movie. Headlines like, "Bad Bunny shares a steamy KISS with Gael Garcia Bernal" suggest he plays a bigger part in the action than he truly does. Cassandro is an undeniably interesting part for him to be taking on as he looks to establish himself on screen in the same way he has across streaming platforms and festival stages.
Prior to Cassandro, Bad Bunny's roles have largely fallen into cameo roles in uninspiring movies. He had a tiny parts in Narcos: Mexico and the ninth Fast & Furious movie before graduating to something a little chunkier in 2022's Bullet Train. There he starred as The Wolf, an assassin who waves a big knife around as he looks to avenge his dead wife. He stabs Brad Pitt in the shoulder at one point, a highlight of an otherwise turgid movie.
Cassandro is far less flashy and slick than any of those films and provides Bad Bunny with his first on-screen kiss. That it's with a man is not lost on him. Speaking earlier this year he told Time that it's "cabrón" ["badass"] to play this kind of part and joked, "that's the penalty I get for being with so many women during my life. If you're acting, you're being someone you're not. That's the fun part." Bad Bunny has previously performed in drag and spoken out about violence against trans people in Puerto Rico so his part here doesn't feel like a shortcut to prestige.
The last pop star to explore something similar was Harry Styles who, in addition to Don't Worry Darling, starred in last years My Policeman, inspired by the relationship between the writer E.M. Forster and Bob Buckingham. He was unconvincing in both roles, though again can be applauded for at least looking to take on parts in movies that "feel like movies." Less can be said for other musicians moving into the acting space. The Weeknd's turn in The Idol led to scathing reviews and an early cancellation [https://www.thefader.com/2023/08/29/the-idol-will-not-be-returning-for-a-second-season], while Jack Harlow's remake of White Men Can't Jump proved that some can't act, either. It feels like a pretty unforgiving landscape for pop stars to be making this move into acting, something that might be in Bad Bunny's mind as he keeps his roles small and credible. A future lead in Spider-Man spin-off El Muerto was announced in 2022 but recently vanished from the Sony Pictures release schedule.
Directors and casting agents gifting roles to musicians is traditionally seen as a quick way of attracting audience attention. While reggaeton fans will find much to enjoy in Cassandro, it is those who have seen him in the WWE who have more to gain. Bad Bunny's stint as a wrestler has been small but impactful, with electrifying appearances at a few major events that make the dream of a fan getting to step into the ring themselves seem like a reality. You can't help but feel that once he finds a movie role that allows him to translate a similar energy, then things will get really interesting. In the meantime, you can watch Cassandro and see him make space for a truly original hero.
Cassandro is streaming on Prime Video now.