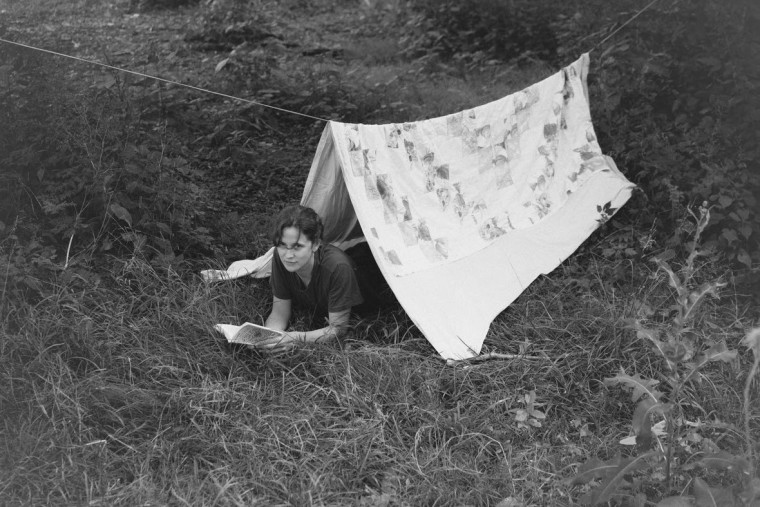 Helena Deland has released "Strawberry Moon," which arrives with a video in which the Montreal-based songwriter performs on a boat under the moonlight. The song will appear on Deland''s forthcoming album Goodnight Summerland, which is out on October 13.
In a statement, Deland explained that "Strawberry Moon" was written "during an annual vacation at a beloved friend's cottage by the lake, where strawberries are known as 'heart berries' in the Anishinaabe tradition.
"I was clear minded, able to welcome both the eagerness and weariness brought forth by the love story unfolding at a distance. These sentiments infuse ordinary nights with the colors of fate. Every year of our lives has taken us to where we are. We're not just witnesses to this moment; we're an integral part of a world where strawberries bloom every year."
"Strawberry Moon" follows the previous singles "Bright Green Vibrant Gray" and "Swimmer." Deland's North American headline tour begins on November 2 in Vancouver. Find her full schedule below.
Helena Deland tour dates
November 2 - Vancouver - Fox Cabaret
November 3 - Seattle - Madame Lou's
November 4 - Portland - Mississippi Studios
November 6 - San Francisco - Cafe du Nord
November 7 - Los Angeles - Lodge Room
November 8 - San Diego - Casbah
November 9 - Phoenix - Valley Bar
November 11 - Denver - Lost Lake
November 13 - Minneapolis - 7th st
November 14 - Chicago - Lincoln Hall
November 15 - Detroit - El club
November 16 - Toronto - Horseshoe
November 18 - Brooklyn - Music Hall of Williamsburg
November 19 - DC - Songbyrd
November 24 - Montréal - La Tulipe
November 25 - Québec - Le Pantoum
February 13 2024 - Baden - One Of A Million Festival
February 14 2024 - Munich - Milla
February 15 2024 - Berlin - Privatclub
February 16 2024 - Amsterdam - Paradiso Upstairs
February 17 2024 - Paris - Pop Up Du Label
February 19 2024 - Brussels - Botanique
February 21 2024 - London - The Lexington