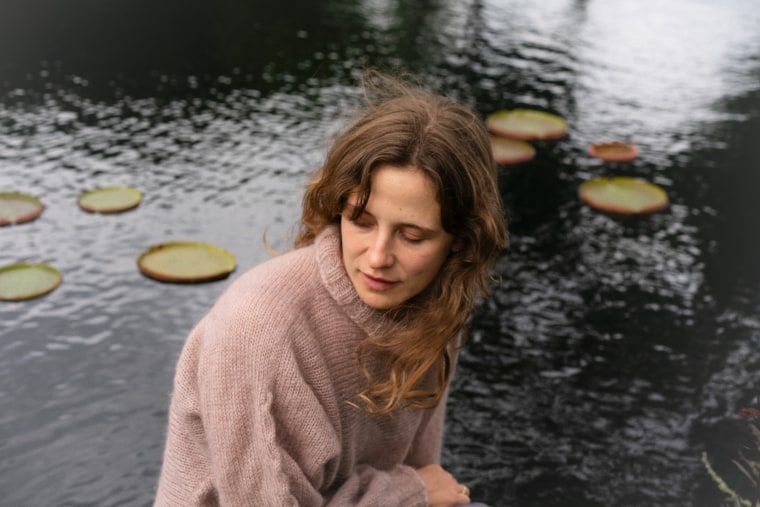 Montreal-based songwriter Helena Deland has announced details of an upcoming album and shared a raft of tour dates for later this year and into 2024.
Goodnight Summerland is due for release October 13 via Chivi Chivi. It features Deland's latest single, "Bright Green Vibrant Gray," which comes with a video in which she traverses the deep snow to embark on a painting expedition in Quebec. Check that out below.
In a statement, Deland said: "I wrote 'Bright Green Vibrant Gray' shortly after losing my mother. On the scale of our human lives, we might recognize the watershed moments, but there is no telling how deeply or subtly they affect us. Lyrically, the song is interested in contrasts — the immediacy and acuity of a nascent romance in the context of larger forces such as geological time. I was interested in contextualizing an encounter between two people within nature's humbling and overwhelming scale, which outlasts and ultimately subsumes any smaller and human-scale experiences within it. In discovering another person, there is a heightened awareness, a life-affirming purposefulness. It is akin to creative inspiration; the painter in the video whose work holds such power and immediate force to her ultimately wonders where her work will end up after she's gone."
Goodnight Summerland will also feature the previously released singles "Swimmer" and "Spring Bug." It is Deland's first solo album since Someone New dropped in 2020. Since then Deland has worked with Ouri and claire rousay on collaborative projects. Deland will be on tour across North America from November and has today confirmed a 2024 tour of Europe. See all of her upcoming dates below.
Helena Deland tour dates:
November 2 - Vancouver - Fox Cabaret
November 3 - Seattle - Madame Lou's
November 4 - Portland - Mississippi Studios
November 6 - San Francisco - Cafe du Nord
November 7 - Los Angeles - Lodge Room
November 8 - San Diego - Casbah
November 9 - Phoenix - Valley Bar
November 11 - Denver - Lost Lake
November 13 - Minneapolis - 7th st
November 14 - Chicago - Lincoln Hall
November 15 - Detroit - El club
November 16 - Toronto - Horseshoe
November 18 - Brooklyn - Music Hall of Williamsburg
November 19 - DC - Songbyrd
November 24 - Montréal - La Tulipe
November 25 - Québec - Le Pantoum
February 13 2024 - Baden - One Of A Million Festival
February 14 2024 - Munich - Milla
February 15 2024 - Berlin - Privatclub
February 16 2024 - Amsterdam - Paradiso Upstairs
February 17 2024 - Paris - Pop Up Du Label
February 19 2024 - Brussels - Botanique
February 21 2024 - London - The Lexington