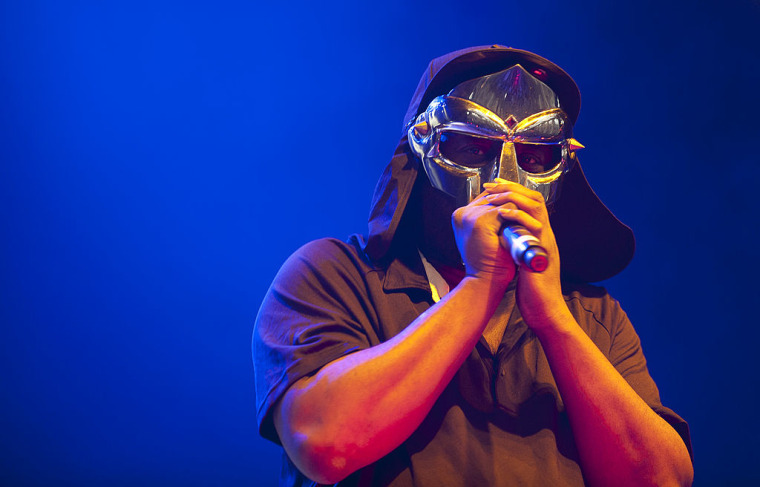 The widow of MF DOOM has filed a lawsuit against his former A&R representative, claiming he stole 31 notebooks from the late rapper. The copyright infringement, fraud, intentional misrepresentation and unjust enrichment lawsuit by Jasmine Dumile Thompson against Eothen "Egon" Alapatt was filed in California federal court Tuesday, Billboard reports. Along with copyright infringement, the lawsuit also alleges "fraud, conversion, unjust enrichment, constructive trust and declaratory relief" with a request for a jury trial.
In the suit, Thompson alleges that Alapatt stole notebooks containing lyrics, thoughts, song ideas, and "other creative ideations." The lawsuit names 50 unidentified "Does," who Thompson believes were working alongside Alapatt. According to the complaint Alapatt has admitted to possessing the notebooks but refuses to return them.
The complaint details the complicated story of how Alapatt obtained the notebooks. It starts in 2010 when Doom travelled to the U.K. to perform and was unable to return to Los Angeles due to immigration issues. He left the notebooks at his studio but it wasn't until 2016 that Alapatt "took unlawful possession" of the books. "Alapatt never consulted with DOOM about his acquisition of the notebooks and took advantage of DOOM's being out the country to obtain them," the lawsuit says."
It is then alleged that Alapatt lied about having the notebooks before later claiming that he took them as payment for a $12,500 debt owed to him by the rapper for rent on the studio. Thompson has cast doubt on this scenario being accurate but claims it is the pretence under which he justfied having the notebooks.
In 2020, mere months before DOOM's death, Alapatt offered to send photocopies of the notebooks to the rapper. In October that same year Alapatt sent a hard drive with hi-res scans of everything contained in the notebooks. The lawsuit claims that this proves Alapatt was infringing on his estate's intellectual property by copying and distributing his intellectual property. The lawsuit alleges that Alapatt was in discussion with archivists and collectors with a view to selling the notebooks or copies of the contents.
"Although Alapatt has professed that he 'does not intend to publish' the unauthorized digital copies he made, he does not have to 'publish' the copies of his infringing copies to be liable," the complaint reads. "Regardless, [DOOM's estate] alleges that Alapatt actually shared the copies of the notebook he made with others."
In a statement given to Billboard, Alapatt's lawyer Kenneth Freundlich said his client "looks forward to his day in court to dismiss these frivolous and untrue allegations. Mr. Alapatt rescued these books from DOOM's unpaid landlord who had taken possession of all of his belongings. With DOOM's blessing, Mr. Alapatt intended to donate the books to either the Smithsonian or the Cornell University Hip Hop Archive, where they could be considered and studied by scholars, in the same way that manuscripts by great poets or sheet music by great composers are. Mr. Alapatt will do everything he can to ensure that these historically significant books are archived and protected."
Alapatt first worked with DOOM at Stones Throw Records. He is also the former manager of Madlib, with whom DOOM worked on 2004 album Madvillainy, and the founder of Now Again Records.