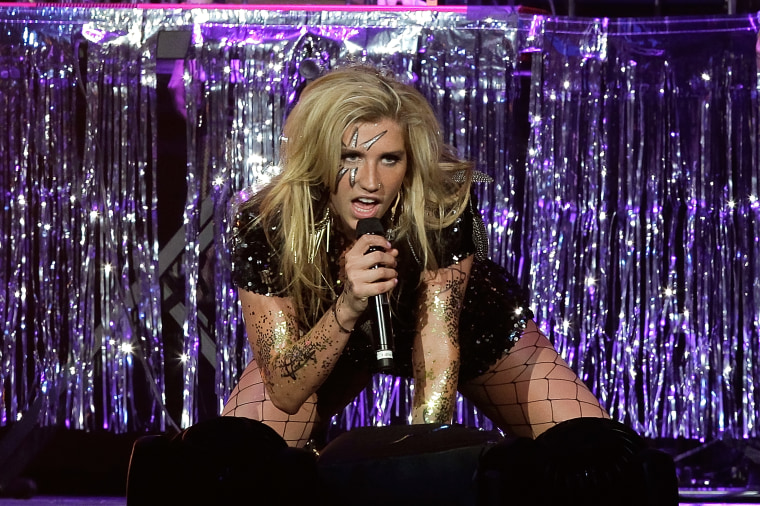 Kesha — a.k.a. Kesha Rose Sebert — removed her reference to Sean "Diddy" Combs in the lyrics for "TiK ToK" this past weekend.
According to TMZ, the pop star has been performing her 2009 breakout single as part of her current Only Love tour, but made a slight alteration to the infamous opening line, which used to be, "Wake up in the mornin' feelin' like P. Diddy."
Instead, Sebert opted to sing "wake up in the mornin' feeling just like me" during her show in Oakland on Friday, November 17. She's later seen doing the same thing in footage from her Saturday night set at L.A.'s Hollywood Palladium.
The lyrical switch-up comes after Cassie — real name Casandra Ventura — filed a lawsuit against Combs on Thursday, November 16. In the filing, the R&B singer accused her ex-partner of rape and sex trafficking, as well as physical and sexual abuse. The following day, both parties issued a joint statement revealing that they'd settled out of court, with Ventura saying the issue was resolved "amicably on terms that I have some level of control [over]."
Combs' team went on to release a separate statement to Rolling Stone, where attorney Ben Brafman wrote, "a decision to settle a lawsuit, especially in 2023, is in no way an admission of wrongdoing.
"Mr. Combs' decision to settle the lawsuit does not in any way undermine his flat-out denial of the claims," Brafman continued. "He is happy they got to a mutual settlement and wishes Ms. Ventura the best." Specific details about the settlement were not revealed.
Back in 2014, Sebert alleged that she'd been subject to 10 years of emotional abuse and mental manipulation by superproducer Dr. Luke, a.k.a. Lukasz Gottwald. In her lawsuit, the "Timber" singer said the abuse ended up culminating in her former producer allegedly drugging and raping her. She said she woke up the next afternoon "naked in Dr. Luke's bed, sore, sick … and with no memory of how she got there."
Gottwald subsequently filed a countersuit against Sebert, accusing her of trying to "extort him" by "threatening to leak trumped-up stories unless he let her out of her contract." After a long-running legal battle, Sebert and Gottwald settled the suit out of court this past June.
The FADER has reached out to representatives for Sebert and Combs for comment.