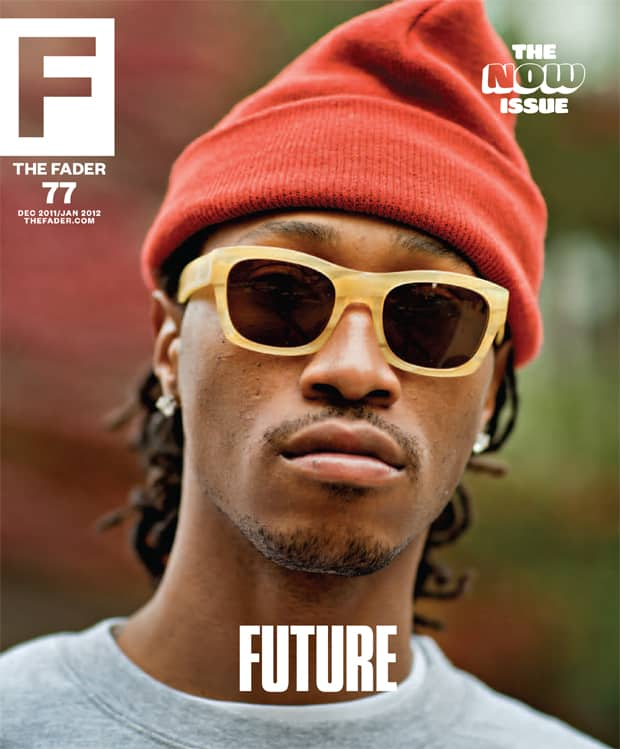 Future: Dungeons and Dragons
Revisit the 'Dirty Sprite' rapper's 2011 FADER cover—his first ever.
Though Future is from Atlanta, his St. Louis show at the club Amnesia, billed as a signing party, was a homecoming of sorts. The city was the first to crown him a star, allotting radio spins for "Notice Me" off his first mixtape, 1000, released in the summer of 2010. Since 1000, Future has delivered mixtapes in an abundance that would seem altogether counterproductive if not for the amount of underground hits each has birthed. On October 30th, for a crowd in equal parts street clothes and Halloween costumes, he did his best to cover them all, jumping from the ambitious "Notice Me" to the audacious "Watch This" to the jubilant "Racks" to the riotous "Same Damn Time," performing some songs two and three times, ultimately commanding the mic for nearly an hour.
But Future's performance was sabotaged by either incapable speakers or faulty wiring, one of which (or both) caused the sound to drop out sporadically, sound that was already distorted by the harrowing dog whistle of microphone feedback. For all this disruption though, Future remained cool, doing his very best to account for Amnesia's shortcomings. His poise seemed remarkable for an artist with such limited exposure, but he's been groomed by some of the finest minds hip-hop has ever produced.
Future's cousin is legendary Organized Noize member and Dungeon Family mastermind Rico Wade, largely responsible for the careers of Outkast and Goodie Mob. By the time they were introduced at a family member's funeral, Future was already rapping and had recorded (as a 14-year-old) with the full grown adults he was hanging out with. "My granddaddy was like, 'My grandson is into the streets, he needs to get out,'" Future says, mimicking his grandfather's pitch to Wade. "You know how your granddaddy is, 'See what you can do with him…'" Wade, then well established as a musical innovator and architect of the late '90s Atlanta renaissance, invited his little cousin to his home studio for a session. "I did the song and never came back," Future says. "He was working with Bubba Sparxxx at the time and 'Ugly' just dropped. Bubba was doing good, Outkast was working on they third album, Cee Lo's doing good— everybody in the Dungeon. And then out the blue, your cousin, who's 17, is gon' say he raps? When you're famous, everybody that's your cousin calls up." Another couple of months passed before the two would reunite, again at a funeral. Future summoned the courage to approach Wade himself and was surprised to learn that Wade had been playing the unfinished song, to promising reception, for other members of the Dungeon Family. Wade invited him back to the studio for another session and this time the young rapper made sure to take advantage. "I went to the house and did another song called 'Trapstar,'" Future says. "Right after I did that song, I just never left. I never went back to Kirkwood for like three to four months."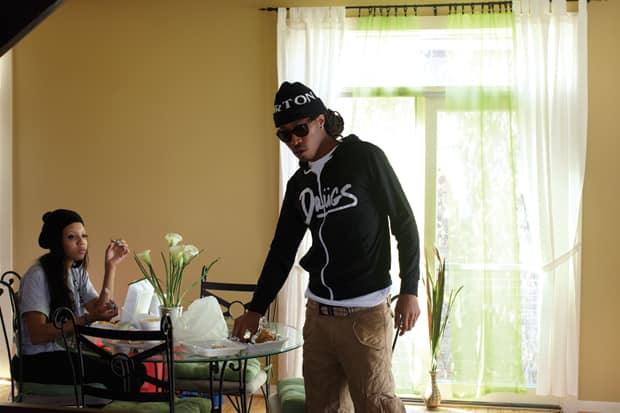 "It's music with no limits, trying new things. I'm singing, Ain't no way around it, but I'm being real—you listen to the content and you know I'm being true to the streets."—Future
Though focused on a solo career, Future, then known as Meathead, was packaged with a group of much older Dungeon Family affiliates in an effort to satiate other artists who'd been waiting patiently for their shot. "[Rico] felt like he owed them," Future says. "He was like, I want to focus on you but I can't. He was trying to figure a way to help everybody so he was like, I'm gonna put all of ya'll in a group." The five-man collective, members of which can be found sprinkled throughout Dungeon Family albums of the era, released Dungeon Family 2nd Generation in 2003 as Da Connect, the same year as Outkast's Speakerboxxx/The Love Below, to little national fanfare. Though the group would dissolve soon after, Meathead hung around, writing for countless other artists as part of the Dungeon East's early 2000's in-house production team, before going on to adopt "Future" from Da Connect members telling him that he was the future of rap. He's credited under his real name, Nayvadius Wilburn, as a writer on Ludacris' "Blueberry Yum Yum," the marijuana ballad from Luda's 2004 Red Light District album.
But when writing money got slow, Future turned back from whence he came, the Kirkwood section of Atlanta, a neighborhood local hustlers had taken to calling Lil Mexico due to what they perceived as the boundless work ethic of the Mexican community. In fact, it was as a hustler that Future met and befriended fellow Atlanta rapper Rocko. Rocko is something of a young music magnate in his own right, having signed Young Dro before embarking on his own solo career. The two shared a penchant for fast living and bounced ideas off each other while navigating Rocko's come-up and Def Jam courtship.
Future can be seen in all of Rocko's videos, generally identifiable as the guy holding a cell phone and a Styrofoam cup in dark shades and designer sportswear. He looks like what he was, a drug dealer. Future explains the gap between writing for Dungeon projects and releasing music simply enough: "Everyday waking up and thinking illegal. All my thoughts was illegal, that's what I did up until I dropped 1000. I woke up [proud] today like, Man, I ain't gotta do nothing illegal."
He's speaking from a leather couch, the centerpiece of a cramped entertainment room on the third floor of his new condo, a place he purchased recently as a sort of hideout. It's two days past his St. Louis show and the morning after he capped a day he spent trick or treating with his daughter, with an impromptu strip club tour, the kind essential to his campaign. The walls of the condo are hung with commercial flower paintings and the house is decorated mostly with functional, innocuous furniture, save for a crumb-riddled Little Tikes dining room table in the shadow of Future's actual dining room table. "Only like four people know I stay here," he says. He's wearing dark Wayfarer sunglasses in his own home and a Burton ski cap over his dreads, accessories that complement the high cheekbones and immaculate teeth that make it easy to believe he was never wanting for female attention. He smokes a spindly blunt, but hasn't yet cracked open what is surely the biggest bottle of Promethazine-codeine cough syrup available to be mixed with a drum of Simply Lemonade. Normally he uses Sprite, he says, alluding to the name of his January 2011 breakout mixtape, Dirty Sprite.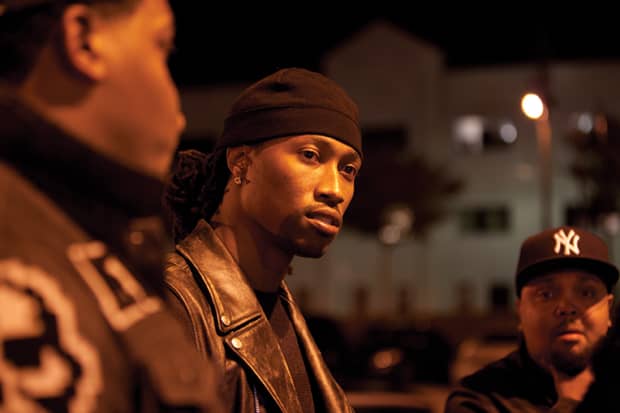 "Take 'em somewhere when you got 'em. Now they feel like they growing with you."—Future
Musically, Future began picking up speed in Atlanta with Kno Mercy, the tape that followed 1000, but the rest of the country got a particularly harried introduction to him as the other guy on "Racks," the Sonny Digital-produced, club-killing single that crossed all the way over to pop radio. Though Universal would go on to secure the song for collaborator YC, Future wrote "Racks" by recycling the cadence from a song called "Getting It In," off of Kno Mercy.
For Future though, "Racks" was a leaf from his creative tree, a hit song of which he's already had plenty and will have more. Future's appeal owes much to his ability to incorporate melody into songs about the perils of chasing street money and getting high as a coping mechanism. On the surface, it's easy to miss, especially when buried in Auto-Tune like it is in "Racks," but it becomes that much more affecting listening to Streetz Calling's "Unconditional Love," or the unreleased "Never End," a synth ballad where he sounds so vulnerable it makes you want to give him a hug.
Through and through, Future is a chorus monster. He's mastered a formula of embedding such simple choruses into his songs that they're empowering. His first official single "Tony Montana," a runaway street hit that prompted Drake to release his own remix, features Future snarling the words "Tony Montana" over and over again until his Scarface drug empire parable sounds all in a day's work. "We making sing-along music," Future says. "It's music with no limits, trying new things. I'm singing, Ain't no way around it, but I'm being real—you listen to the content and you know I'm being true to the streets." For "Ain't No Way Around It," Future splits his delivery over producer Mike Will's ominous synth pendulum between the warm hum of the common sense refrain and a wizened, prickly toasting. At performances, the verses themselves become effectively choral.
"Aint No Way Around It," doesn't appear on Streetz Calling, Future's latest mixtape and the one Atlanta staple DJ Drama was supposed to host before the entire thing leaked to the internet untagged, weeks earlier than scheduled. Drama, however, released it as a single from his own Third Power album in October; complete with a 10-minute video that includes a vignette from Clifton Powell. Streetz Calling though is nothing short of an album in itself, one that with "Same Damn Time," another hyper-crunk Sonny Digital production, may yield Future's third national radio single after "Racks" and "Tony Montana." The song, though, is taking off a bit faster than interested parties foresaw. Following a brief bidding war this fall, Future signed with Epic Records, a decision that had as much to do with the courtship of music industry legend and Epic CEO LA Reid as with the label meeting his financial demands. Reid's own storied musical history shares a familial overlap with Wade in their dealings with the likes of Oukast and TLC at LaFace.
Gathered at the most recent incarnation of the Dungeon in northwest Atlanta this Tuesday afternoon are Wade, a young rapper named Tito Lopez, his manager Wok, a studio engineer, Khujo Goodie of Goodie Mob and Organized Noize's Ray Murray. A few minutes earlier, Wade was drinking tequila with his shirt off. In adjacent room there is seemingly just as much weed smoke in the air as there is air in the air. "LA Reid called me late at night, I hadn't even seen the video for [Tony Montana]," Rico Wade says. "He like, 'He's a star! You got it again Ric,' You did it!" Wade is in rare form and there are both camcorders and cameras shuttering off. The congregation is clearly interrupting Lopez' studio session, but he's indifferent, if not amused, by the spectacle.
"I been believed in him," Wade continues. "But he really paved the way. His first mixtape, he was getting there. But that Dirty Sprite…I was hearing it in other niggas' cars and I'm like, That's my lil cousin! At that point I knew it was on." Dirty Sprite, along with True Story and Streetz Calling are incredible mixtapes, each besting the former, but to let Future tell it, they are worlds away from his upcoming Epic debut, Pluto. Seconds into describing it, Future's monologue recalls something Goodie Mob or Outkast might have delivered some years ago: "Rico was like you need to dumb your shit down, or you ain't never gonna come out," Future says. "But then when you got 'em, that's when you come and give 'em substance. Take 'em somewhere when you got 'em. Now they feel like they growing with you, when you already was there, you just dumbed down to they level."
Wade is beaming. He actually starts clapping. "The city behind him," Wade says. One hundred percent…the lil girls! We was over [Big Boi's house], all their daughters, Outkast's, everybody going crazy about Future. And I'm looking at Big and Dre and everybody, Dre's son, Seven…they all like, 'Future, Future, Future…' It made Andre 3000 look cool. Future made all of us look cool that day. The kids are like, 'YOU KNOW FUTURE?!?' Awwww, you ain't know? That's your family."