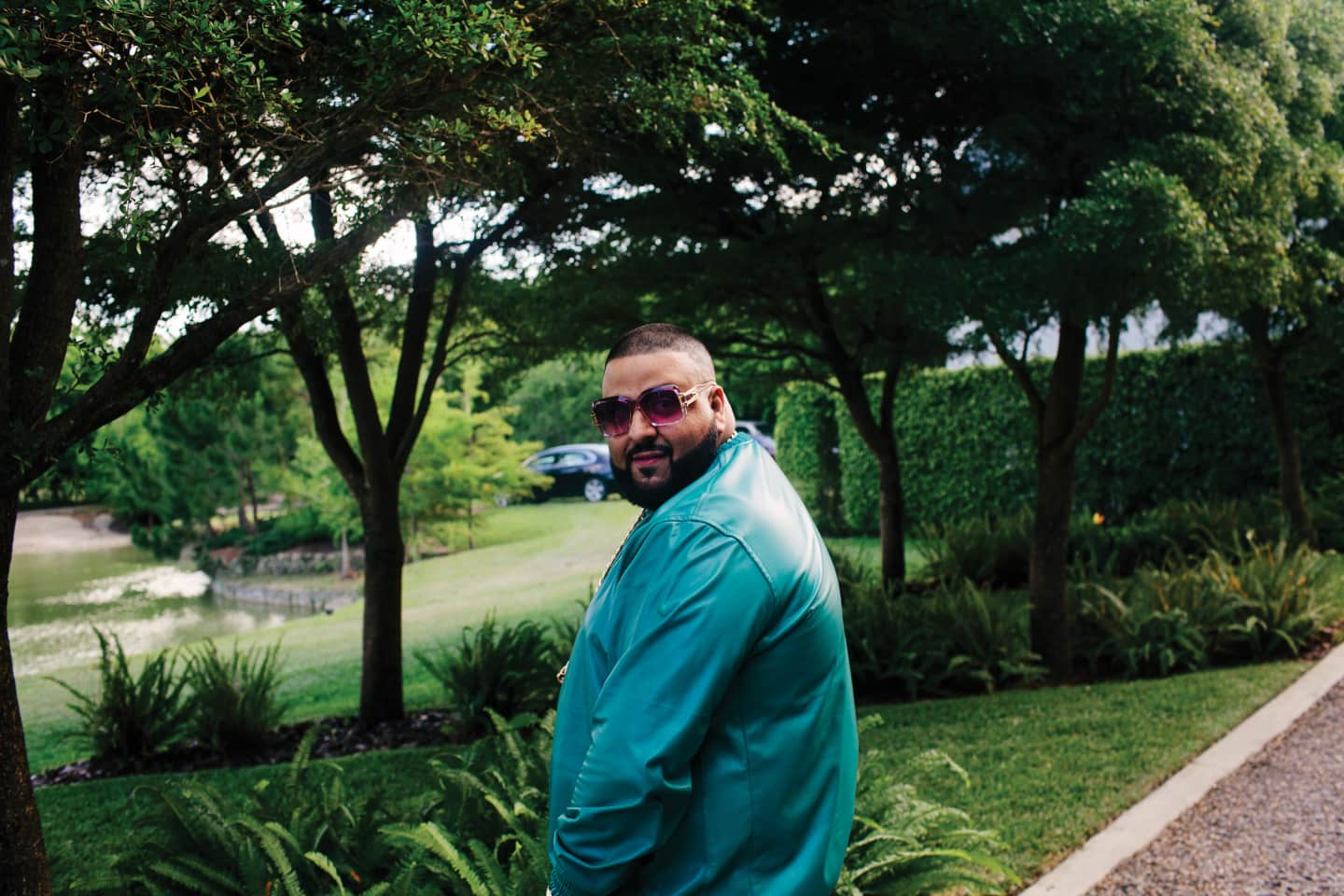 How DJ Khaled Won Friends, Money, And Power
A 2013 interview with the Miami producer on finding the key to success.
A hornet yellow helicopter barnstorms the field twice, eyeballed by half a dozen cameras before the director yells cut. The video crew scrambles to relocate by the pool for the next scene, while DJ Khaled and his entourage—Drake, Lil Wayne, Rick Ross, Birdman, Mavado, Ace Hood and Fat Joe, among others—slowly retreat to their various tour buses. The stars assembled bear witness to the mindboggling gravity of the man born Khaled bin Abdul Khaled. He cuts a serious figure, hefty with a boss' belly and a trim buzzcut and beard. Rap royalty has gathered at this nouveau riche castle (complete with a moat) an hour outside Miami to shoot a flashy, '90s-themed video for his latest single, "No New Friends," the 2013 edition of his perennial summer anthem. Khaled doesn't rap on the song and he didn't produce it either, though he does occasionally bark his name over the beat. What happened here was something more impressive, a trump card maneuver that few, possibly nobody else, could pull off, since it involves bending all known rules of the hypercompetitive music industry. Khaled convinced three majors stars (Drake, Rick Ross and Lil Wayne) to work together to create an incredible song and to hand it over to him for his new album, Suffering From Success. How do you get the hottest players in this game to give you some of their best new material, while you get top billing?
The 37-year-old got his start in New Orleans, bumping rap and soul while his Palestinian immigrant parents played Arabic music. They supported their son as he embraced the sounds of a new country, and he began to work at a local record store where he laid the foundations of his career. Over the past 20 years, Khaled has followed his DJ's ear and built alliances with young artists, championing them before they're big. Later on in their careers, they return the favor by lending him their voices and status.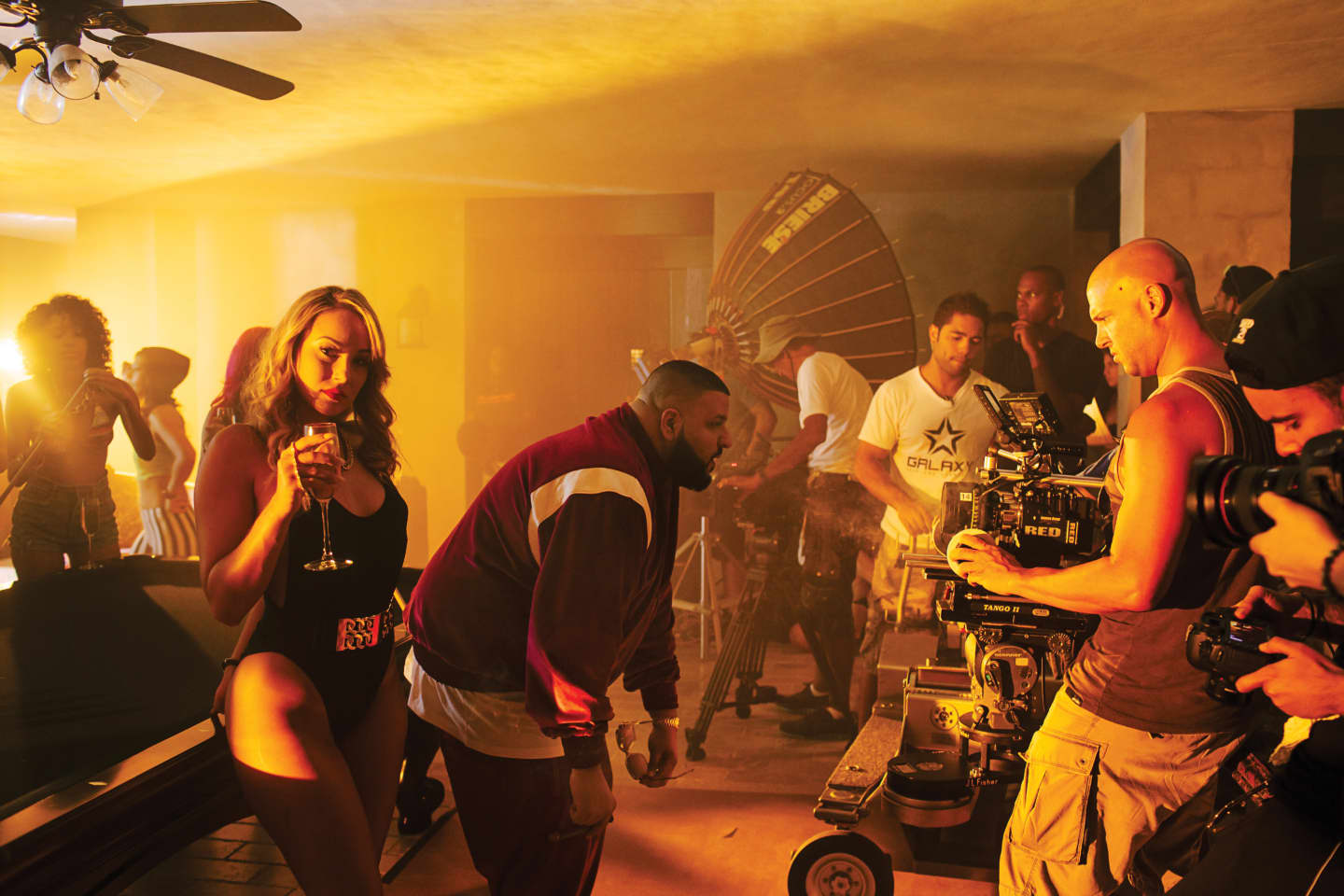 "I been knowin' Khaled since I was very young, since I was an independent in New Orleans," says Cash Money owner and mogul Birdman. "Honestly, I met him the same day I met Wayne. About 25 years ago. Khaled was working at a record store called Odyssey. He was real hot with the independent music, and we had a relationship since then." After Odyssey, Khaled moved to Miami, where he began DJing in reggae soundclashes, mixing dancehall and hip-hop. "Me and Khaled know each other for 15 years, probably more than that, round before [Bounty] Killer start Alliance, yunno?" remembers Mavado, one of the latest signees to Khaled's record label, We the Best. "Even when I been in Jamaica, not traveling and that, Khaled always reach out and check on me." The burgeoning DJ's first radio gig was on a pirate station. Soon after that, he began rising in the 
ranks of commercial radio, co-hosting a show with 2 Live Crew's Luther Campell, then getting his own, which currently airs weeknights on South Florida powerhouse 99 Jamz.
In 2005, Fat Joe shepherded DJ Khaled's big break, convincing a major label executive to give him a deal by calling Khaled's energy level "like Fat Joe on steroids." Since then, through his prescient taste and consistent production of undeniable hits, he's slowly become a major figure in the hip-hop world. Best-selling DJ albums are rare: for starters, you have to manifest enough industry juice to make it actually happen—tirelessly negotiating money, multiple lawyers and the arcane mathematics of rapper time management. Once everyone's onboard, it takes a mix of charisma and humility to nurture a team atmosphere between outsize individualists—especially if, like Khaled, you oversee the process in holistic detail, from cherry picking beats to tailoring the marketing for each single. Omnipresent summer jams like "I'm So Hood," "All I Do Is Win" and "I'm on One" also include a murderer's row of hit-makers. Khaled gets top billing, somewhere between the songs' director and godfather.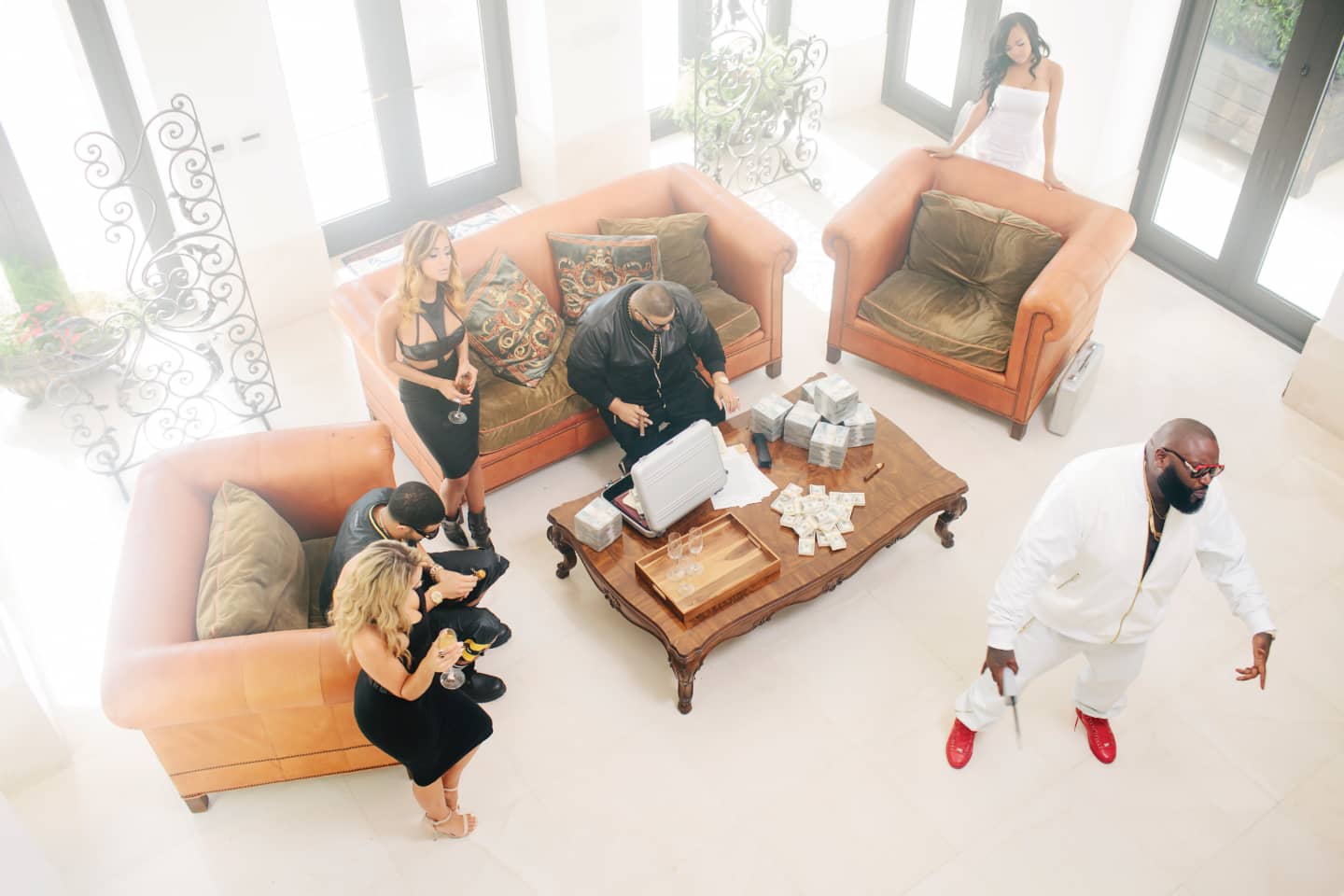 Khaled peppers his speech with "You know what I'm saying?"—a rhetorical tic, but one that indicates the importance he puts on connecting with people. He may be the only mogul who still listens to the demos that kids manage to press into his hands. Khaled's success at crafting anthems comes from his deep knowledge of music history, sure, but it's amplified by a need to speak for and to the streets, with massive choruses that everyone can nod along to, aspirational hooks and the right combo of personnel and beats to crystallize a seasonal mood. Amid breaks from mugging for many cameras, Khaled spoke to us about his success.
The chain you're wearing there—that says "Allah" in Arabic, right?
DJ KHALED: Yeah. I'm Arab, I'm Muslim, I'm Palestinian-American. I got love. You know what I'm saying? I got love.Your parents are from Palestine. What sort of music would they play when you were growing up? They listen to Arabic music, but they also supported me, let me play my music through the garage and my bedroom. I was listening to Sam Cooke, Michael Jackson, the Isley Brothers, Isaac Hayes, besides the hip-hop. I was into house music at one point. Coming out of reggae music, I listen to the culture music: Beres Hammond, Morgan Heritage, Bob Marley. So many different vibes I go through, you know? A Buju Banton album, like Til Shiloh, is an album I listen to to this day that inspires me. These people that I'm naming are my friends.
What inspired you to start DJing?
I used to breakdance, be a b-boy. I love hip-hop from 
back in the graffiti days, growing up listening to Michael Jackson. Loved it from birth. I know 
it all, from Afrika Bambaataa, the roots and the beginning. I came up in a good era.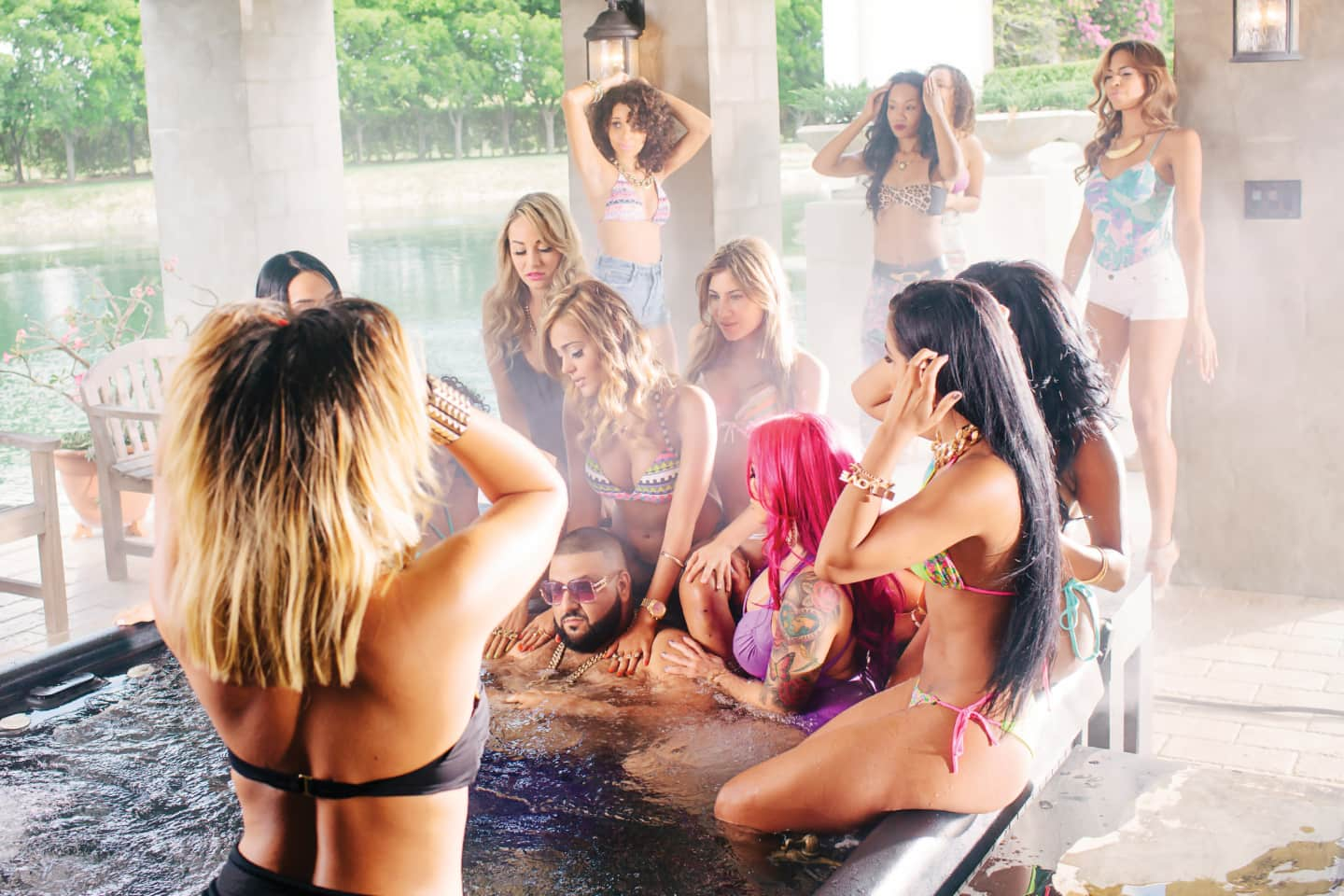 Did you start off as a battle DJ?
I started DJing soundclashes. I used to go to Jamaica a lot. I 
was like a hip-hop sound boy, where I took the dancehall culture and mixed it up with the hip-hop as well. I kept going, going, and I got real hot in the streets of Miami—you know, doing pirate radio—then ended up doing 99 Jamz, the big station out there.
When was this?
Twenty years ago I was in it, but I don't know exactly what year it started poppin'. I've been around...like I'm good friends with Mavado, Buju Banton, Sizzla, Capleton, Bounty Killer, Elephant Man. I came up rocking with them and loving their music as well as my hip-hop. I was bustin' to rep both worlds.
How did "No New Friends" come together?
I was in the studio working on my upcoming album, Suffering from Success, and Drake was in another room and we bumped into each other and I was like, Yo man, let's get it cracking. I was playing music off my album and he came in like, Oh, this shit is dope. I said, Yo, I need you. Eventually, I went in his room and he had the skeleton of "No New Friends," and I was like, That's it! We gotta finish it now. I took the record and called Ross and Wayne and of course 40, who produced the track alongside Boi-1da. Those guys—40, Boi-1da, Drake—they're geniuses. All of us are geniuses, and connected, it's like, Oooh shit!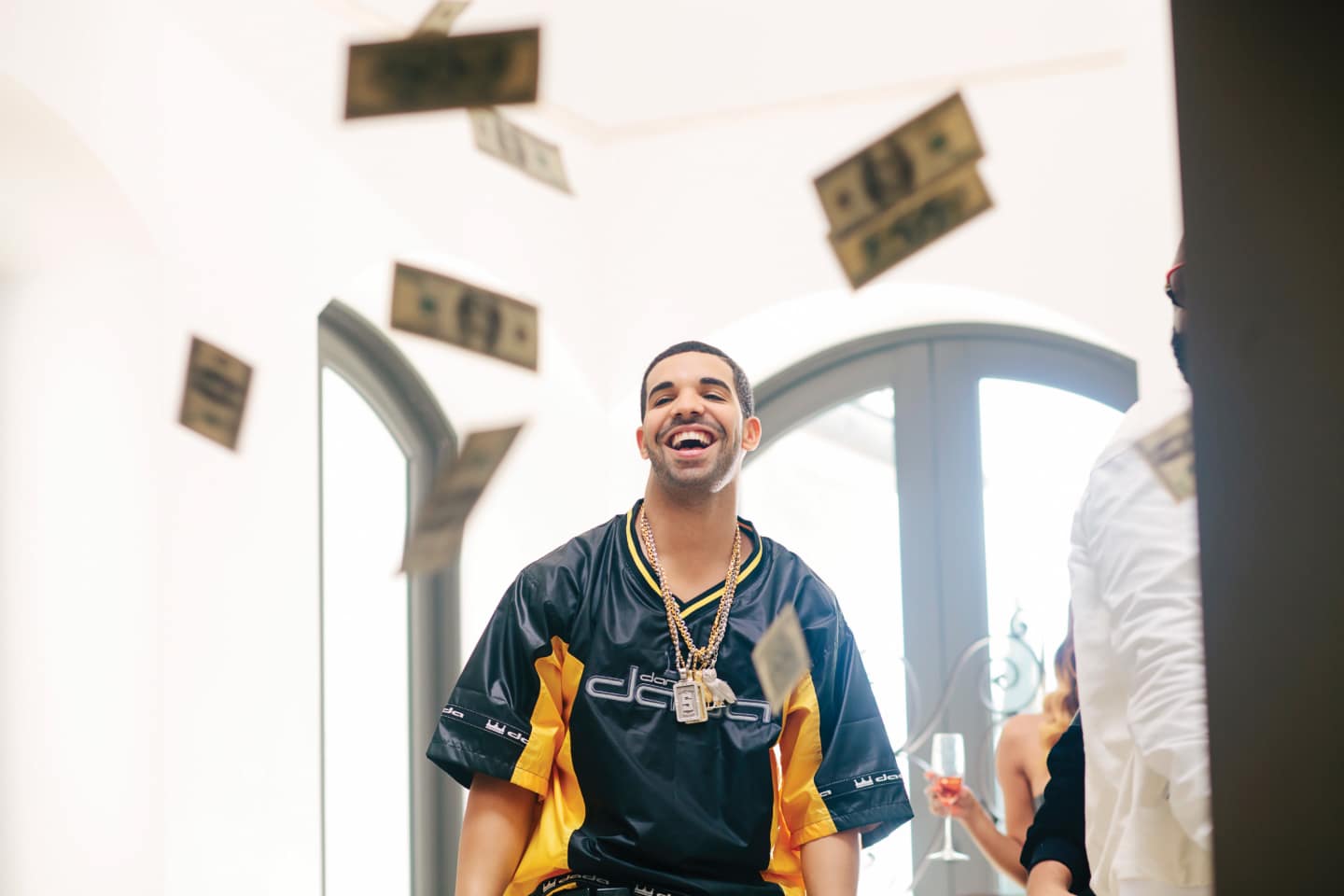 It's amazing that you were able to go into Drake's studio, listen to his work-in-progress song, and be like, I want that on my album.
That's the key to being a good executive. If you can't find it, you gotta go make it. If you can't make it, you gotta go find it. You see what I'm saying? In this music game, to be a number one exec you gotta find the hits. Who got 'em? We got a vision. We know what we want to do.
Tell me about Suffering from Success.
I came up with the name Suffering from Success because I mean exactly what I'm saying. Biggie said, Mo' money mo' problems, you understand? Now I really understand it. It's amazing when you're successful, how many other type of things try to come to distort the success, try to stop you. I won't allow it. So I understand why there's only a few icons and great ones, cause only the strong can survive. You got the beautiful things about success: we get to eat good steaks and we have marble floors and nice whips and we get to take care of our family. Then you got the other side of it: everybody got their hand out, and people might be hating. It's called life, but it's just a different situation when you're winning so much.
You had these relationships long before these guys were superstars. What do you look for in a new artist?
I always look for a star. There's got to be a certain glow to them. And, of course, talent. But I want somebody that's gonna work and be hungry, and understand that if the doors close, that don't mean you stop. You take the door, you rip it off, and you take the hinges and put it in their hand, and you go on inside. That's what I need, and that's how we're gonna win. We gonna be good because I'm well experienced. I seen 
a lot, I've been through a lot, so when I get a new artist, I kinda just tell him what I went through and what I've seen as well. We've been blessed to be successful, and we're around the best.
Some casual listeners will only know you from your voiceovers and shoutouts, but you've been talking about yourself as a brand for years now.
I guess some people don't know how many hats I wear. DJ Khaled is not only a DJ, not only a producer, not only an artist—he is an executive. He is a CEO of We the Best Music. He is a mogul. I also work well with artists because I understand their visions, and I understand the business of it, too. So I mesh the both of them together to put out the final product, to win for all of us.
What was the shift in 2006, with "We Takin' Over?"
It changed my life. That's when I knew they let me in. I broke the barriers, the circle. That's when I said it's gonna be on and poppin'. And I knew it on the video set when me and Ross was driving the convertible Bentley backwards. I told Ross, "Oh, it's on now." I remember that day. It's a certain feeling: people were rooting for me. And it felt good. And I ain't never turned back since. That record [was] Wayne's best verse of the year at that time—shit, maybe the decade, that's how serious... I am the beast, feed me rappers 
or feed me beats. And that's when Ross just broke with "Hustlin'" and he became the new big artist. And me and Ross repping that Miami, and 
we on there. There's a lot of special things about that record, you know what I'm saying?
What does a hit begin with?
It depends which records. "All I Do Is Win" was the last record I recorded on the Victory album. Me and DJ Nasty, we made the beat. I always have a vision of who I want on the records. T-Pain got on the hook; me and T-Pain work great together. He'll get in the booth and we will talk back and forth and catch a vibe, and the song will start coming out. It can be slang or a word I saw, and he'll flip it. I'm a fan of music first, before anything, so I always want to put my favorite artists on one record. And then, me being an artist, I feel like I bring extra energy to the record. I always want to create a sound where you know it's a Khaled record. Working with Drake, he wants to see me grow bigger, so he'll be like, Khaled, let's do this, let's do that. And I love that. It just depends what artist. Me and Ross work great together—we're partners in crime, so we're gonna rock. We do everything together.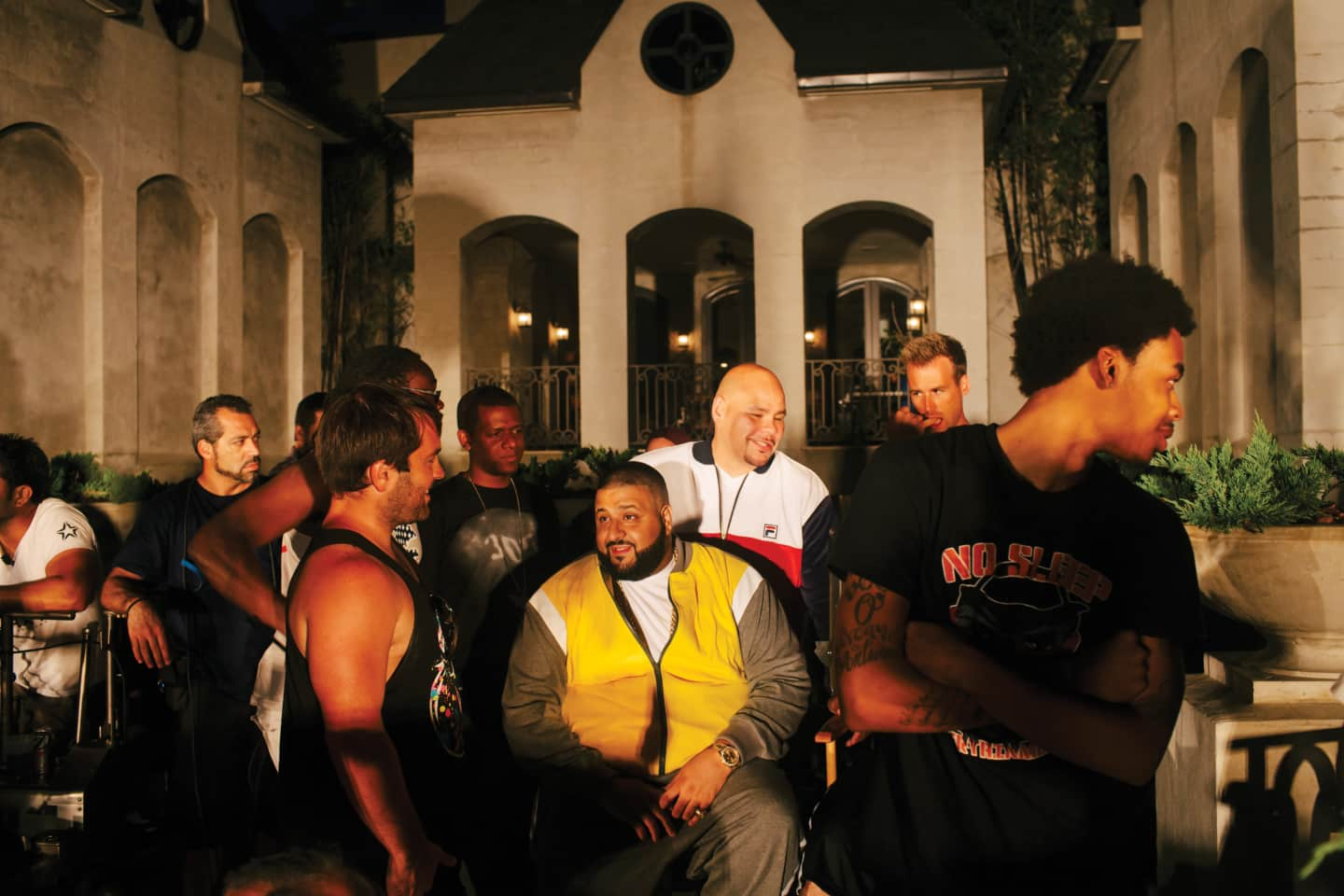 What makes a perfect summer song?
I like to make anthems, make 'em or find 'em or put 'em together. They gotta be something that everybody can relate to. When we made "I'm So Hood," people can relate to that, you know what I'm saying? Coming from the bottom, and in the hook singing, I'm so hood. Just big. People love that: when they're in their car, they're like, Yo, they talking about me. These are records that make you feel right, and feel good. And when you hear my music, you want to put your hand up. Like "All I do is Win." Who don't want to win?
At this year's White House Correspondents' Dinner, President Obama walked out to your song "All I Do Is Win," then said, "How do you like my new entrance music?"
It was super amazing. Obama put a serious stamp on We the Best. It shows you how powerful these anthems are that we talking about. I'm out here grinding. These records are timeless. My whole goal is to be the biggest executive, the biggest brand. Not with just music. We strive to be big like Michael Jordan—like Jordan brand. Own my own hotel. My own liquor. Shoes. We going for everything.
How does being in Miami inform your outlook on the world?
It's so multi-cultured. I love Miami. People think it's just about South Beach. Nah, it's the community, the culture, the hood, the beaches, the music, the people. It's special out here. You got Arabs, Jamaicans, Haitians, Latinos, Americans. It's a vibe. You want to go eat Jamaican food? We gonna get Jamaican food, for real. Miami is a beautiful place, and at the same time it's a real place and I feel like my ear is so in tune out here. I feel like I get to taste every type of sound. It's unpredictable. Once you think we doin' something, we doin' something else.