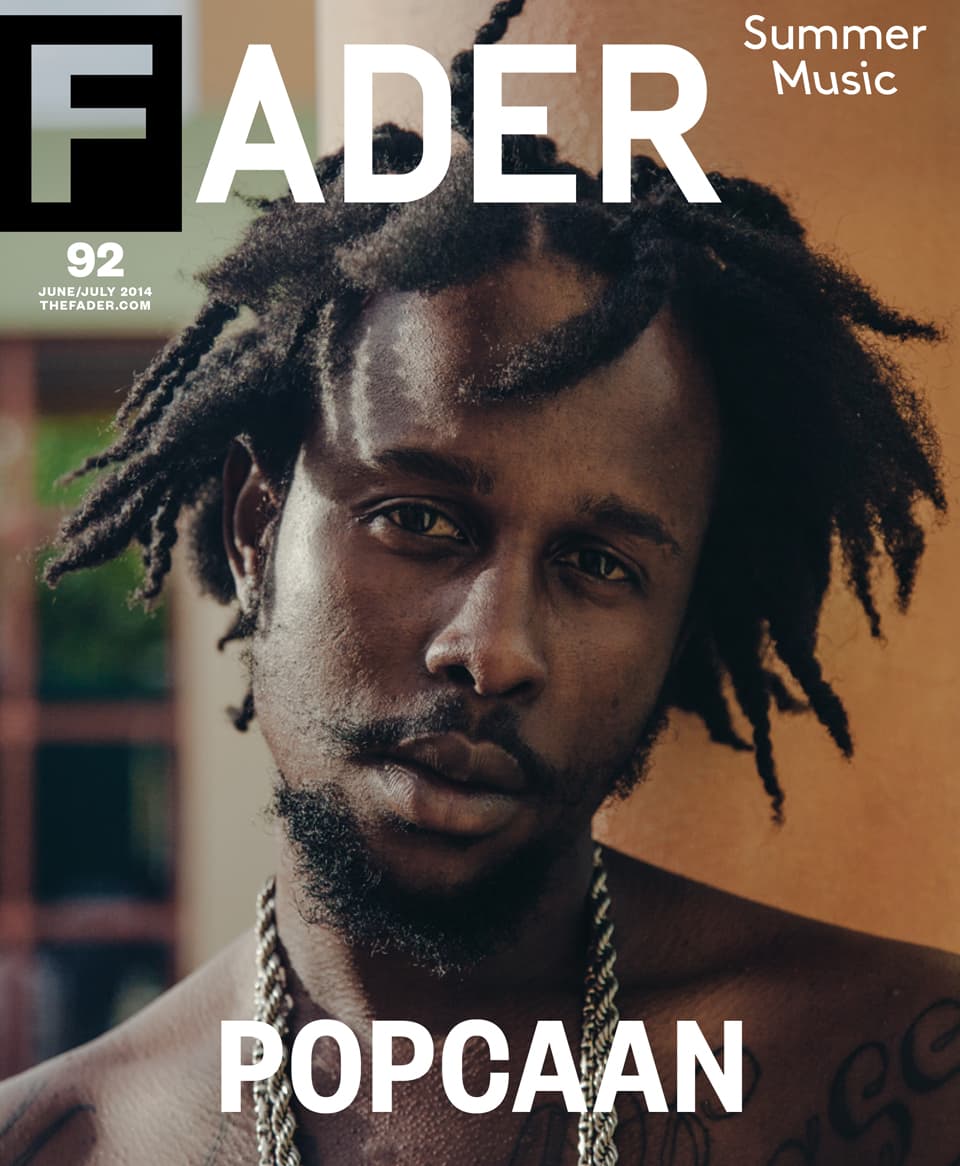 Cover Story: Popcaan Is Making Dancehall Nice Again
Read Jesse Serwer's Summer Music feature on rising dancehall superstar Popcaan.
From the magazine: ISSUE 92, June/July 2014. This is the third of four covers from our annual Summer Music issue that we'll be revealing this week.
Hayfield, the rural village in Jamaica's Saint Thomas parish where Popcaan spent his earliest years, isn't on the map—at least not the allegedly omnipotent one used by Google. But for the 25-year-old dancehall artist, who's about to release a debut album called Where We Come From, it's a place substantial enough to rally up a caravan of friends and associates for the two-hour drive from Kingston just so a visiting journalist can get a window into his roots. We depart at midday from Shocking Vibes studio, the Kingston facility that is the central axis of all things Popcaan, and make stops to pick up passengers and supplies. Popcaan drives. Wildman, a reggae artist in a Bob Marley tee and Yankees cap, meets us at a roadside stand just outside Kingston city limits in Bull Bay and stocks the trunk of the SUV with mangoes and tart june plums. When it's decided that we'll be playing soccer upon our arrival, we make a detour to Morant Bay, a coastal town known for a bloody 1865 rebellion and a market where, it turns out, shorts can be bought for the equivalent of $4 US.
After turning onto a narrow and rocky dirt road up inna de bush to an area known as Sunning Hill (or maybe it's Sunny Hill—in Jamaica, place names and spellings are sometimes fluid), we finally arrive at the banks of the Roaring River, a somewhat misleadingly named stream where Popcaan's father, known as Shaggy, and a few other relatives have set up grills along the shore, preparing jerk and curry chicken. By late afternoon, the crowd has swelled to about 50 people: cousins and other extended family, Kingston friends and curious local youths who've ridden up the hill on bikes.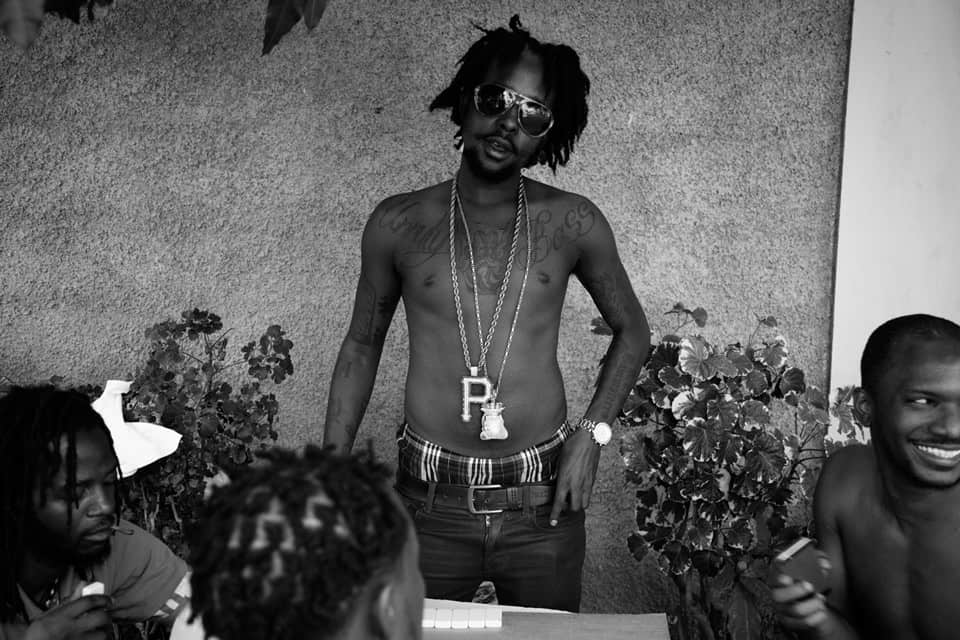 "Mi as a youth always loved to do my own ting. Mi nuh like when people rule me, not even mi mother."
You tend to hear Popcaan—born Andrae Sutherland—before you see him. He's short, about 5'6", and slight of frame, but his voice is piercing and unmistakable, a high-pitched aural weapon with a unique frequency. It's helped him stand out among the innumerable young dancehall artists in Jamaica, and it also makes him easy to find in a crowd. "Squid!" Popcaan calls out to a young woman who turns out to be his sister, Annalecia. Asked about the name, she nods to her brother, who apparently saw something of the SpongeBob SquarePants character Squidward in her. After spending a few days around Popcaan, I'll realize that he's bestowed nearly everyone in his orbit with a similarly colorful nickname (his older half-brother, Demonie, is known as Squidell). This call-it-what-I-want approach to language—his music is similarly rich with fresh terminology—is perhaps summed up best by the term he's becoming synonymous with: unruly. It's a word that Popcaan recalls hearing during childhood scoldings, and which he's flipped into a badge of independence, proudly worn in song lyrics, social media hashtags, homemade T-shirts and a tattoo on his chest that reads "Unruly Boss" (his followers and associates have likewise dubbed themselves the Unruly Gang). "Mi as a youth always love[d] to do my own ting," Popcaan explains, speaking in a thick patois. "Mi nuh like when people rule me, not even mi mother. When mi start say 'unruly' now, people who know me from long time say, 'Yaowww, weh right name that!'"
In some ways, Popcaan has given me a first taste of his unruliness in the extra mile he's taken to show me where he comes from. A trip to Portmore—the Kingston satellite city where he started his career and with which he is most closely associated—could have accomplished a similar end. But he's decided that the best spot to get a full picture of who he is as an artist is the one place he goes when he needs to get some perspective on things, far away from the chaos of city life. "Sometime mi just go inna di country, and just chill," he says. "Up pon di riverbed. Nobody nuh know… mi just missing."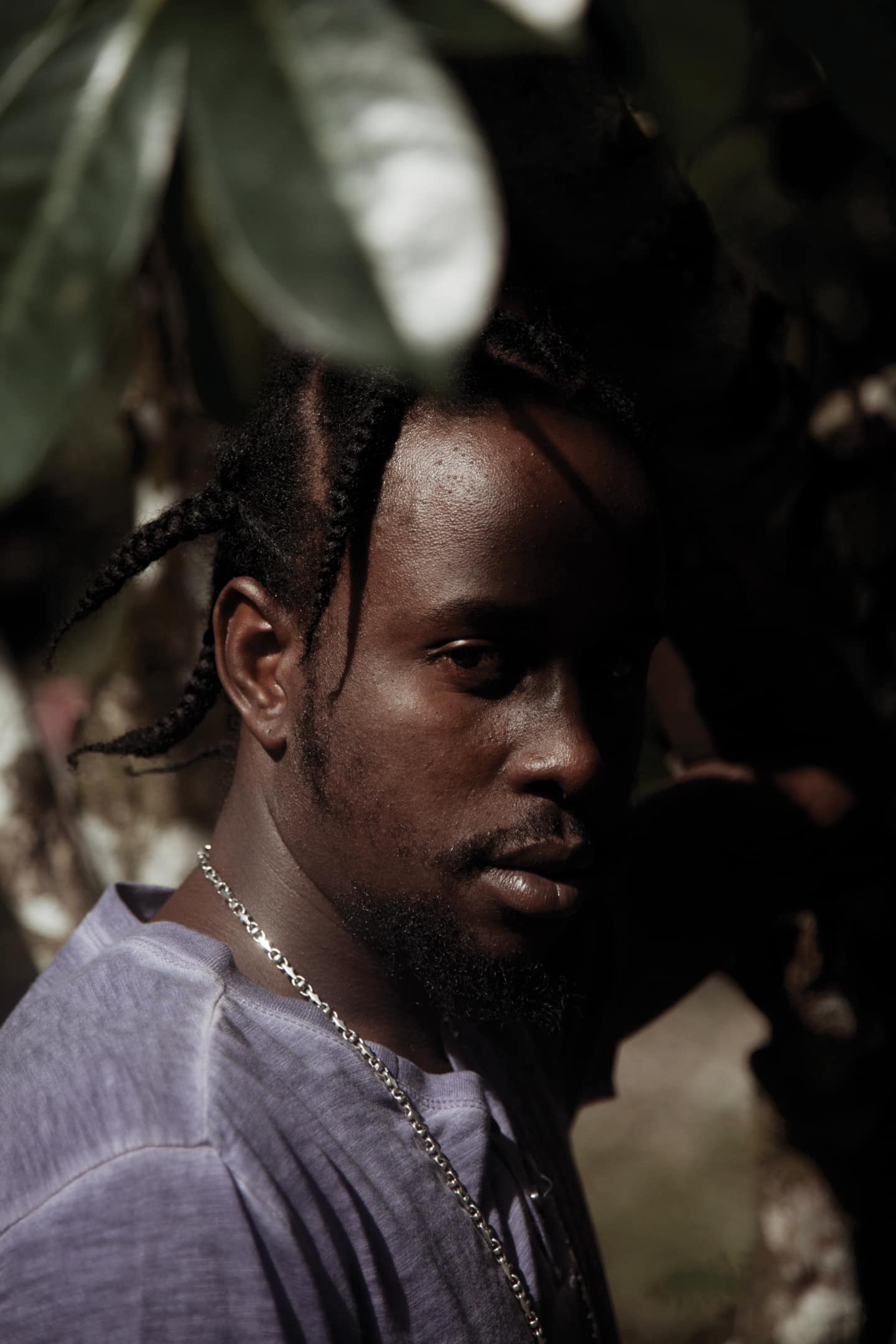 Dancehall is, by most accounts, in need of a new direction. It's been a decade since its commercial explosion in the mid-2000s, when Sean Paul was routinely topping international charts and an artist like Elephant Man could get a song like '03's "Pon De River, Pon De Bank"—illustrating how to do a dance step popular at Kingston street parties—into heavy rotation on pop radio and MTV. The ensuing years have brought flagging sales, declining international visibility and unflattering publicity for a genre that, at one time, sat alongside hip-hop among the world's most influential urban music styles.
Holding dancehall down through these dark days—or, many might argue, driving it ever further into the abyss—was Popcaan's former mentor and dancehall's self-anointed "Worl' Boss," Vybz Kartel. Kartel—who recruited Popcaan into his Portmore Empire camp, aka Gaza, then put him on the map with their 2010 collaboration, "Clarks"—has had such a pervasive hold on dancehall that he has remained Jamaica's most popular and influential artist despite spending the last two and a half years in prison­. At the time of my arrival in Kingston, it's been six weeks since Kartel and three other co-defendants were found guilty of killing Clive "Lizard" Williams in retaliation for stealing guns, and a month since he was handed a life sentence, with a minimum of 35 years before parole. (He was acquitted in June 2013 for another murder, of promoter Barrington "Bossie" Burton). With the weight and extent of his sentence finally sinking in, dancehall is adjusting to a future in which its most relevant player will likely live behind bars for the rest of his life.
"Mi as a youth always loved to do my own ting. Mi nuh like when people rule me, not even mi mother."
For any number of reasons, Popcaan appears to be the artist best suited to pick up the mantle and lead dancehall to its future. For one thing, there's the consistent quality of the hits he's churned out over the last four years: the hopeful "Dream," the summer party soundtracks "Ravin'" and "Party Shot," the astute social commentary of "The System." But even more importantly, there's something fresh-faced about his approach, as if he's learned from the mistakes of his forebears. Though he's not lacking in street cred or self-confidence, he's got a friendly, boy-next-door quality that stands in stark contrast to the generation of badman dancehall stars before him—guys like Kartel, Mavado and Aidonia, whose lyrical aggression and personal carriage insist that you keep your distance. It's also in contrast to Tommy Lee Sparta and Alkaline, fellow Kartel acolytes who represent Popcaan's closest competition among young dancehall acts, but whose shock tactic-driven popularity feels more calculated and fleeting (Tommy Lee Sparta is famous for using satanic imagery in his songs; Alkaline's celebrity has grown partly on account of him tattooing his eyeballs). Whether Popcaan is howling over his favorite new words (lately he's taken to addressing people—friend, foe or otherwise—as cock coob, a Popcaan-ization of "hen coop" that amuses him to no end) or watching Shrek movies on the couch of his manager's apartment, the time I spend around Popcaan feels more like hanging out with a big kid than trailing the man-of-the-moment in one of music's most cutthroat genres.
Popcaan has steered impressively clear of beef and controversial lyrics, delivering records that feel authentically Jamaican but are also in step with current trends in hip-hop and R&B. Originally released in October, "Everything Nice," Where We Come From's lead single, epitomizes this sensibility. Riding a pre-summer second wind sparked by a new remix with Mavado—a collaboration that would have been unthinkable a few years earlier, given the feud between Mavado's Gully camp and Kartel's Gaza—it's become Jamaica's current-moment anthem. Produced by Dubbel Dutch, an up-and-coming beatmaker from New York, the track exists in an untraveled gray area between dancehall and sing-song emo rap, speaking to the evolving tastes of a Jamaica that has become increasingly open to foreign interpretations of its domestic sounds (case in point: the growing local popularity of Major Lazer's EDM-dancehall hybrid). A bittersweet anthem about partying one's way through painful circumstances, "Everything Nice" has as much Springsteen in its lyrics as it does the Worl' Boss, with Popcaan offering encouragement to everyone from students cramming for exams (from UWI to UTech, Popcaan sings, referencing Kingston's two major colleges) to mourners wishing RIP to a loved one, and any people them weh work hard. If you've persevered through struggle—any kind at all—there's a line in "Everything Nice" for you.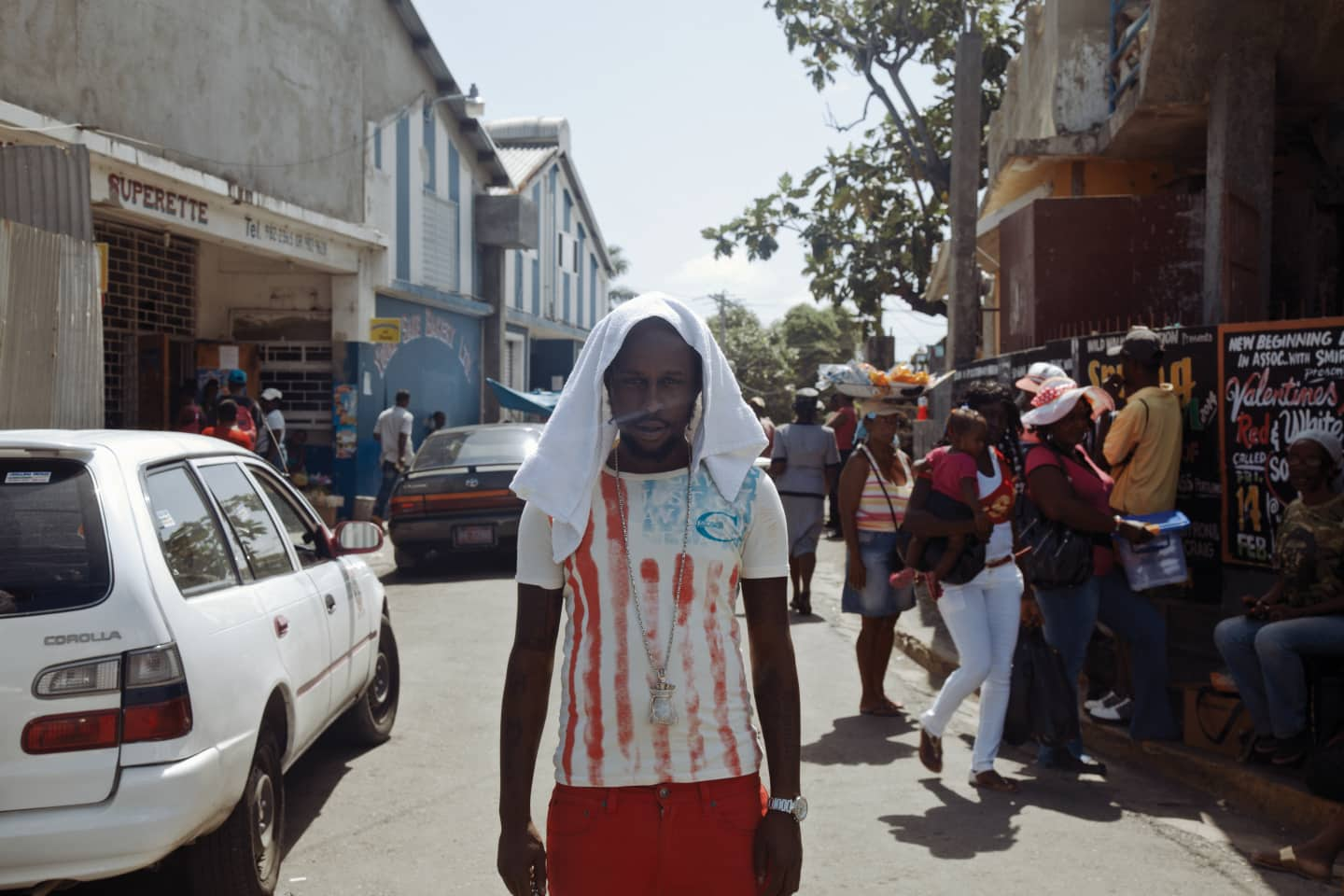 You couldn't find a much better place to take the current pulse of dancehall than Kingston's weekly Uptown Mondaze party. Set in the courtyard of an aging, two-story shopping plaza, the party doesn't start filling up until 2AM. While most patrons mill in darkness on the plaza's fringes—girls in heels and animal-print tights, guys in shades, backwards caps and jean shorts—lights illuminate a central dancefloor where a small contingent of partygoers holds court in choreographed synchronicity. When Boom Boom, the session's resident selector, teases the intro to "Everything Nice" a little after 3AM, the response is instantaneous: airhorns blare, walls are slapped, tables are pounded and the dancers adjust to the song's leisurely pace, appearing to move as if in slow motion. All told, "Everything Nice" collects six forwards—that dancehall-specific interaction between crowd and selector in which a favorable response necessitates stopping the tune and starting it over again from the beginning—before Boom Boom lets the song run its course.
Popcaan keeps a low profile in one of the shopping plaza's dimly lit corners, chatting with some chargies—Popcaan-speak for friends—from Shocking Vibes and Portmore. He deliberately avoids the cameras documenting the dancers' movements and the arrival of lesser local celebrities. "Mi only go up pon camera when we have to," he'll tell me later. While he might be a little camera shy, there's an open-book quality to his lyrics and overall personal presentation. He's one of Jamaican music's savviest social media operators, propagating his self-coined slang terms in real time through Instagram and Twitter like he's letting his fans in on some inside joke. There's Tr8, Popcaan's way of saying "no lie" or "word"—pronounced like "straight" but without the S, and stretched into two syllables. Shakiness is the antithesis of Tr8ness, describing nervousness, lack of cool, suspect behavior. These terms are malleable, constantly evolving, and you never know when Popcaan is going to invent a new one. Departing from Uptown Mondaze, Popcaan happens upon a young man lying asleep on his back at a gas station. With a friend's phone camera capturing the moment, he startles the man into a bug-eyed awakening that feels straight out of a Scary Movie-style horror-movie spoof. The next day, the video is posted to his Instagram with a hashtag: #Shakespeare.
"'Nuff times they try a brand me. 'Nuff times…"
"He always had something different about him," says Popcaan's Aunt Jasmine of the artist's childhood. "He was never just an ordinary kid. My mom had a little basic school where she used to teach, and when the other kids would come into class, he would not participate. He would just be by himself, then at the end of the day, he would sing every sound, repeat every nursery rhyme and know just about everything." Popcaan spent most of his childhood in Saint Thomas, surrounded by nature and music; his mother separated from his father and moved to the city when he was two, and like many country youths, he was raised primarily by his grandparents. His father Shaggy, who now works taking tourists through the Cunnu Cunnu Pass hiking trail between Saint Thomas and the parish of Portland, dabbled in dancehall himself, deejaying on a local sound system called Black Dragon (a deejay being the dancehall equivalent of an MC). Popcaan's grandmother ran a church where, as a child, he would be called on to sing gospel songs, which he'd deliver in the style of dancehall deejays popular in the day. "He used to love to sing 'I Will Survive'," Aunt Jasmine says, referring not to the Gloria Gaynor original but a dancehall version from the late '80s by the artist Papa San.
When he was 14, Popcaan went to live in Portmore, the longtime residence of his mother; upon leaving high school at 18, he considered becoming a soldier in the Jamaica Defense Force. While living in Three West, a public housing project referred to locally as "Gangster City," his close friend Andre, known as Bamma, was murdered, an event he says led him to focus on music. Scumpy, another Portmore friend, gave him the nickname Popcaan on account of his light-up play on the soccer field. Once Scumpy also lost his life to violence, the name stuck.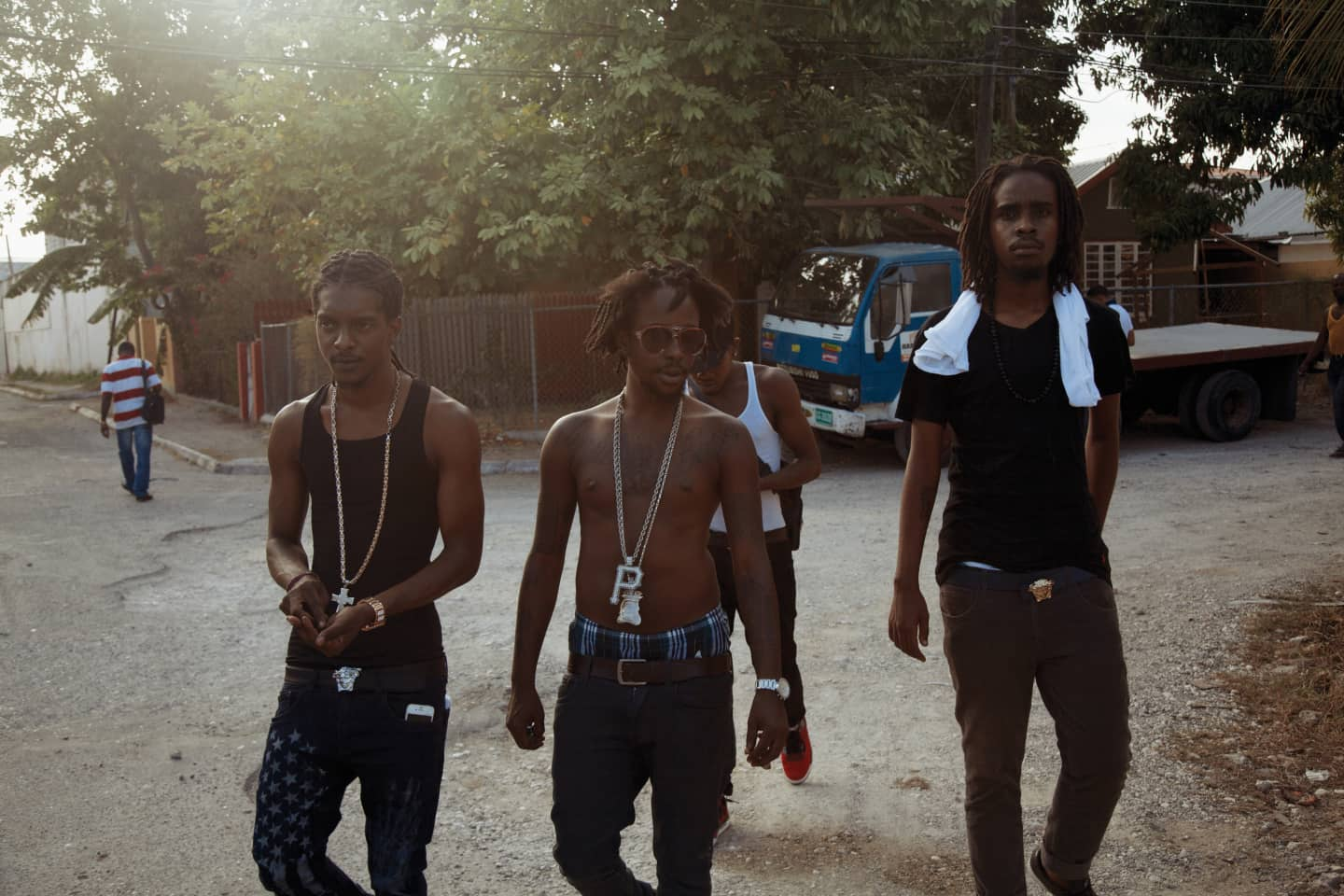 At a local talent showcase in 2008, Popcaan caught the attention of Kartel, who began releasing his records through his label, Adidjahiem. "Clarks" came two years later, introducing him to the dancehall masses via Kartel's song-opening question, Waah gwaan, Popcaan? A tribute to the English shoe brand and, more specifically, Kartel and Popcaan's interactions regarding their extensive collections of them, "Clarks" was one of Kartel's biggest songs. It sent the price of Wallabees and Desert Boots in Kingston sky high. Despite the wider name recognition, though, Popcaan found himself trying to dispel rumors that Kartel, an artist known to put his pen to work for the sake of the team, was writing his lyrics.
Ultimately, it was Kartel's incarceration that brought Popcaan out from under his shadow. The elder's arrest in 2011 coincided with the growing popularity of "Ravin" and "Party Shot," which became two of the year's biggest dancehall singles. "Only Man She Want," another song released that year, gained him entry into the Billboard Hip-Hop/R&B chart (where it peaked at #89) and an endorsement from Busta Rhymes, who added vocals to an official remix. It was the first of several co-signs from the hip-hop world: Pusha T featured Popcaan on "Blocka," from his Wrath of Caine mixtape, and his part on the song was later sampled by Kanye West for Yeezus' "Guilt Trip." Snoop tapped Popcaan to appear on Reincarnated, his 2013 foray into reggae. Drake became a major supporter, quoting Popcaan-coined slang on "5AM in Toronto."
Though he's been welcomed into Canada enough times to have struck up a friendship with Drake, Popcaan has thus far been unable to secure a visa to the US, a barrier that stands to limit his global penetration. It's a situation many of dancehall's top stars currently find themselves in, often on account of criminal records. (He has two minor marijuana charges, according to his manager). Popcaan notes that dancehall artists, especially those from poorer communities, tend to be branded as criminals at home automatically. "[When] you come from a garrison area, and start [to] get famous, they try to brand you as [a] don," Popcaan says, referring to the Jamaican term for the druglords who control Jamaica's garrison, or ghetto, neighborhoods. "Because you and all your friends [hang out] inna di scheme [housing project] and keep some treats for the kids [there]—what's wrong with that? But it looks a way like, 'Weh yuh do wrong?' 'Nuff times they try a brand me. 'Nuff times…"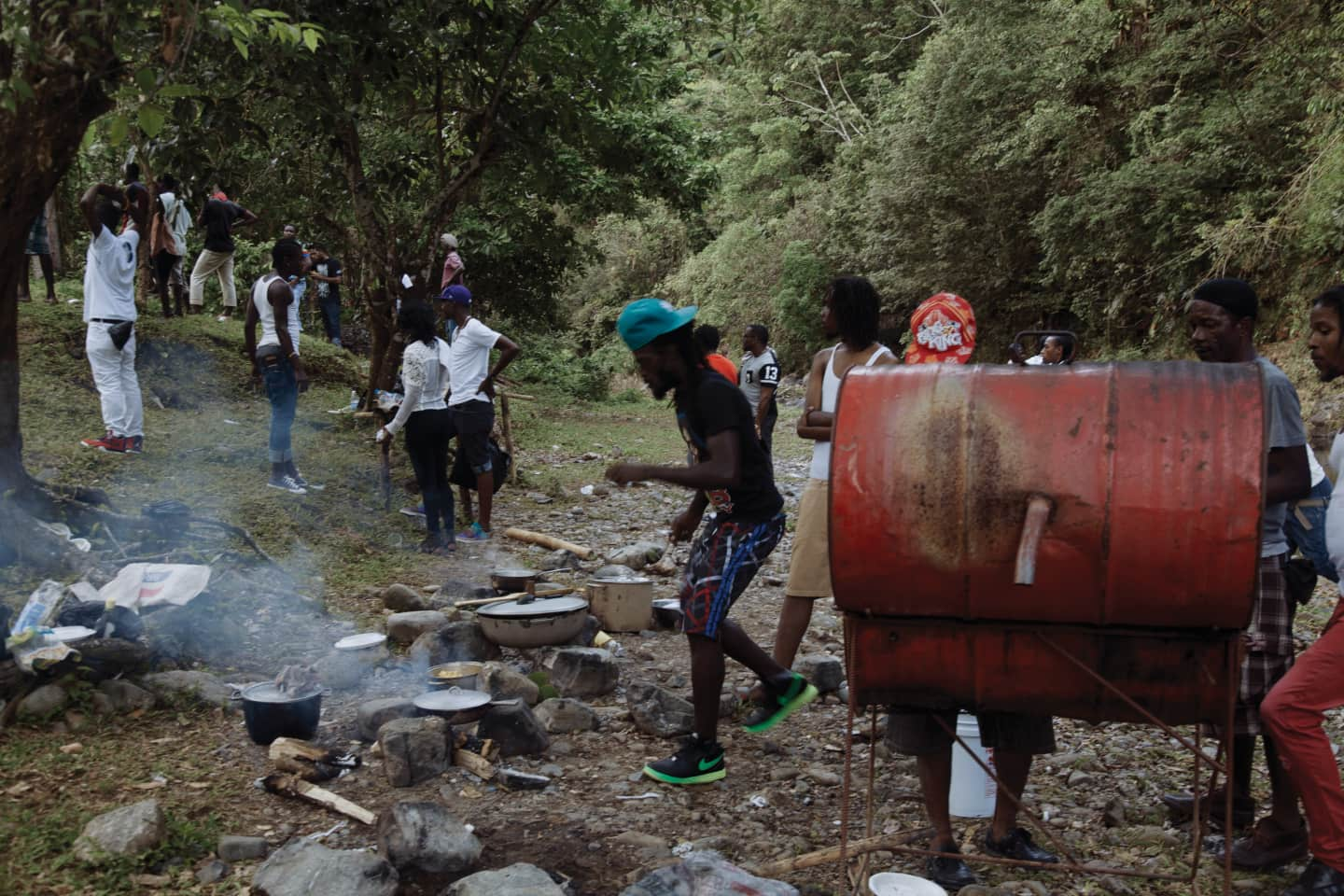 Producer Patrick Roberts built Shocking Vibes, one of Kingston's most high-end recording facilities, in the early 2000s, partly off money made grooming Beenie Man into a worldwide phenomenon in the '90s. Having left music for politics—he's now a Jamaican MP—he's since turned the studio over to his son, the producer Jamie YVP, Popcaan's closest music business friend and the founder of the label Young Vibez Productions. Located in uptown Kingston, the studio is currently out of commission while awaiting renovations, and Shocking Vibes' sizable yard exists as something of an informal social club. It's where you can find Popcaan most of the time, and when I go to meet him there one day, he's seated and drinking Hennessy with white cranberry Ocean Spray (his preferred mixer), having just returned from a show the night before in St. Lucia."V.S.O.P," a somber yet celebratory track in the vein of "Everything Nice," was released that morning, and it plays in an endless loop. Recently, Popcaan launched a weekly deejay battle here called Unruly Clash Wednesdays as a means of finding undiscovered talent for his Unruly Entertainment, a record label he plans to grow on the heels of Where We Come From.
Popcaan
"Love Ya Bad (Produced by Dre Skull)"
While Shocking Vibes is offline, Popcaan has been doing much of his recording across town at King Jammy's, the studio founded by Lloyd "King Jammy" James. In fact, "V.S.O.P." is a production by the legendary producer's son, Jam2, though Popcaan has also worked with King Jammy's other son, Baby G. Located in Waterhouse, a garrison community in West Kingston where it's a prominent local landmark, King Jammy's is dancehall's foundational studio. The game-changing Sleng Teng riddim was cut there in 1984, ushering reggae into the digital production era and solidifying its transition into something new. In the 30 years since, nearly every notable dancehall artist—Bounty Killer, Mavado, Vybz Kartel—has passed through its gates.
"That is an experience mi haffi share too because nuff people lose family and lose friends."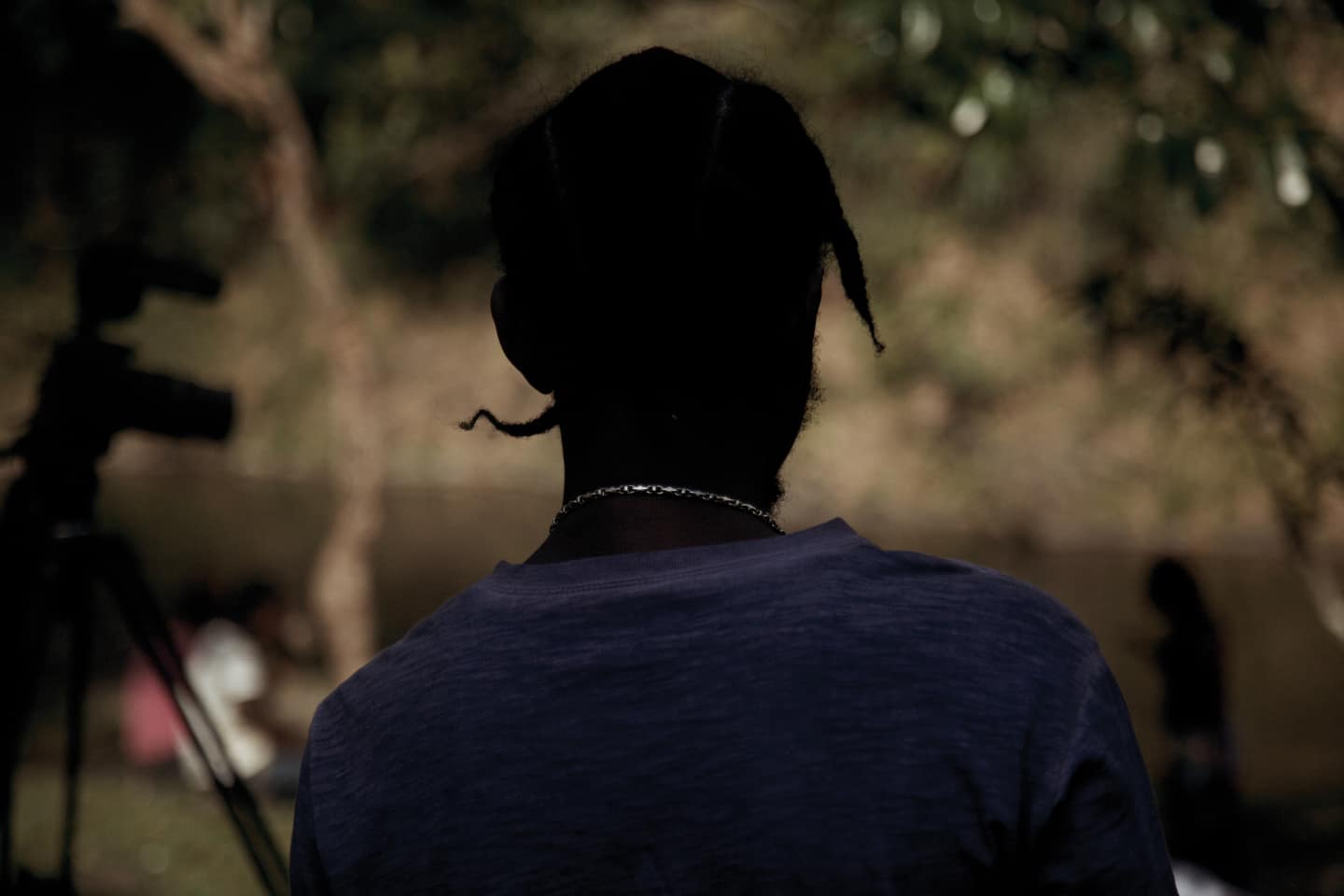 Entering the compound's ground-level studio is like walking into a time capsule. Two-inch tape machines, effects processors and other relics mostly disappeared from today's compact recording studios sit under Tanoy speakers carved into the studio's wooden walls. An airbrush painting on the room's exterior bears the likenesses of old school Jammy's regulars Gregory Isaacs, Dennis Brown and Wayne Smith. The hearty endorsement Popcaan receives from Baby G in the presence of such notable history bodes well for the singer's future. "Popcaan, he has this talent that surprises even me at times," he tells me from behind a massive analog recording console. "You might see him, as a human being, [as] small—him body—but his mind is huge. It's like an old man, you know what I'm saying?"
With its overarching theme of social justice and uplifting ghetto youth, Where We Come From may come as something of a surprise to those who know Popcaan primarily for the upful party anthems that have been his biggest hits. Dre Skull, the album's executive producer and the head of Mixpak Records, which is releasing the album, says he was consistently surprised by the lyrical content Popcaan applied to the instrumentals he sent him for the project (they met when Dre Skull was in Jamaica working on Kingston Story, the 2011 Mixpak LP he produced for Vybz Kartel). "Sometimes I would think the riddim dictates it's gonna be an up vibe, and he'd come back with something really somber," Dre tells me by phone. "I feel like the album is somewhat restrained in certain ways, but I take that to be a maturity in Popcaan. Like he wanted to convey a larger message." It's a message of perseverance and persistence in the face of adversity, as delivered in refrains like "The System"'s Believe in yourself, be a man.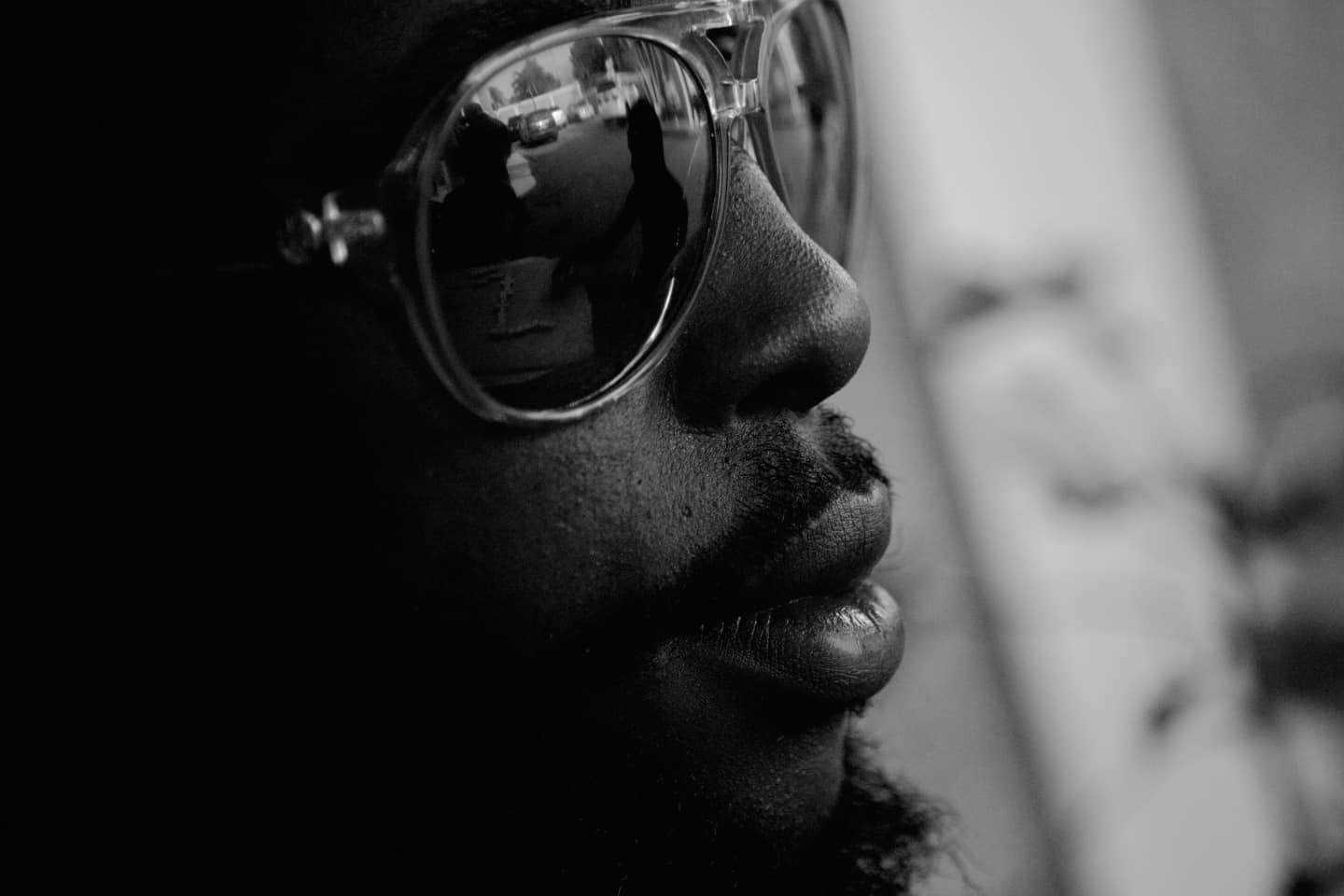 In many ways, Where We Come From takes after Kingston Story. That album operated on the rare premise that a dancehall LP—generally collections of singles recorded with little regard to a larger whole—could work entirely toward a singular mood. It wasn't a massive commercial success, but Kingston Story, which received substantial media coverage and a reissue from Vice, helped establish the Brooklyn-based Dre Skull as an unlikely new dancehall power broker. Where We Come From attains a similar cohesiveness, but with a broader support cast. Besides Dre Skull and Dubbel Dutch, riddims were supplied by Jamaica's Jamie YVP and Anju Blaxx and Sweden's Adde Instrumentals. Traces of hip-hop and EDM course throughout the album, inviting the possibility of consumption by listeners who might not even know the term dancehall. But, with the exception of the Pusha T-guested "Hustle," with its dubstep bass wobble, the songs sit comfortably enough within dancehall's structural rules to grab a forward at a dance like Uptown Mondaze. The fusion is more akin to how today's R&B and hip-hop have been seamlessly blended together, partly by their joint predilection for lush, ethereal production.
Unsurprisingly, Popcaan lists the primary driver of that fusion, Drake, as one of his greatest inspirations (he also credits Kartel and Sizzla Kalonji). Like the Toronto rapper, he makes the sort of universal anthems that also feel like a snapshot of his everyday life. "He's just being real, he's being himself, and that's the thing that's marketing him right now," says Baby G. "The people, they don't see nothing edited. It's just raw and rugged Popcaan." Where We Come From is peppered with the names of the singer's friends and family; Bamma and Scumpy, his deceased chargies from Portmore, weigh heavily on the album, their stories referenced on its opening and closing tracks. "That is an experience mi haffi share too because nuff people lose family and lose friend[s]," Popcaan says. "When we say, 'My friend dem memory live on,' somebody else can say dem friend memory live on likewise, too."
In conversation, Popcaan tends to frame his accounts of things in terms of "we" more than "me," even when referring to his experiences as an individual. In this sense, the pronoun in his album's title speaks volumes. "If it was Where Mi Come From, it would be just about me," he says. "But tings ah mi go through, [my friends] Buzzman and Grizzle and Frass—dem go through it with mi same way. So Where We Come From is based off of everybody life, not just Popcaan alone." As Popcaan sees it, making it out of poverty necessitates an obligation to help everyone around him who's still mired in his former struggle—if not with financial assistance, then with the encouragement to help them get through it. Ultimately, that impulse to be there for his loved ones is also what our trip to the hills of Saint Thomas was about. As we made our way out of Kingston along the A4 highway that first day, passing by the industrial quarries near where the city gives way to the country, Popcaan explained to me that it's not in his nature to forget his roots, no matter how busy his schedule gets. "Realness is going from [where you] start out sometime and hol' forward a vibes," he says, staring out into the green horizon before us, hands on the wheel. "Just pass through sometime. Mek dem feel good [so they don't] feel like yuh reach somewhere in life and forget them. Tr8."