Blur's Epic Club Show In Brooklyn Was A Gift To Fans
The legends performed their first New York show in 12 years on Friday.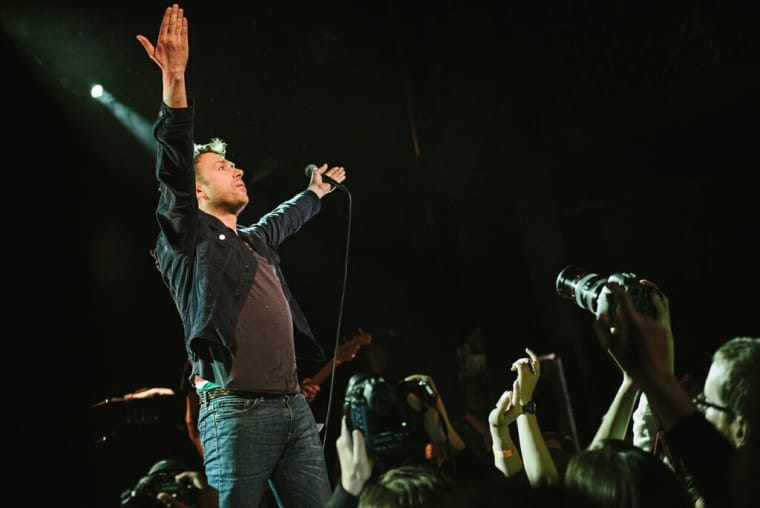 On Friday, Blur played their first New York show in 12 years at Brooklyn's Music Hall of Williamsburg. Presented as part of the Converse Rubber Tracks Live music program, the show was cozy and free. Fans began lining up at 1PM.
At all Converse Rubber Tracks Live shows, headliners chose an opener that's recorded for free at a Rubber Tracks studio or pop up. Friday's show began with a performance from Brooklyn band Honduras, who were handpicked by Blur. The four piece played their new psychedelic punk single "Paralyzed," taken from their debut album Rituals, set to be released in June.
All four members of Blur's original lineup—Damon Albarn, Graham Coxon, Dave Rowntree and Alex James—took the stage together. Their comfort with each other was apparent, and that spirit of camaraderie filled the audience. They played the entirety of their new album The Magic Whip, excluding "Ice Cream Man"—"We haven't worked out how to play that yet," Albarn said.
Albarn was in top form throughout the set. He unscrewed water bottles with his teeth and dowsed the screaming crowd, just as he has since Blur's early days. A gush of awwws came after overpopulation warning "There Are Too Many Of Us," when he went around and hugged each member of the band. Together, they left the stage to shouts of "Damon, I love you!"
After pleading from the crowd, they returned for a magical encore. The room exploded as the first rips of "Beetlebum" crept in, kicking off a run of three classics that also included "Trouble in the Message Center" and the infamous "Song 2."
For me, this was a dream. Who gets to stand inches away from Damon Albarn? It wasn't just nostalgia, it was fucking amazing.