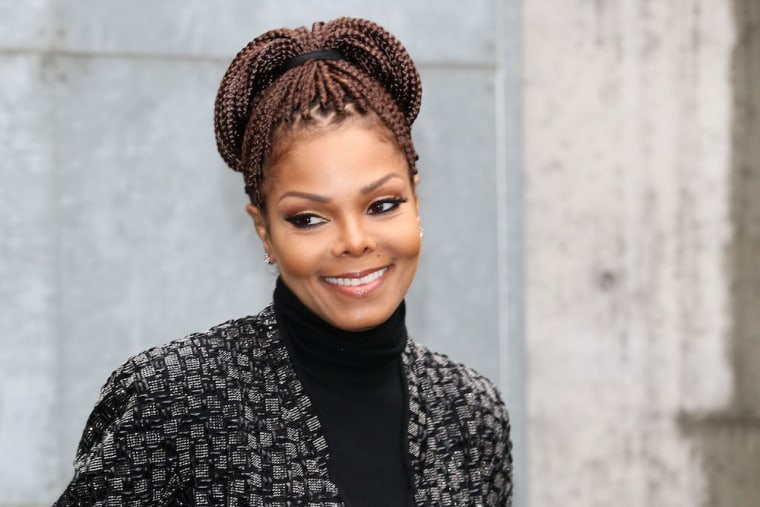 Janet Jackson's announcement that she's about to release her first new material in seven years really couldn't have come at a better time. Just as mainstream pop is beginning gradually to celebrate (or co-opt, depending on your view) feminism—from Beyoncé sampling Nigerian writer Chimamanda Ngozi Adiche's feminist TED Talk on "Flawless" to Nicki Minaj shooting down the male gaze—Janet's return is a timely reminder that her music has been fighting for equality and sexual liberation ever since she announced that she was in Control back in 1986. Here's seven ways she's been breaking the pop rulebook and setting her own agenda since the start.
1. She's in control of her work
Many critics throughout the '90s and 2000s gave more credit to Janet's male production team than her; check this 1997 Entertainment Weekly review, presumably written on a papyrus scroll, which declares "it's [Jimmy Jam and Terry Lewis'] production that most clearly articulates the emotional core of Jackson's songs." Or see Yahoo, who totally removed agency from Janet in their review of her 2006 album 20 Y. O., instead squabbling over who had most input out of Jam, Lewis and Jackson's partner-slash-executive-producer Jermaine Dupri, while comparing Janet's own role in the record to "a sexbot from Westworld or Austin Powers."
It's an old story: female artist somehow gets less credit for her own work than the men she works and associates with. But Janet's breakthrough was an album called Control, which detailed her struggle to emancipate herself from her family and be the creative director of her own career. True to her word, she's had co-production and writing credits on every one of her albums since 1986. What's more, her upcoming 2015 record is set to arrive on her very own record label.
2. She knows how to say no
On 1986 ballad "Let's Wait Awhile," Janet famously sang about abstinence, making it cool to look at the guy you're seeing and say "hey, I just don't feel like it yet."
3. But she's not afraid to say yes
You'd be mistaken for labelling Janet a prude though—the way in which retrospective views of '80s pop icons frequently cast her as the "virgin" flip-side to Madonna's "whore" is a totally blinkered way of looking at either's catalogue. Janet may have been vocal about her right to say "no," but she was enthusiastic about saying "yes" too. In 1993, she announced herself as a sexual agent with the infectious "If," fantasizing about all the things she'd like to do to a man; by 2001, on "Would You Mind" (above), she was demanding oral sex and orgasms. On one of her most experimental albums, 1997's The Velvet Rope, she explored everything from bondage ("Rope Burn" is perhaps the most nuanced pop song to ever explore the power play that comes with being submissive) and masturbation to bisexuality and threesomes. Just like that, Janet proved that "controlled" can also mean empowered female sexuality.
4. She's always stood against inequality
On her iconic 1989 release "Rhythm Nation," Janet directly urged her fans to Join voices in protest/ To social injustice. It's a militant rallying cry against all oppression in general, which may be kinda ambitious, but for Janet is far from a cheap stylistic choice: throughout Rhythm Nation 1814 and her entire discography, she takes on topics like homophobia and racism with a searingly clear voice.
5. And specifically, against domestic violence
In one of her most close-to-the-bone records, Janet mimics the vicious cycle of an abusive relationship in the aggressive push-and-pull of her 1997 album track "What About." While the verses are peppered with sweet nothings from her lover, the pounding chorus claps back by detailing all the physically, emotionally and sexually abusive things that she's also experienced in the relationship (Janet bravely acknowledged in public multiple times that the lyrics are autobiographical). She demands to know, What about the times you hit my face/ What about the times you kept on when I said no more please? Janet told MTV at the time, "I think it's important to let others know...that they're not alone, and that you understand what they're going through, and that they can make it through."
Let's pause for some Janet Jackson stats: she's sold over 140 million records; she sold a $40 million contract with Virgin in 1991, which made her the highest paid musical act in the world at that time; and her Rhythm Nation 1814 world tour was the most successful debut tour in history. That gives special weight to her 1989 single "Escapade," where she tells her baby, I've worked so hard all week, cashed my check, I'm ready to go...Let me take you on an escapade. A woman unafraid to flaunt her economic power—especially in a romantic context—is a still a radical image in the 2010s, let alone the 1980s.
7. Above all, she preaches self-love
Having battled depression, anorexia, body dysmorphia and so much else throughout her career—and having no choice other than to go through it in front of millions of others—Janet's music is infused with the kind of strength and insight that only comes from overcoming these kinds of mental struggles. Her lyrics often touch on the importance of radical self-love, a fundamental tenet of fighting personal and political oppression.
Most powerfully, right at the end of 1997's The Velvet Rope, she wraps up her opus on sex, violence, depression and marginalization with a purely distilled message to anyone trying to run from a painful reality: We need to remember that love lies deep within ourselves, she sings on "Special." This is followed by the bonus track "Can't Be Stopped," where she's even more direct: You must remember that we were born with blood of kings and queens, and can't be stopped / Stay strong my sister, you can't be stopped.